It seems as though Fall is the time to really crack down and bake or indulge in baked goods. Pie is amazing, it really should be it's own food group right? Here are some fantastic pie recipes to check out, they might just entice you into making one or five of them.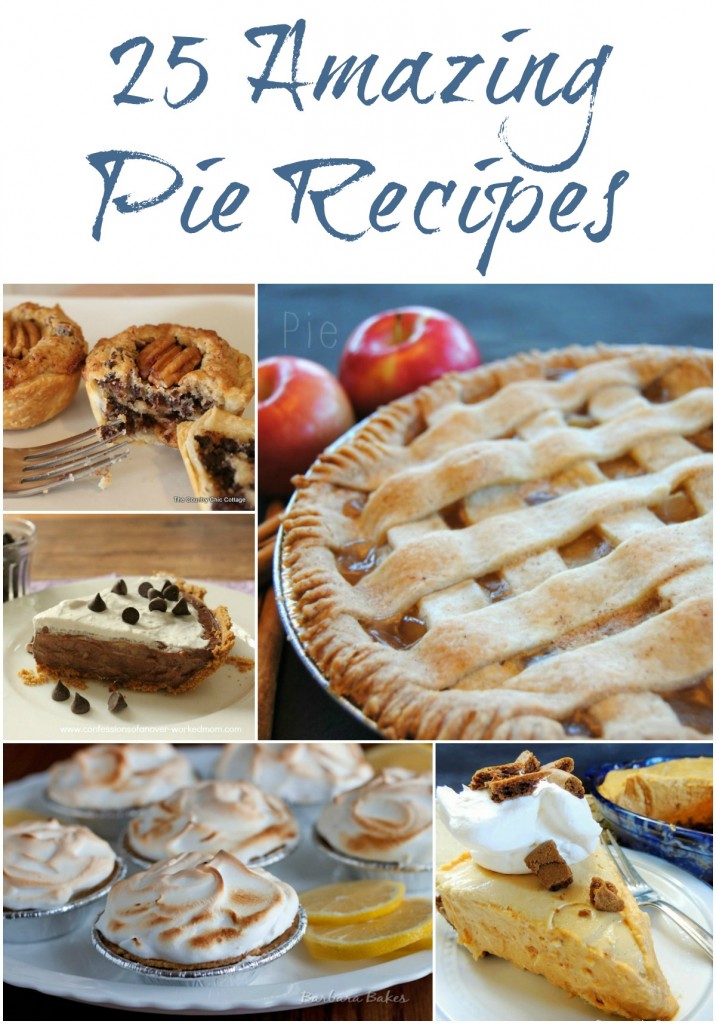 Start with these pie recipes from The Country Chic Cottage then move onto the other sites below.
1. Raspberry Pie
2. Hot Apple Pie
3. Peaches and Cream Pie
4. Blueberry Pie
5. Deep Dish Mango Pie
6. Apple Crisp Pie
7. Truffle Tart
8. Banana Cream Pie
9. No Bake Chocolate Strawberry Pie
10. Apple Pie
11. Chocolate Chunk Cheesecake
12. Individual Peach Pies
13. Southern Chocolate Pecan Pie
14. 14 Healthy No Bake Pie Recipes
15. S'Mores Pie
16. Pumpkin Biscoff Mousse Pie
17. Homemade Whoopie Pies
18. Lemon Meringue Tarts
19. Old Fashioned Apple Pie
20. Easy No Bake Chocolate Pie
21. Mini Caramel Apple Pies
22. Easy Fudge Pie
23. Hot Buttered Rum Apple Pie
24. Chicken Pot Pie
25. Mini Chocolate Pecan Pies
I hope you enjoyed browsing through the different pie recipes. Let us know in the comments which one made you drool the most!
Weekly Newsletter
Subscribe to get our latest content by email every week!