Y'all I love my crock pot. I thought you might as well so I came up with 30 slow cooker main dishes that your entire family will love. Click around on the list below and bookmark some of these amazing recipes. You can have supper out of the crock pot everyday for a month! Now wouldn't that be one simple month of meals!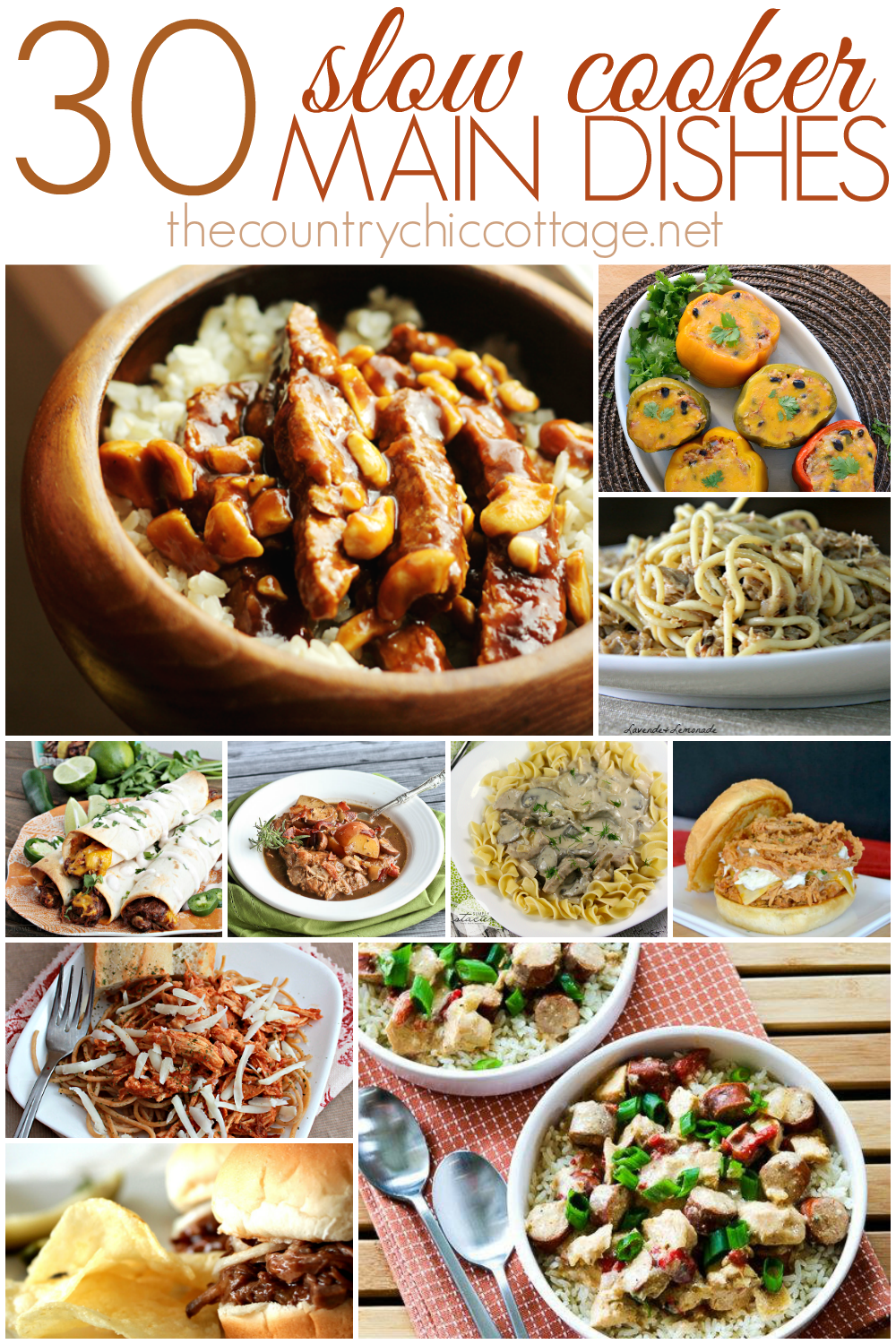 30 Slow Cooker Main Dishes
1. Slow Cooker Ravioli with Meat Sauce | Source: The Country Chic Cottage
2. Crock Pot Layered Bean Burritos | Source: Thrifty Jinxy
3. Slow Cooker Beef Stroganoff | Source: Simply Stacie
4. Slow Cooker Buffalo Chicken Macaroni and Cheese | Source: Snappy Gourmet
5. Slow Cooker Chicken Andouille Stew | Source: Kalyn's Kitchen
6. Rosemary Mustard Balsamic Braised Chicken , Mushrooms and Potatoes | Source: The Spiced Life
7. Slow Cooker Apricot BBQ Chicken Wings | Source: Mom Endeavors
8. Slow Cooker Skinny Cheesesteaks | Source: Healthy Seasonal Recipes
9. Crock Pot Chicken Parmesan | Source: Our Table for Seven
10. Crock Pot Creamy Chicken Corn Chowder | Source: Two Healthy Kitchens
11. Crock Pot Pork Stew | Source: The Country Chic Cottage
12. Slow Cooked Cashew Chicken | Source: Tried and True
13. Crock Pot Apple Bacon Pork Roast | Source: Moms With Crock Pots
14. Slow Cooker Stuffed Bell Peppers | Source: Bless This Mess
15. Paleo Beef Stew | Source: Peace, Love and Low Carb
16. Healthy Crock Pot Chicken and Pasta | Source: Lavende and Lemonade
17. Crock Pot Pulled Pork Sandwiches | Source: Modern Housewife
18. Slow Cooker Barbecue Ribs | Source: The Country Chic Cottage
19. Slow Cooker Beef Taquitos | Source: Home. Made. Interest.
20. Crock Pot Butter Chicken | Source: Kitchen Sanctuary
21. Crock Pot Cajun Whole Chicken | Source: Coffee With Us 3
22. Slow Cooker Chicken Sandwich | Source: 365 Days of Baking and More
23. Slow Cooker Cheesy Potato Chowder | Source: Three Different Directions
24. Slow Cooker Chicken Chile Burrito Bowls | Source: Sidewalk Shoes
25. Slow Cooker Pumpkin Chili Mexicana | Source: All Four Burners
26. Slow Cooker Pizza Meatloaf | Source: The Country Chic Cottage
27. Slow Cooker Teriyaki Pork Roast | Source: The Country Chic Cottage
28. Crock Pot Shredded Beef Sliders | Source: Carolyn's Homework
29. Slow Cooker Mango Chicken | Source: Is This Really My Life
30. Vegetarian Crock Pot Black Bean Soup | Source: Mama Likes to Cook

You will want to see our collection of over 60 crock pot recipes in the video below!