The number one question I get from readers and friends is "how do you do it all?" So this week I am attempting to give y'all my tips and tricks for staying organized and on top of daily life. I rarely write any posts meant for bloggers but that is a big part of my life now. So I felt I needed to give you a little insight as to how I organize my blogging life. My iPhone has literally saved my blog. I am more organized and better prepared since jumping on the iPhone bandwagon. Here are my top 5 apps to use for blogging. Most of these apps can apply to organizing any aspect of your life if you non-bloggers want to read on as well. Also since I am basically an iPhone newbie, I would love it if you leave a comment with your favorite app (or three) for blogging or organizing.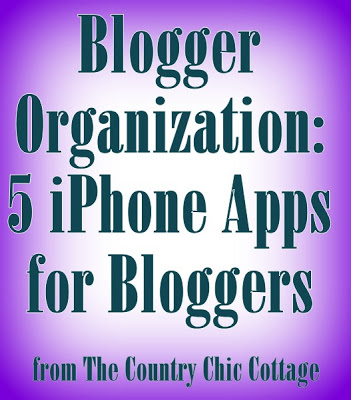 #1 — Calendar
Yes this comes with the iPhone but it is my #1 go to app. I keep track of everything on the calendar. Posts, events, doctor appointments, due dates, etc. They all go into the calendar and I am actually ON TIME with my commitments. Yep I was one of those people who constantly needed reminders before. Not anymore. Use your calendar religiously to keep track of anything associated with a date.
#2 — Reminders
Another thing that comes with the iPhone? Really? Yes really! I have my iPhone remind me of everything. Need to be sure to send an email tomorrow to a fellow blogger? Put a reminder in for 9 am. Need to fill out forms for the kids school? Put a reminder in for 5 pm. Literally everything I put in my phone. This keeps the to do list out of my head on onto my phone. Plus now my to do list gets DONE cause my iPhone reminds me to do the items at the proper time.
#3 — Google Drive
You can now easily update your Google documents right from your iPhone. How does that help you keep organized? My friend Viv had a great idea for using a spreadsheet to keep up with sponsored posts for the entire year. I actually took her spreadsheet and made a template to use myself this year. Want to use it yourself? Head over and download the sponsored post template to kick your new year off right. Using this same method you can keep up with a variety of blog tasks. Start a spreadsheet, edit it on the go with your iPhone, and be a more organized blogger.
#4 — Evernote

I am a list maker. I like to make lists, write things down, brainstorm, etc. If you love lists like I do, Evernote is the app for you. Your Evernote account is tied to your iPhone as well as an online account. Make to do lists, brainstorm blog topics, start drafts for posts — then access them anywhere. Don't waste that hour wait in the doctor's office waiting room — take notes on some future blog topics with Evernote. Be productive in the car rider line after school by drafting a copy of the letter for the PTO. Seriously the best note app I have found and now you have found it as well.
#5 — Bloglovin
This is for bloggers and blog readers alike. Did you know that your favorite blogs' posts can be delivered right to your phone. Yes Bloglovin is a feed reader for your phone. Find your favorite blogs and add them to your list. Then their new posts will be right there in the app whenever and wherever you have time to read them. This is for all of us who vow to read and keep up with more blogs in the new year. Trust me this app will help you get there by allowing you to gain access on the go.
Now it is your turn. Give me your favorite app for blogging or organizing your life in the comments below. C'mon help a girl out!
Be sure to visit 30 Minute Crafts today as well for even more quick cleaning and organizing tips for the new year.
Get Our Weekly Newsletter