So far this week I have been balling in love with sheet music, fabric, jute, and rope. I couldn't leave burlap out! Today we are making a fun burlap home decor ball that is easy to make and will look great in your home decor.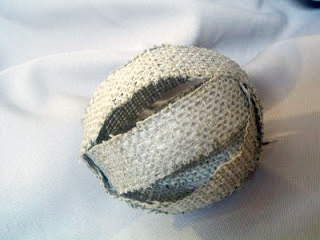 For this one, we are going to leave the styrofoam and glue gun behind. You just need a 1″ strip of burlap, some white glue, tape, and a balloon (yep balloon).
Blow up your balloon to the size ball you want. Don't worry about the color of the balloon — we will be getting rid of it later. Tape the end down. And if there is anything sticking out on the opposite end — tape it down too.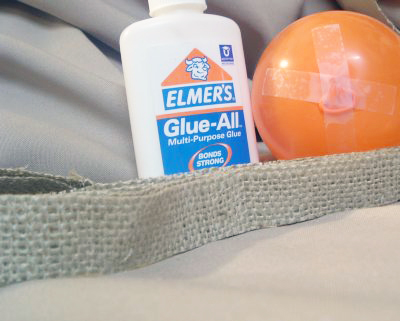 Mix equal parts white glue and water. This makes an AWESOME starch in case you are ever wondering. Run your burlap strip through the mixture and start applying it to your balloon.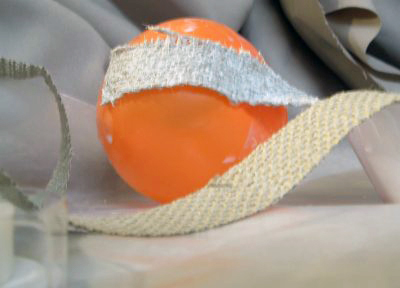 Wrap that burlap until you get your desired look. Then — the hard part — let it dry. Tip: place on waxed paper and it won't stick. This needs to dry for 24 or more hours. And you will probably have to rotate at least once.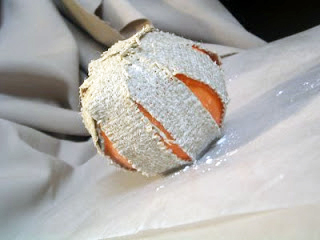 Once dry — take a needle and POP that balloon. Yeah I know but don't be scared. It is like magic. The balloon just peels away from the burlap.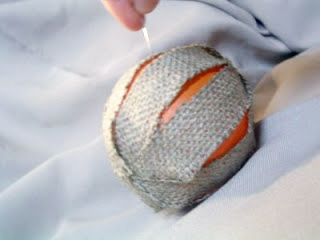 Remove the balloon. I took my needle and worked the balloon over to the edge where I could grab it.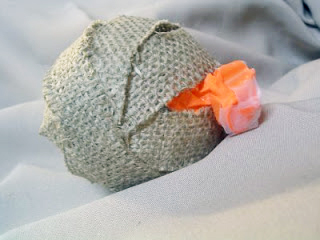 And there you have it. A burlap home decor ball! Perfect for adding to your rustic farmhouse decor. A touch of burlap looks great in any room of your home. I love that this one can be made with a scrap strip of burlap as well.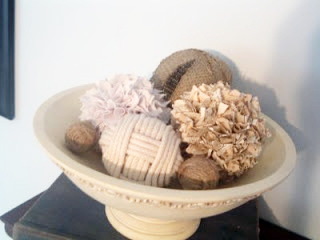 Tomorrow is my last day for "balling" in love…and I am going to use a sweater — yep you don't wanna miss it!