Looking for a romantic date with your sweetheart but don't think you have the time? Why not set up a sweet tablescape for two and eat breakfast together? My tablescape is vintage inspired cause…well…y'all know that is what I love. But I am going to show you what I used to build my table so you can seduce your sweetheart at breakfast or anytime.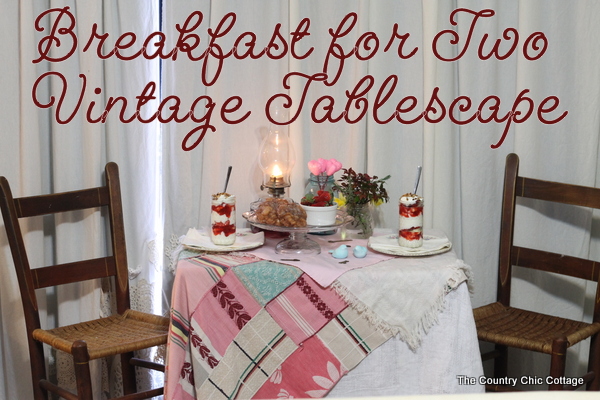 The secret to my tablescape lies in the wonderful advice of
Moll Anderson
. Moll is a lifestyle and romance expert who can show you how to entertain at home. Her book
Seductive Tables for Two
is a large collection of tablescapes, picnics, and recipes meant to inspire romance. It is full of tips, tricks, and advice for creating your own seductive table.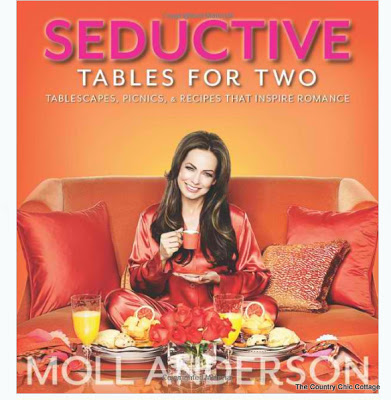 I poured over my own copy of Seductive Tables for Two and developed a plan for my own romantic meal. You see through the book I began to realize that a romantic meal can be anywhere at anytime. It is really a book for every season and all times of the day. I decided on breakfast because at a minimum we can get up early and enjoy a little alone time. I went shopping for essentials like fruit, yogurt, and apple fritters (yes they are essential).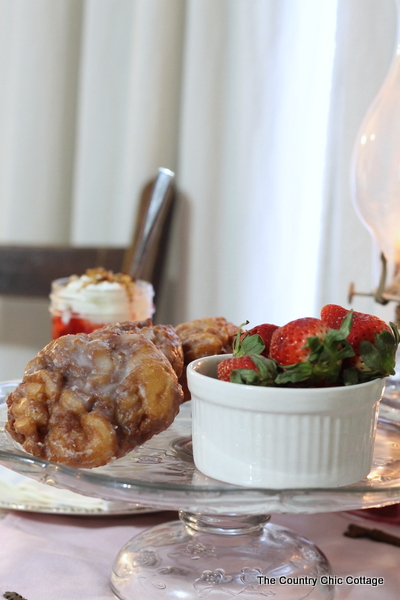 I then started building my table. I decided to go with a vintage theme. Moll's book inspired me to look beyond just "table clothes" and to look at fabric in a different light. I used a few pieces I had plus a few pieces I found while at a thrift store. Some of you might recognize a few of these linens from an instagram picture. I layered on a vintage table cloth, what appears to be a pieced quilt top, and what is actually a baby blanket. It was a wonderful layered look that gave my table softness.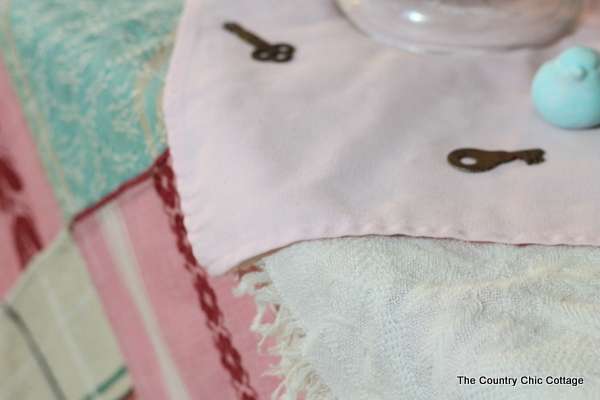 Speaking of tables, I did not want to set this up on my large dining table. Seductive Tables for Two also had a list of alternate table ideas for your romantic meals. This is actually two of those wood TV trays pushed together. It is the perfect size for a breakfast for two. Just having the small table makes the meal feel more intimate. Plus because the meal is not in our normal dining area it made everything feel more special.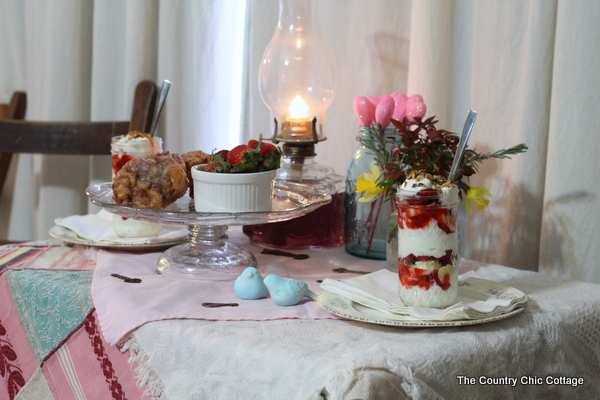 Next up was decorating the table. I took a cue from these vintage plates that I never ever use. I adore them but they never seem to fit any occasion. The floral design is perfect for a romantic vintage tablescape. I took inspiration off of them for the rest of the table.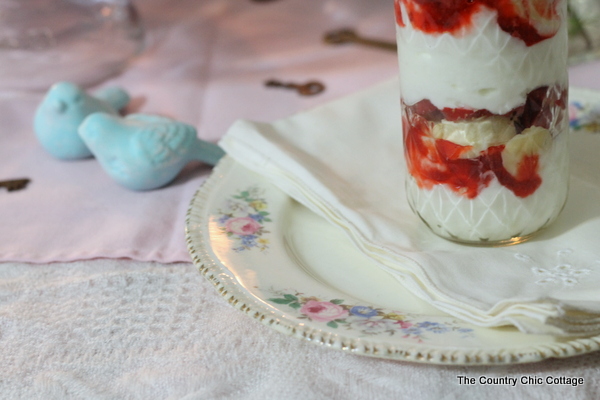 Just one of the things I learned from Seductive Tables for Two is to add unexpected and small elements to your table to add interest. I brought in a variety of vintage keys to scatter on the table. Plus who can have a romantic meal without a pair of lovebirds?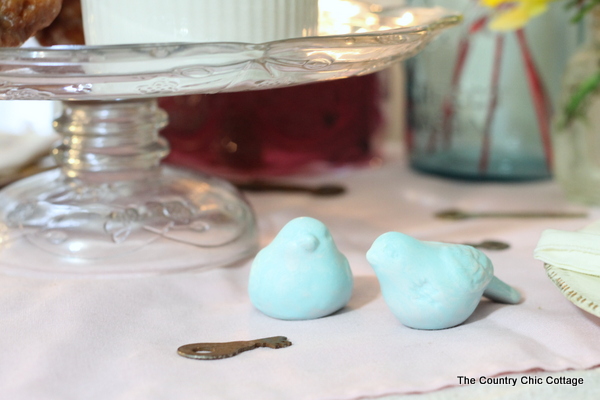 I also added a natural element after reading through the book. Moll suggests adding flowers either from the store or your yard. I thought there was really no way I could find something in my yard in January. But Seductive Tables for Two convinced me to look at all natural elements in my yard. I was skeptical but I went out before heading to the store for flowers. To my surprise, I found some lovely branches, lavender, and a couple of early blooming buttercups. My natural centerpiece was complete for zero dollars.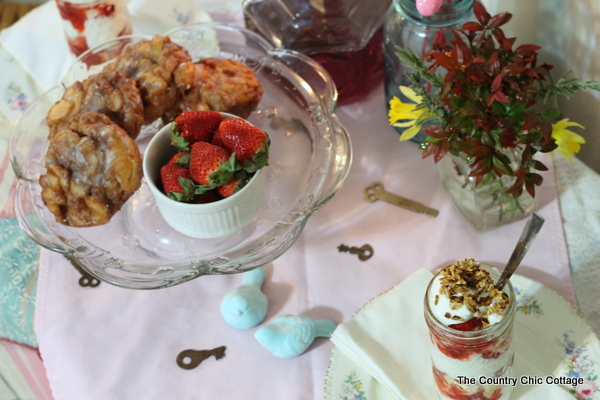 Moll's book also suggested some mood lighting for your meal. I really did not want to go typical and set out candles. So I came up with the idea of using an old oil lamp to set the romantic mood of our tablescape. It worked out perfectly plus kept with my vintage vibe.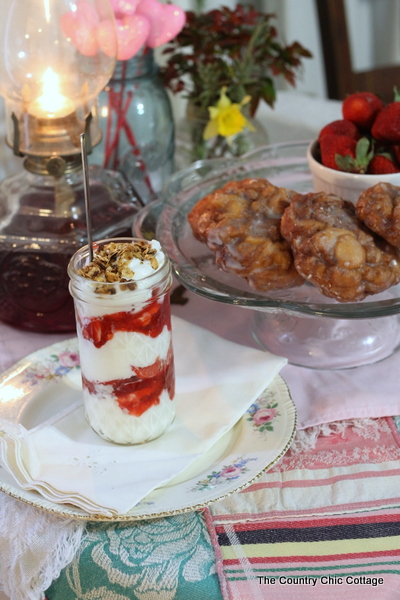 We enjoyed our fruit and yogurt parfaits in mason jars to keep going with our vintage theme. They were simply plain yogurt layered with bananas, strawberries, my homemade strawberry freezer jam, and some homemade granola on top. It was a lovely breakfast for just the two of us. A time to be alone, relax, and enjoy each other. I will be keeping my Seductive Tables for Two book handy to inspire even more of these romantic adventures. Any season, any where, a romantic moment can happen given the right preparation.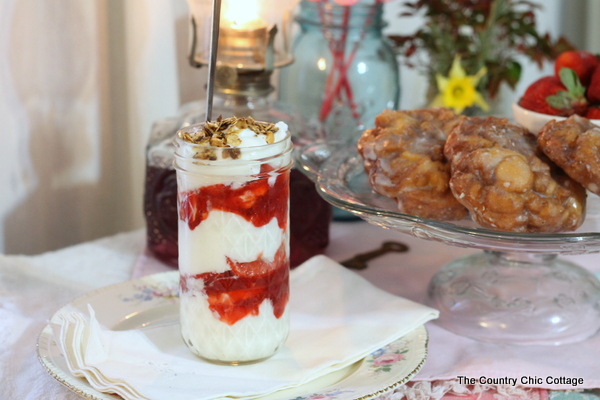 Want to learn more about Moll Anderson? She has upcoming appearances on Access Hollywood and a radio show is on XM Talk 168 every Saturday at 5:00 pm EST. You can also follow Moll on twitter and facebook.
I am a member of the Collective Bias® Social Fabric® Community. This shop has been compensated as part of a social shopper insights study for

Collective Bias

® #cbias #SocialFabric #SeductiveTables