With the release of the new Avengers movie, I thought I would share these Captain America cupcakes with y'all. Make these for a party or any day of the week for those little Avengers fans. They will love eating these amazing cupcakes and you will love seeing their faces. The decorations for this one are actually pretty easy. Just follow the directions below.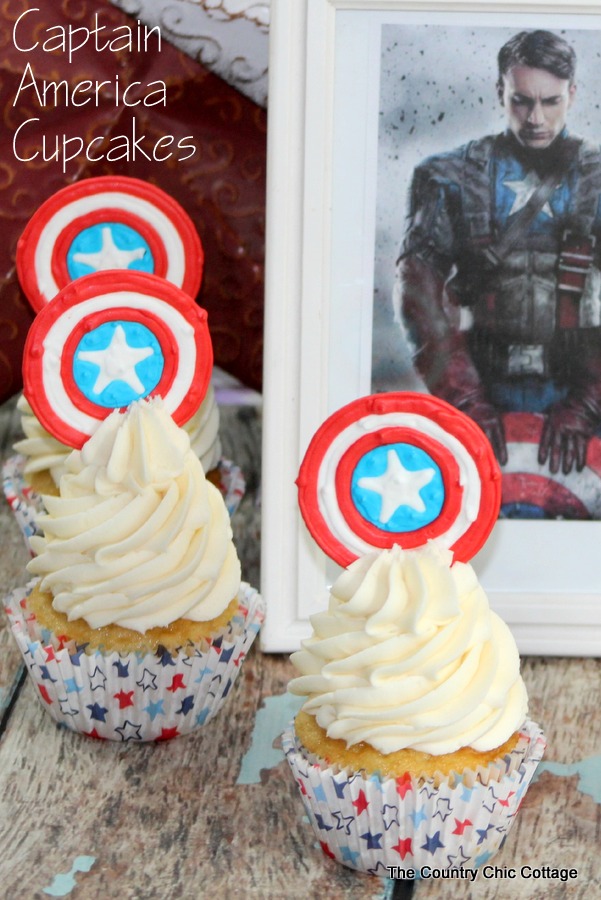 Cupcake Recipe:
3 C flour
3 1/2 tsp baking powder
1 C whole milk
2 C sugar
1 C stick margarine
4 eggs
4 tsp vanilla
Cupcake Directions:
-Preheat oven to 350 degrees.
-Line cupcake tins with paper liners.
-Cream the margarine with the sugar in a mixing bowl.
-Sift flour and baking powder in a second bowl.
-Add eggs one at a time, mixing after each addition to the margarine and sugar mixture.
-Add vanilla to the same mixture.
-Alternate adding the dry mixture and the whole milk to the wet mixture.
-Begin and end the addition with the flour mixture.
-Mix well to make sure all ingredients are well mixed.
-Using a large ice cream scoop add the batter to the paper lined cupcake tins.
-Fill only 3/4 full.
-Bake at 350 degrees for 20-25 minutes or until an inserted toothpick comes out clean.
-Allow to cool for 10 minutes.
Frosting Recipe:
1 C soft sweet cream butter
4+ C powder sugar
4 TBSP heavy whipping cream
Frosting Directions:
-Cream the sweet cream butter and powder sugar on low for 30 seconds.
-Increase mixing to medium speed and continue to mix.
-If not creaming add heavy whipping cream.
-If too soft add powder sugar.
-If not white enough add more powder sugar.
-Beat until the frosting can form and keep a stiff peak.
-Using a pastry bag and a large frosting tip…frost the cupcakes.
For additional decoration place the desired décor on the center of the frosted cupcake.
Decor Directions:
1. Go to google images and look for Captain Americas Shield
2. You will need a dozen of these images printed on 1 sheet of paper (use Microsoft word to do this).
3. Tape this paper with the images on a cookie sheet
4. Cover the paper with the images with wax paper
5. Follow recipe below to make royal icing

6. Now begin to trace the image with the icing. Do not be afraid its like coloring start of slow till you got the hang of it
7. Must cool to harden for almost 24 hours. If humid or raining it may take longer
Royal Icing Recipe:
2 egg whites
1/4 tsp cream of tartar
1 tsp almond extract
2 + C powder sugar
Red food coloring
Blue food coloring
Directions:
-Combine all ingredients mixing on medium speed for 4 minutes.
-If not white enough ADD more powder sugar.
-Divide into 3 bowls.
-Bowl # 1 remains white.
-Bowl #2 add in Red food coloring. Stir until mixed.
-Bowl #3 add in Blue food coloring. Stir until mixed.
-Using 3 small pastry bags with a #2 tip add the different colors into each pastry bag.
-Test to make sure that the correct color comes out of the tip.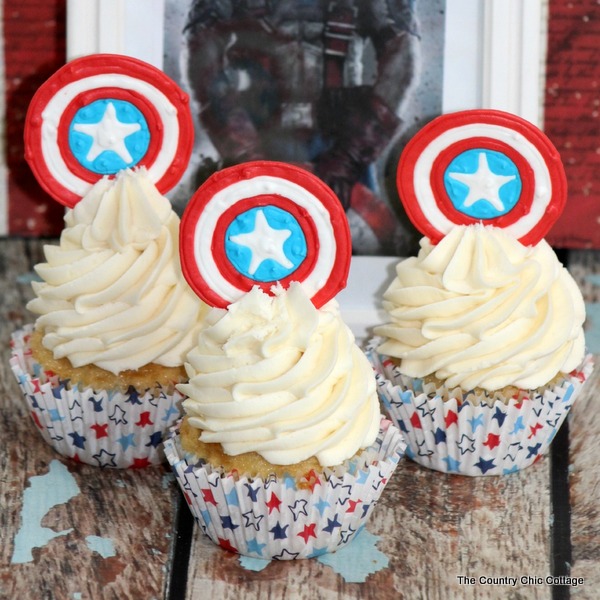 Enjoy your Captain America cupcakes at a party or any night of the week. Want more Captain America fun? Click here to see how to make this Captain America shield for your little one.