I have a super fun recipe for y'all today. These carrot cookies from Nutter Butters can be made in just minutes for the kids or yourself. Send an entire garden of these fun carrot cookies to school and celebrate the beginning of spring this month.
Carrot Cookies from Nutter Butters Recipe
Nutter Butter cookies
Orange Wilton candy melts
Green Apple Twizzlers (found in the candy section)
White frosting
Directions –
Separate the Nutter Butter cookies into two halves. Using kitchen
scissors
, cut the green apple Twizzlers into 2-3" sections and separate the ropes. Each cookie will require (3) 2-3" ropes. Using a butter knife or a small spatula, spread a small amount of white frosting on the top/inside section of each of the Nutter Butter cookies. Take the 2-3" green apple Twizzler ropes (leaves) and place on the frosting. Place the top half of the cookie on top to make a sandwich and place on a cookie sheet or plate. Repeat this process with the rest of the cookies. Once all cookies are put together, set in the fridge for 30 minutes so the frosting sets – it will hold the cookie and Twizzler 'stems' together like glue once they are set.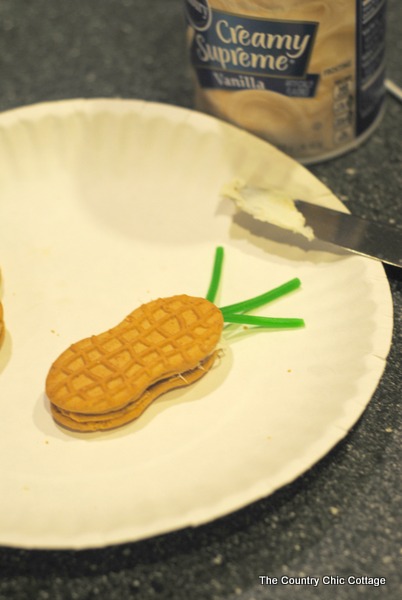 Once the cookies are set, microwave the Wilton orange candy melts in a microwave safe bowl stirring every 30 seconds until melted. Let the chocolate cool 2-3 minute before dipping the cookies. Take each cookie one at a time and dip into the chocolate covering ¾ of it (see photo below). Lay on a wax paper or a foil lined cookie and using a teaspoon take a small amount of orange chocolate and cover the rest of the cookie with it – go slow and be careful not to cover the 'stems'.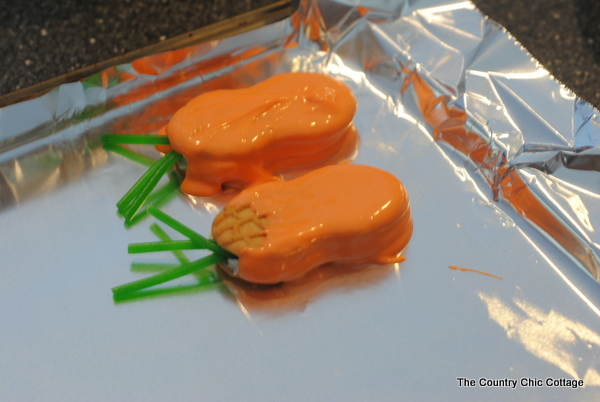 Repeat with the rest of the cookies. Let set at room temperature for 1 hour. You can also place in the fridge for 20-25 minutes to speed up the process. Store in an airtight container 1-2 weeks.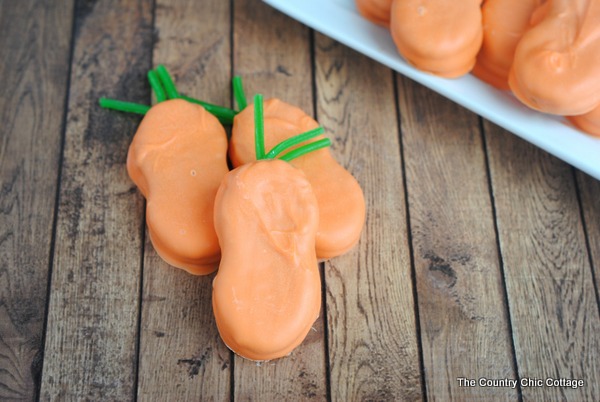 You have adorable carrot cookies from Nutter Butters all with minimal hands on time. You have to love that!