I did a post a while back about some rusty old vintage cast iron I was given and now I am sharing my process for restoring cast iron. You may have old pots and pans that have been in your family for years. Or you may find some new-to-you pans at a thrift store that need some love. Either way, this process for cleaning cast iron will leave your pots and pans better than ever!
Love cleaning tips and tricks? Don't miss our natural cleaning e-book for my best recipes!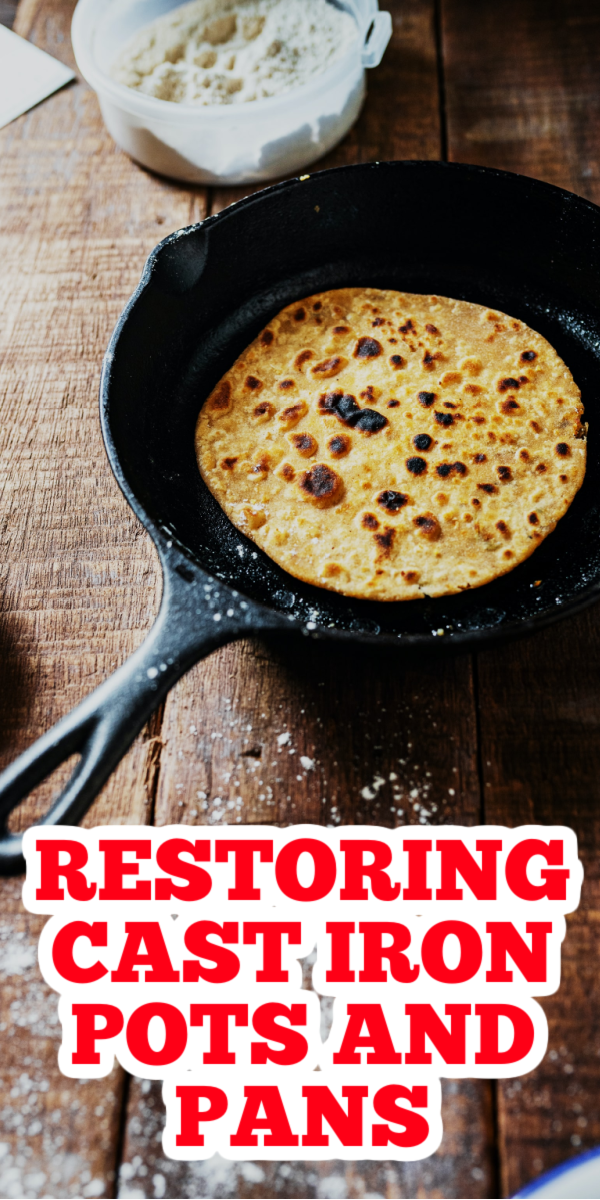 Restoring Cast Iron
First, you will need to clean your cast iron then you can season it for a nice, long life. Don't miss our tips below for cleaning your cast iron as well. Once you go to all the trouble of restoring it, you will want to clean it properly.
Removing Rust from Cast Iron
Here are a few methods that work for removing rust from your pans:
Rub with a potato cut in half dipped in salt. A course salt works best for this method.
Scour with steel wool to get more stubborn areas.
Got more stubborn rust? Soak your pans in half vinegar and half water to remove the serious rust before scrubbing.
If you still are having rust issues, use a wire brush attachment on a rotary tool to buff the stubborn areas.
Seasoning Cast Iron
Now that you have all of that rust removed, it is important to immediately season your cast iron to keep it from rusting again.
Use a rag or paper towel to rub the entire surface down with shortening.
Place the pan upside down on a large sheet pan and bake.
Bake the pan at 350 degrees F for one hour.
Then turn your oven off and allow the pan to come to room temperature inside the oven.
Cleaning Cast Iron
Every time you use your pan from now on, you will need to clean it after you are done cooking. It is important to clean it correctly to avoid rust.
When you are done cooking, scrape out any food and throw out.
While the pan is still hot, rinse with HOT water and a sponge or rag. IMPORTANT: Do not use any soap!
Got stuck on food? Try a little salt to scrub it away.
Then just rinse with hot water and dry.
Put the pan on the stovetop and heat to remove any remaining moisture.
Wipe down with a bit of oil every few uses to keep your pan seasoned.
Now you are an expert at restoring cast iron! It really is that easy. There is no reason to throw out any old cast iron that you may find when hunting for bargains. These pots and pans can easily be restored to their former glory and used daily.
Recipes to Make in Your Cast Iron
Now that you have some clean and seasoned cast iron pots and pans, it is time to cook in them! Here are a few of my favorite recipes:
Want to see my favorite cleaning supplies and products?
I have gathered all of the products I love using around my home into one great section of my Amazon storefront. You can click here to shop! If you're looking for just about anything to clean your home, I probably have an option that you will love!