Ever since I have started sharing tutorials here using Chalk Couture products, I have had some questions about how to start a Chalk Couture business. I normally do not discuss much of the business portion of this blog here, however, this time I am making an exception. You see selling Chalk Couture is really so easy that literally anyone can do it. This can become a great home based business for so many. So, read on if you are interested in the details of this business! Otherwise, come back Monday for the usual crafty goodness.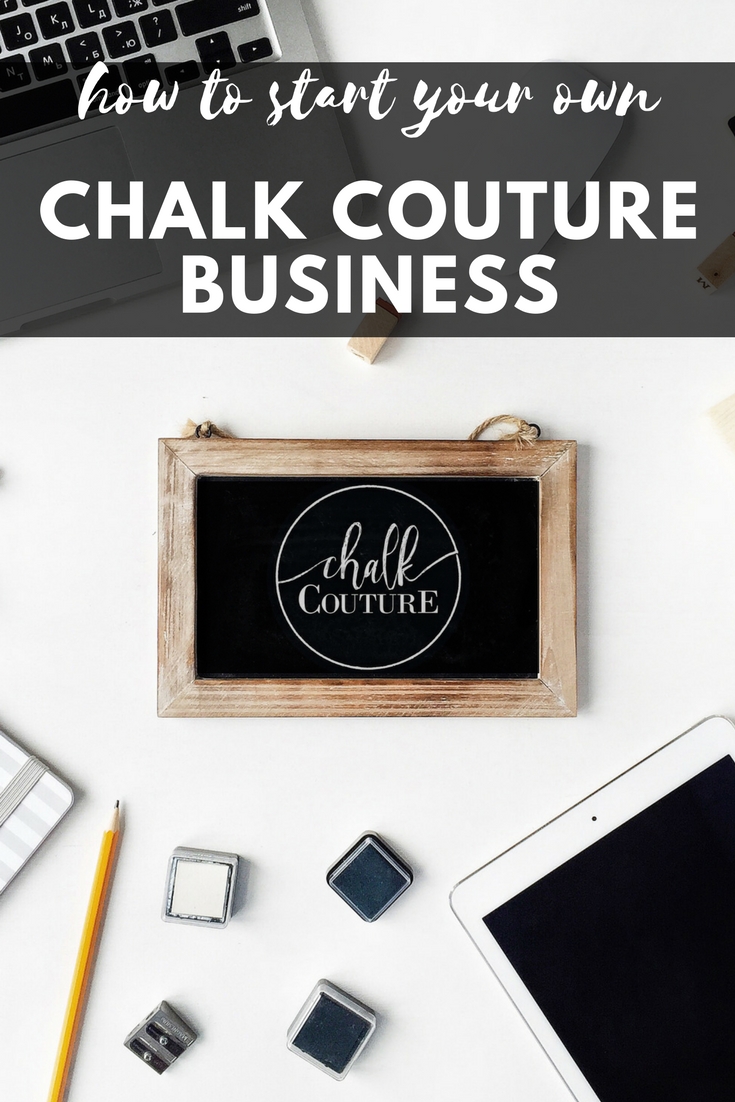 Ways to Sell Chalk Couture
Now that you know a little about the product, you might be interested in selling it yourself. There are a few different ways you can run a Chalk Couture business.
Selling online. You can just sell the products online. Perhaps to your Facebook friends or on a blog like this one.
Hosting parties. Make and take craft parties are becoming big business. Think sip and paint but with chalk!
Selling completed projects. Perhaps you just love how easy this product is and want to just create. You can totally sign up and just sell your completed projects at craft fairs. Signing up to sell gets you a huge discount on the supplies you will be using on those projects.
Getting Started
To get started, you first need to purchase a starter kit. This purchase will mean you are officially an independent designer with Chalk Couture. The kit is $99, however it is worth over $230. It is seasonal so the actual contents vary depending on when you purchase. This purchase also sets up your online store which is completely done for you by the Chalk Couture team.
The kit will include everything you need to get started creating including transfers, pastes, chalkboards, squeegee, an apron, and thank you cards. You can literally jump right in once your kit arrives.
What Happens Next?
You have ordered that starter kit above…now what? You are now an independent designer and have your own website to start selling right away. Now you can also order your own supplies at a 40% discount off of retail price. Your website is hosted on Chalk Couture and the fee to run that site is $19.99 a month (but it's 100% maintenance free!) But the best part is that you get a free transfer each month as part of the Chalk Couture Monthly club. YAY! More crafting goodies! Note that your first month of hosting is free then you will be charged the $19.99 after that.
Once you sign up, be sure to watch your email! You will get important notes from Chalk Couture about getting everything set up. There will also be a 50% off coupon you can use to purchase a few extra goodies for yourself if you would like. You definitely don't want to miss that!
Also, just for signing up using this link, we will add you to a private Facebook group with tons of training on building your business from the ground up. Just message me on social media or send an email to thecountrychiccottage@yahoo.com once you sign up and I will get it set up!
How Much Can I Make?
This is the bottom line after all right? Here is a rundown!
40% from inventory you sell at craft fairs or doing local make and takes
25% from all online orders
even more bonuses once you start building a team
You can literally pick how much or little you want to do. Plus, you can cancel at anytime. Easy peasy! You don't have to be a pushy sales person if you do not want to be. Maybe you just want to host a monthly craft night for friends. That is okay! Or you can go the extra mile and sell every chance you get. That is okay too! This is your business above all else.
Please note: Currently only US residents can sell Chalk Couture – hoping they'll change this eventually!
Got questions? Please leave them below! Don't want to sell Chalk Couture but want to try the products? Click here to shop with me!
Now are you ready to start your own Chalk Couture business?
Chalk Couture Beginner's Guide
Getting started with Chalk Couture? Sign up for our email list and then use our handy free printable guide to start creating chalkboard art in minutes!