Want to turn the ordinary candy apple tradition on its ear? Try this incredibly super easy fancy pants candied apple recipe. This chocolate peppermint apple with melted candy corn only uses 4 crucial ingredients but delivers eye-popping and super tasty fun. The crisp sour sweet of the Granny Smith apple plays well with the minty flavor of the peppermint pattie (GLEE!). Add the melted Candy Corn and drizzled chocolate syrup and you got something your mouth will really enjoy.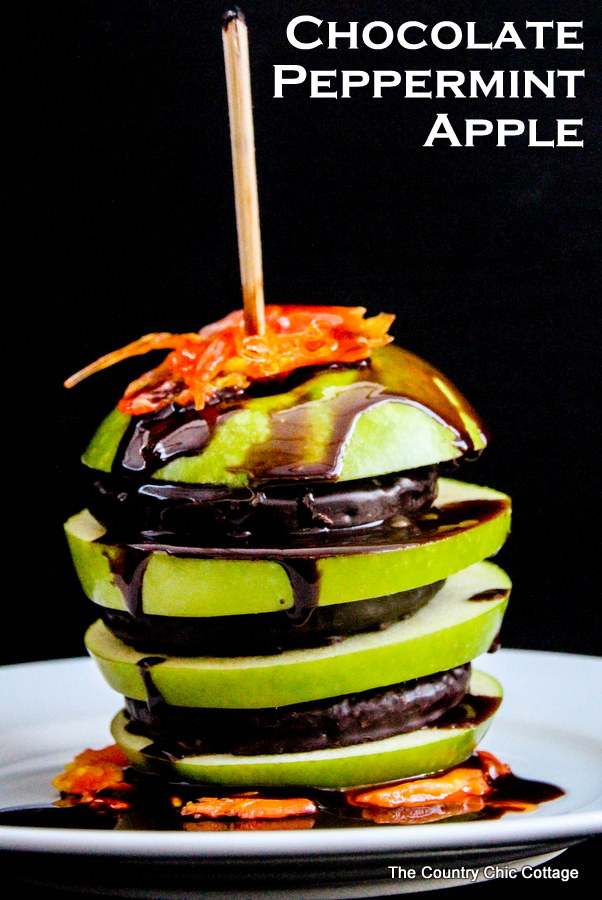 Chocolate Peppermint Apple Recipe
Ingredients:
1 Granny Smith Apple
3 York Peppermint Patties
Hershey's Chocolate Syrup
12 Candy Corns
Additional items: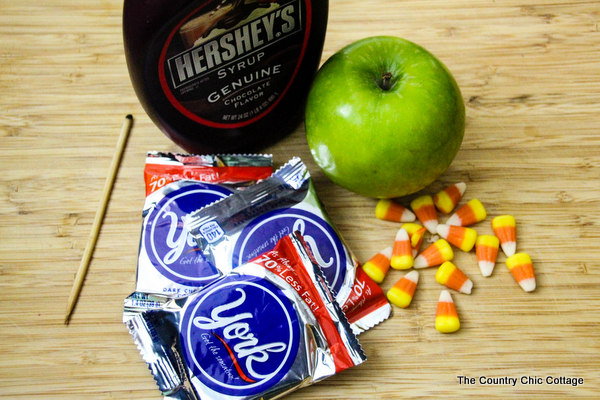 Directions:
Prep:Brush a skillet with 1/2 a teaspoon of
coconut oil
over medium heat. Add 6 candy corn candies, allow them to melt slightly (do not let them burn). Remove from heat and using a spatula place in the center of a plate or saucer. Working fast before the candy corn hardens, put a little coconut oil of the back of a spoon or on the tips of your fingers then spread the candy corn into a circle.
1. Rinse apple and remove stem.
2. Using a very sharp knife slice apple into 4 sections, you're only going to use 3 sections.
3. Place the bottom section of the apple on the candy corn base, then add a York Peppermint Patty. Repeat with 2 more sections ending with the top slice of the apple.
4. Insert a thin wooden skewer into the center of the apple.
5. Drizzle with chocolate syrup and top with melted candy corn.
6. Serve.
Enjoy this fun twist on the traditional this fall! You will love eating this chocolate peppermint apple in place of a traditional candy apple.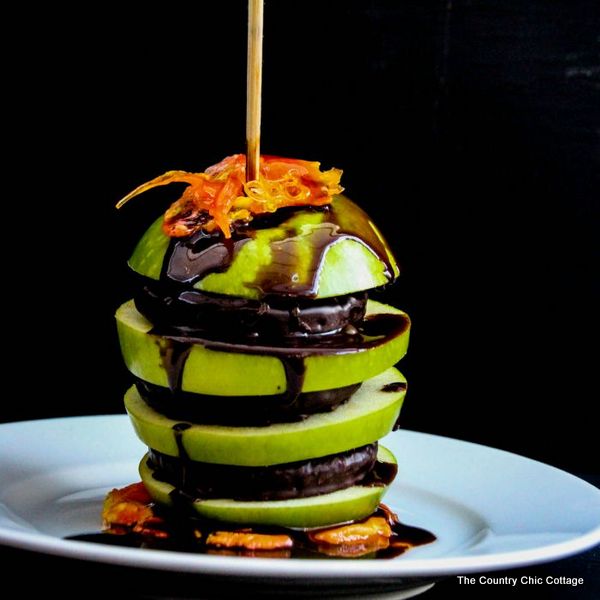 Looking for easy recipe ideas?
Struggling with supper and what to make? Do you wish you had a way to make meals faster? The dump recipes system allows you to make 10 meals in just one hour or less, rescuing your dinnertime and saving you time and money.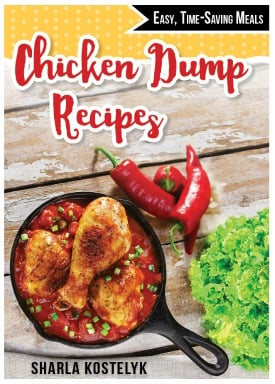 Want to try it for yourself? I have the perfect cookbook for you. Chicken Dump Recipes includes 5 plans, each with printable shopping lists and printable labels. Most of the 25 recipes included can go from the freezer to the crockpot, saving you even more time. All the recipes include gluten-free instructions as well.
What are you waiting for? Give the dump recipes system a try in your home and make meal time a bit easier!