Serve up these chocolate strawberry cupid cupcakes to your sweetheart this Valentine's Day. The fabulous Mary Beth with Cupcakes and Crinoline is back this month with an amazing recipe that you don't want to miss. Read on below and give this recipe a try for Valentine's Day or any day of the year!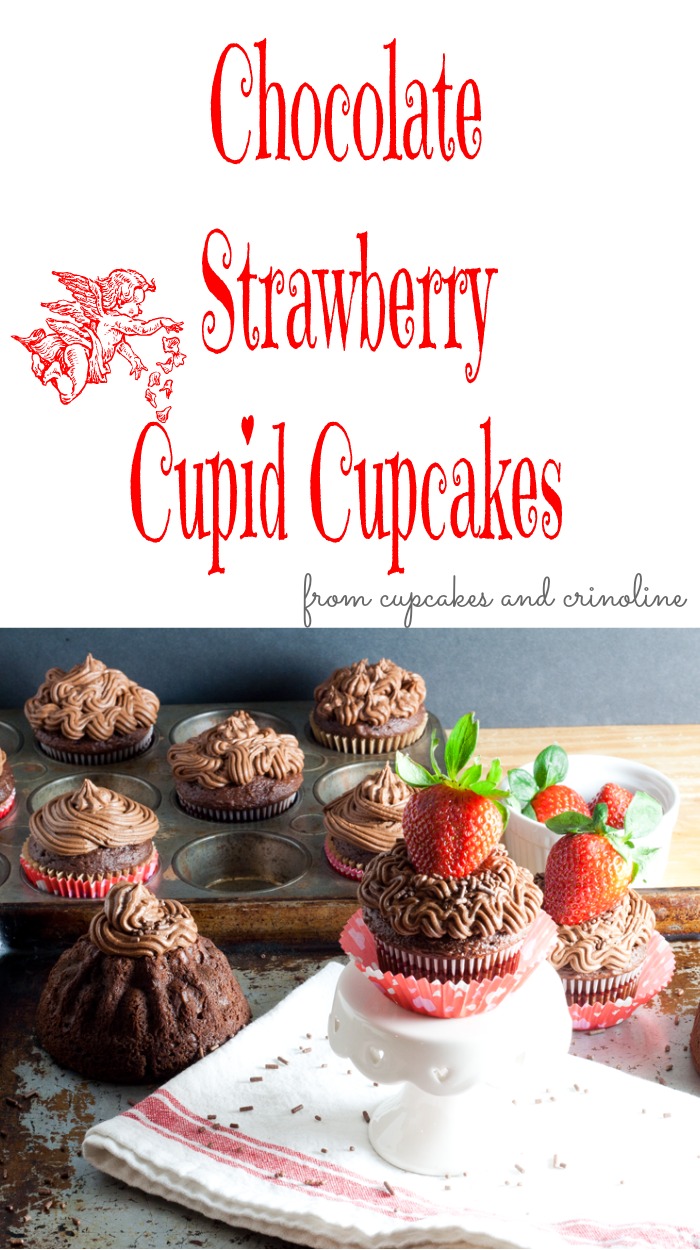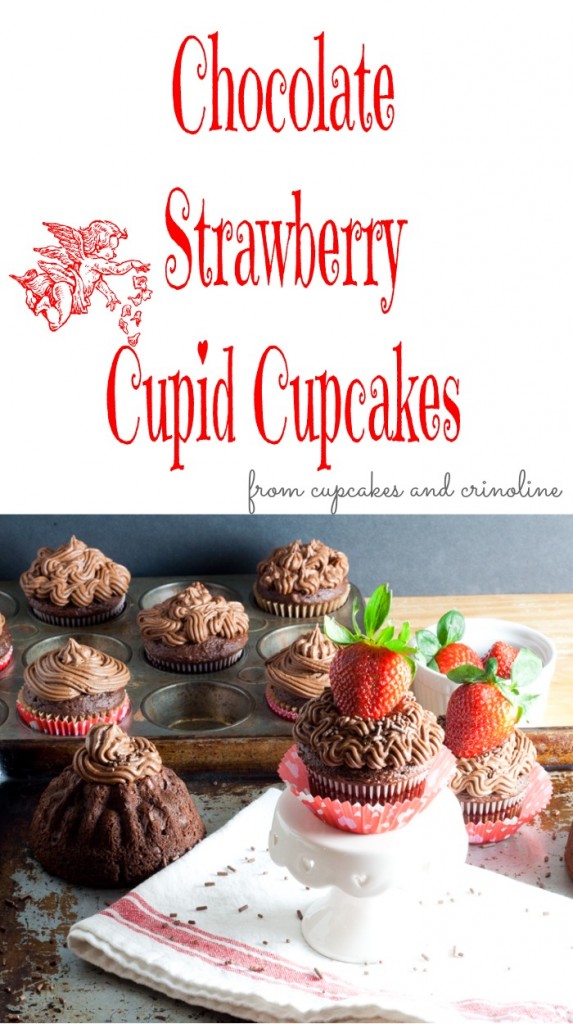 Cupcakes are one of my favorite sweets to bake. You can add so many ingredients to cupcakes and decorate them for every occasion you can imagine. Today, I wanted to share some cupcakes with you just for Valentine's Day. These are Chocolate Strawberry Cupid Cupcakes. Chocolate and strawberries seem to go hand and hand especially when it comes to celebrating so I've combined them for you today to share with your sweetheart and your sweeties.
Chocolate Strawberry Cake
1 cup Dutch process cocoa
2 cups boiling water
1 cup butter, softened
2 cups sugar
4 large eggs
2 3/4 cups good quality flour
1 tsp. baking soda
1 tsp. baking powder
1/2 tsp. salt
1 tsp. strawberry extract
Decorative paper baking cups
1. Preheat oven to 350º. Combine cocoa and boiling water in a large heatproof bowl stirring until completely blended; allow to fully cool before proceeding to next step.
2. In the bowl of an electric stand mixer beat butter until creamy. Gradually add the sugar beating until well blended.
3. Add eggs, one at a time, beating until fully blended after adding each egg.
4. In a separate bowl combine the flour, baking soda, baking powder and salt and slowly add to butter mixture alternating with the cocoa mixture beginning and ending with the flour mixture.
5. Beat at low speed until just blended (do not over mix). Stir in strawberry extract.
6. Place paper baking cups in muffin pans and spray with cooking spray. Fill baking cups 2/3 full.
7. Bake for 12 to 15 minutes. Cool in pans on wire racks for 10 minutes; remove from muffin pan and allow to completely cool on the wire racks.
Chocolate Frosting
1/2 cup butter, softened
1/2 cup unsweetened cocoa
1/3 cup whipping cream ~ may need to add more as detailed below
1/8 tsp. salt
3 cups of powdered sugar (can add more to taste up to 4 cups)
1. Beat butter, cocoa, whipping cream and salt at medium speed until creamy.
2. Gradually add the powdered sugar 1/2 cup at a time. You may need to add a little more whipping cream 1 tablespoon at a time if the frosting is too stiff.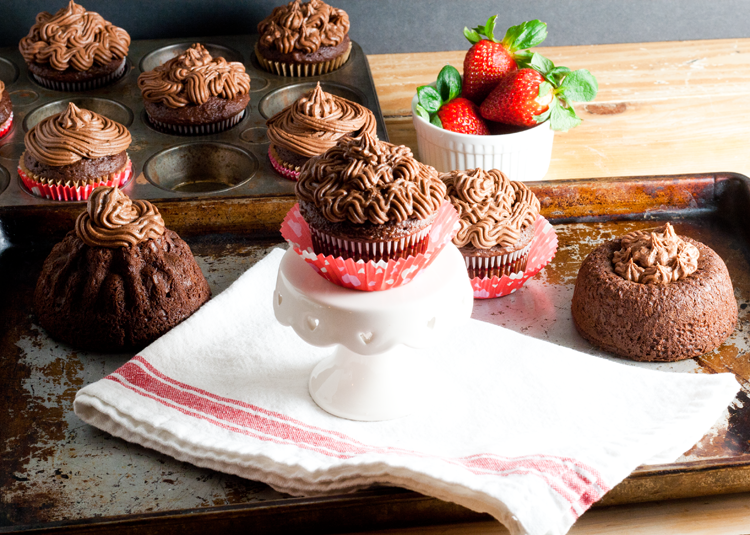 Use a piping bag with a decorative tip to frost the cupcakes.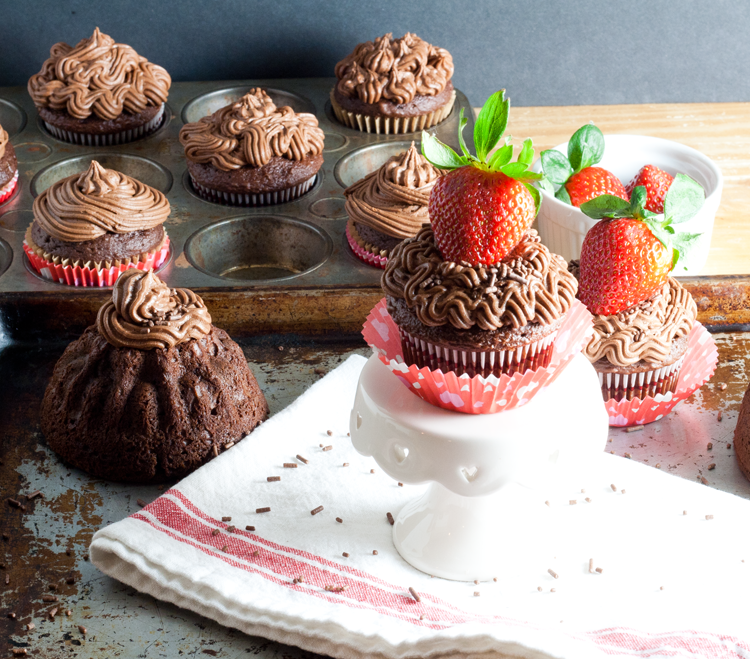 Sprinkle with chocolate jimmies and add fresh strawberries if desired.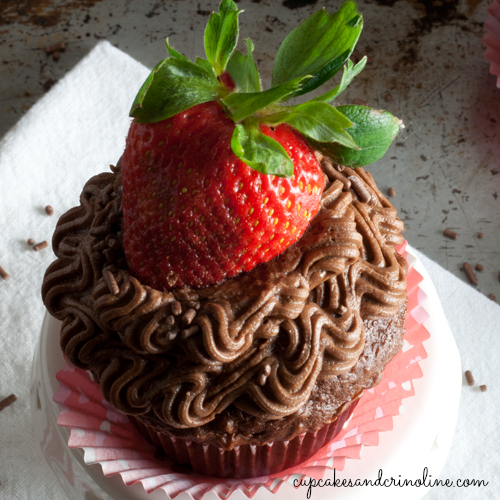 Makes 24 cupcakes
These cupcakes can be made ahead and refrigerated for up to 3 days if you want to make them in advance. I don't usually have to worry about how long they'll stay fresh ~ my kids eat them up as fast as I decorate them.
If you love these cupcakes, you will also love these others from Cupcakes and Crinoline!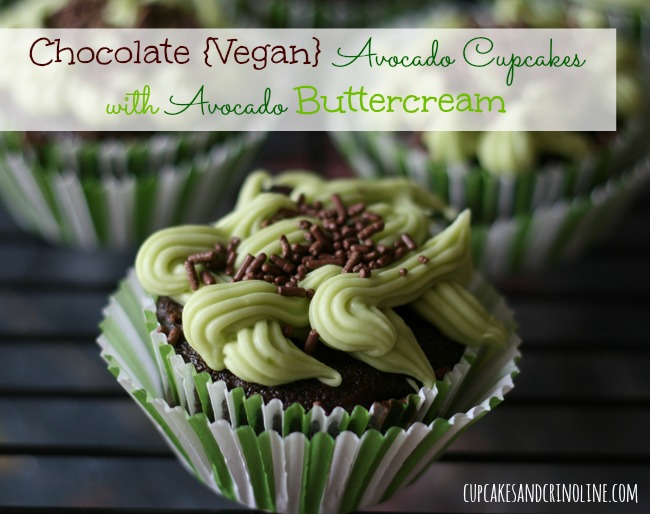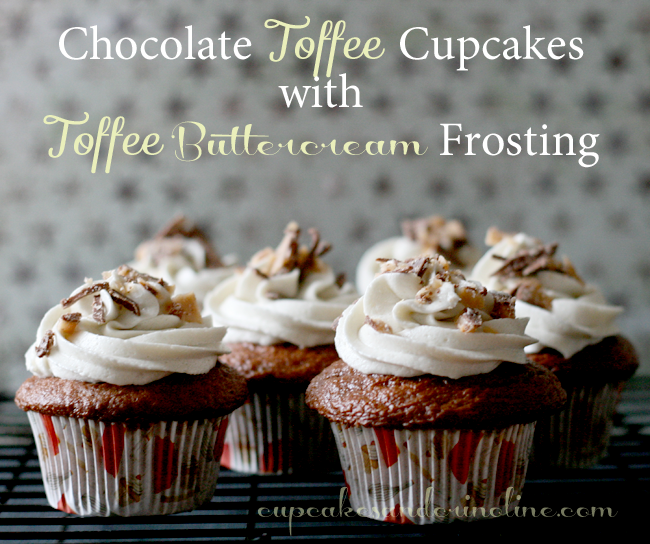 Get Our Weekly Newsletter