It has been busy around here lately y'all! I have started a new blog and have a new newsletter you can sign up for. Lets get to the new blog first cause I am excited about this one. I started
Crafts with Jars
to further share my love of all jar crafts and be able to feature jar crafts from all of you. So if you have crafts with jars and want to be featured….head on over and submit them to me! Browse around while you are there as there is tons of great content up already.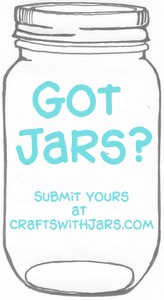 Now for my second bit of exciting news. I started a weekly newsletter. I know sometimes it is hard to keep up day to day around here so I came up with a way for you to get an email once a week with a summary of what has been happening here all week! Great right? So
sign up for our newsletter today
. That is all for my exciting news. Do you have any to share? Tell me what you have been up to!
Get Our Weekly Newsletter