Hello Ladies, I am Marianne from Songbird and I am so pleased to be here with you today. When Angie asked if I would like to contribute to her Handmade Gift-o-Rama I jumped at the chance.

There already have been a lot of great ideas about handmade gifts featured here this year, and I thought let's share some ideas for packaging those treasures.
I love the scour the (French) flea markets in my region (I live in the Netherlands) and my craft room is bulging with goodies I couldn't pass up and had to take home with me.
So for this years Christmas wrapping I decided to just dive into my stash and use what I have.
I love vintage doilies so much, they are so versatile. Just add a couple to a plain white package and you have instant glam.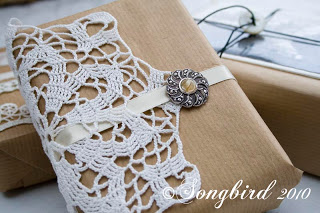 They do wonders for brown paper packages too. This one is definitely inspired by the Sound of Music (a Christmas-must-see-movie don't you think) but I didn't tie it with string but with a bit of ribbon and I added a little bling.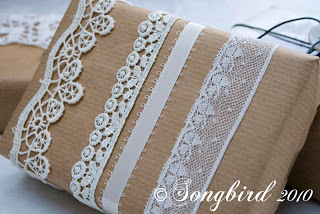 Doilies are usually pretty easy to find. But if you don't happen to have any around, tying different bits of ribbon and lace around a brown paper package works too. Don't you agree that this looks lovely?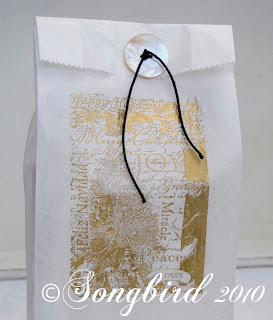 Here's another easy idea. This white paper bag is actually your everyday sandwich bag from the grocery store. But with an embossed gold Christmas stamp, some ribbon and a mother-of-pearl button, it definitely isn't everyday anymore.
Paper bags are very easy to use and it takes very little to make them look nice.
Here's another idea of what you can do if you don't have doilies. Paper doilies from the baking department work too! I added some gold stickers from my scrapbooking stash and an ornament from the dollar store.

Really you can use anything like this. The next package is wrapped in what I think was a sleeve from a dress once.

I wrapped the little box in a bit of white tissue paper first so that it's colors wouldn't shine through the lace. And I used an old belt buckle and some satin ribbon to tie it up.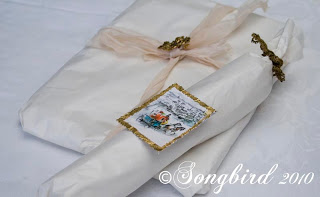 Tissue paper is very easy to use. Here I wrapped one package with tissue paper and some tea stained ribbon and added a gold pin for some extra glamor.
The second package is a role with a Christmassy, vintage tag.

But don't be fooled by that vintage tag. It is simply a bit of cardboard from a cereal box with a bit of gold paper from a candy bar wrapper and a vintage looking image from last year's Christmas cards.
Zero cost but looks great.

Using old black and white photographs adds instant 'vintagification' too. Just look for a winter image among your old family's photographs or search on-line and print it out on card stock.

They are great for making tags too! (oh and for your information 'Prettige Kerstdagen en Gelukkig Nieuwjaar' means Merry Christmas and a Happy New year).
Give handmade with all the posts from this series! Follow the CCC so you don't miss the rest! Each day there will be a great Christmas tutorial and a feature on a great handmade shop!
~Thanks for stopping by!~