Up next is Jess from A Couple of Craft Addicts!! Two talented women cranking out lots of great crafts! Be sure to check out their blog!! But for now check out this super cute swimsuit cover that you can make for your little one!!
*~*~*~*~*~*~*~*~*~*~*~*~*~*
Hi I'm Jess from A Couple of Craft Addicts. My partner Heather and I began as just a couple of moms who loved crafting and sharing ideas with each other. Then one day we decided to create a blog where we can share our ideas with the world. My main focus is on sewing but I enjoy all crafting including furniture refinishing, home crafts/projects, and kids crafts. My inspiration comes from my family. They love and support me in all my endeavors and love homemade items by MOM.
I was so excited to hear from Angie and be a part of the beach bash. I love the beach. As a Seattle native I have spent many summers playing in the water and lying on the beach. So when I was thinking about my project I tried to incorporate all the things I love about the beach. The sun, the breeze, and the warm summer colors. I wanted to make something I love to make, clothing for my daughter. So thinking about the beach I love, I had the great idea of making a swimsuit cover for her. I wanted something light and airy (to represent the breeze), a cover to wear in the sun, and I used classic summer colors Red, White, and Blue. I love a nautical theme for the beach as well.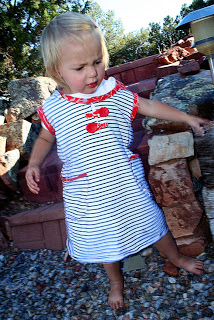 This project was a challenge for me because I didn't have a pattern. First I traced a basic a-line dress from one of my daughter's shirts. I used a soft jersey/cotton blend. Then I added a hood and a slit down the front that I tied closed with button loops and buttons. I also added elastic around the waist to give it some shape and finally some pockets in the front because everyone needs pockets at the beach for collecting shells. It is soft, comfy, and light…the perfect summer cover for a fun day in the ocean and sand.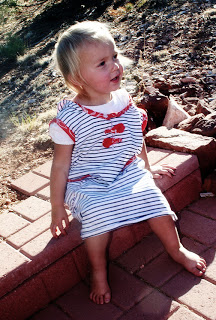 Here are some of my other projects you might enjoy:
*~*~*~*~*~*~*~*~*~*~*~*~*~*
Many thanks Jess for being here! And PS your daughter is adorable!!
The Beach Bash has been full of great ideas and runs til July 20 — follow along with The Country Chic Cottage and don't miss a day!! Grab a button if you want and help spread the word!!
~Thanks for stopping by!~

~Angie~