Come explore the magical Land of Oz with me! I was sent an advanced copy of
Oz the Great and Powerful
on DVD and I was inspired to create these Emerald City Push Pop Cupcakes for my family. Learn how to make your own Emerald City below plus see even more Oz inspired crafts and recipes at the bottom of this post. Build your own Emerald City for a movie celebration or party at your home.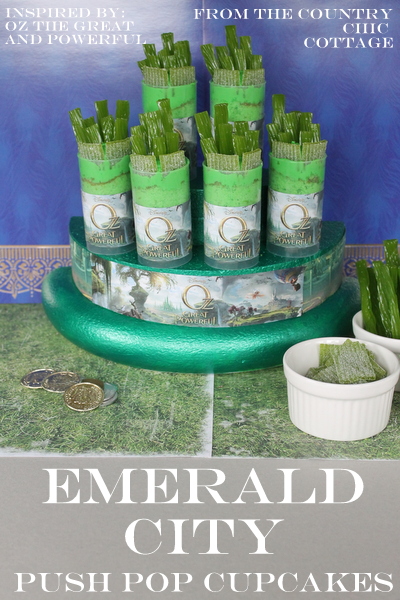 I am going to start by building the stand the cupcakes are in. It is made from some foam and a Styro Cutter. The cutter is important for when we put the large holes in the foam for the push pop holders. I made a half stand since it was only for my family so I used half of a 12 inch wreath form, a 10 inch circle of Smoothfoam, and an 8 inch circle of Smoothfoam. If you wanted to build a circular stand that went all the way around you would need an entire wreath form, two of the 10 inch circles and I would recommend two 6 inch circles instead.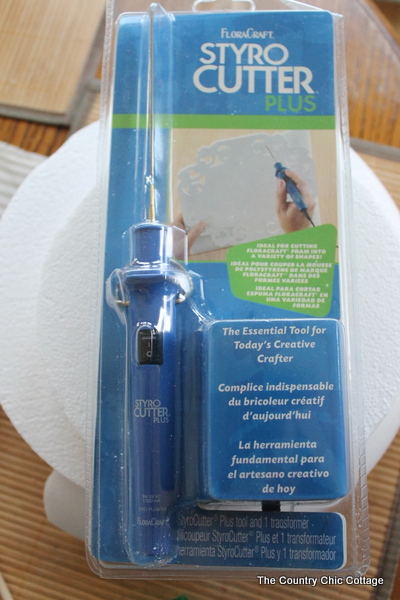 I used the Styro Cutter to cut my foam into pieces and I assembled my stand with glue. It is not shown in the photos below but I ended up cutting some off of the top circles so they would sit back further. I used those scrap pieces at the bottom in the back for extra support of the structure. I would use something in the middle of the back just to support the weight of the cupcakes.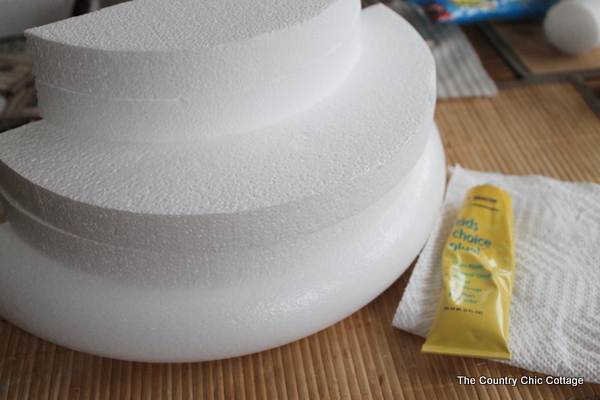 I then placed just the top portion of the push pop containers on the stand how I wanted them to be when finished. I then used a pencil to mark the center. (NOTE: My push pop containers were provided by Consumer Crafts.)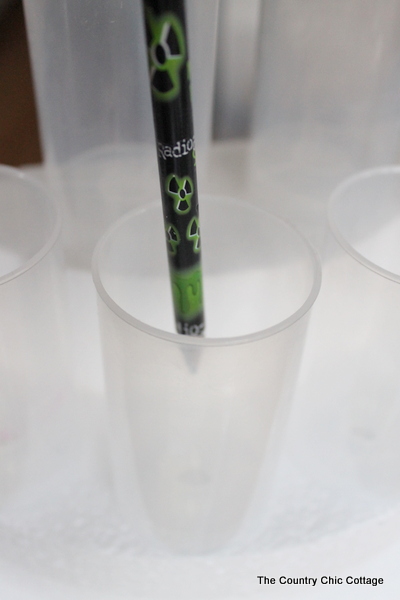 I took the handle, placed it on that center mark, and traced around it. Now I know where and how large my holes need to be.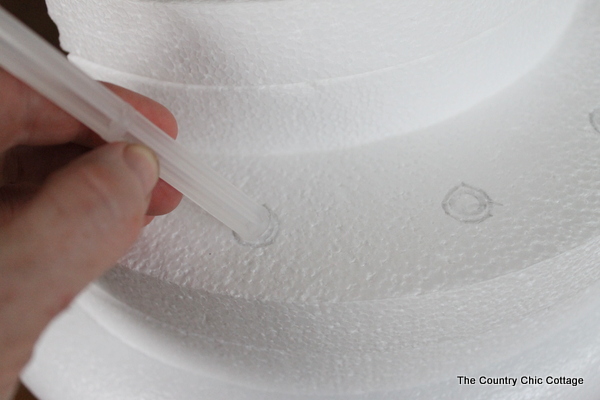 So above where I cut my foam to shape you could probably use a serrated knife or something else. But now that we are going to poke holes through the foam I think the Styro Cutter is really a must. Just insert it from the top and let the heat do the work. My holes did not turn out perfectly but they are covered by the cupcakes anyway…right?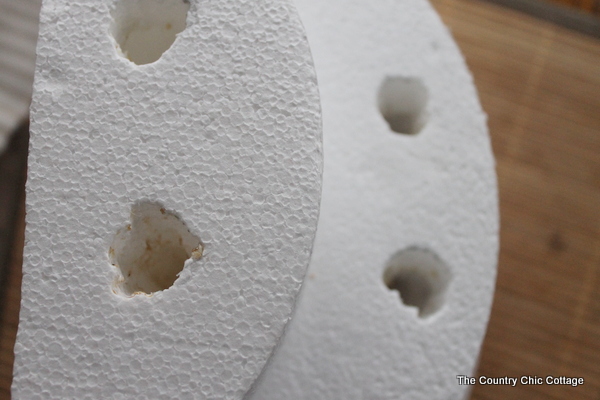 I then gave the entire stand 3 coats of paint. One base coat of Americana Festive Green and two top coats of Crystal Green in Dazzling Metallics. Both paints were provided to me from DecoArt. The metallic paint is really what made my stand gleam like the Emerald City.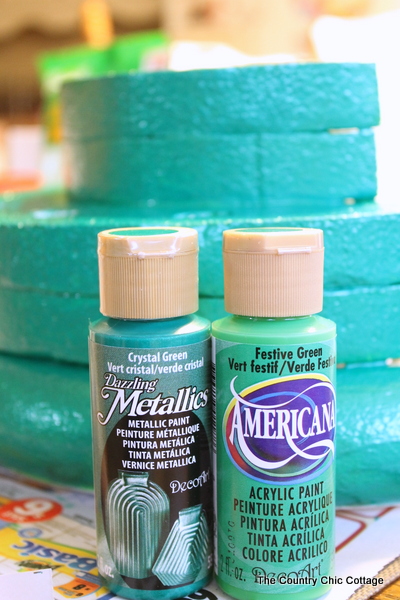 While you are painting and allowing coats to dry above — start baking! You will need one cake that is baked in 9 inch pans. I used a white cake mix and dyed it green before baking. Allow your cake to cool completely. I also tinted a can of white frosting with green food coloring as well. HINT: Use green paste food coloring for a more vibrant display. Then add frosting and cake layers to your push pop containers until they are full. Your push pop containers can be used to cut the cake to the proper size.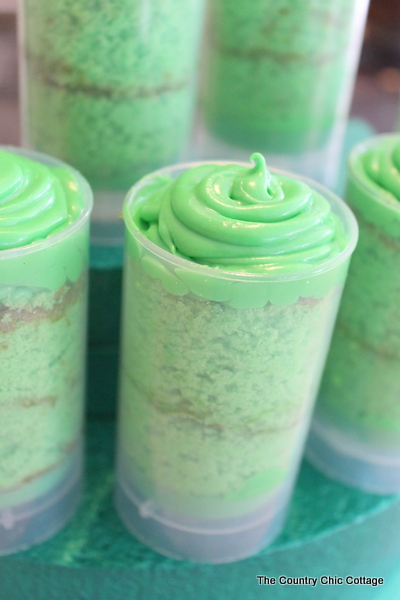 Next I cropped an image from the movie into long strips to use as wraps for my cupcakes. You can download my Oz the Great and Powerful cupcake wraps here. Just trim them from the paper after printing.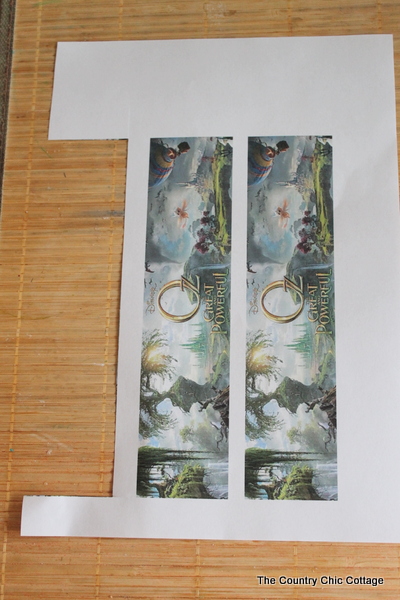 You will also need some green candy to decorate your push pop cupcakes like the Emerald City. I used some green licorice in two different shapes. I cut them into different sizes with my kitchen shears.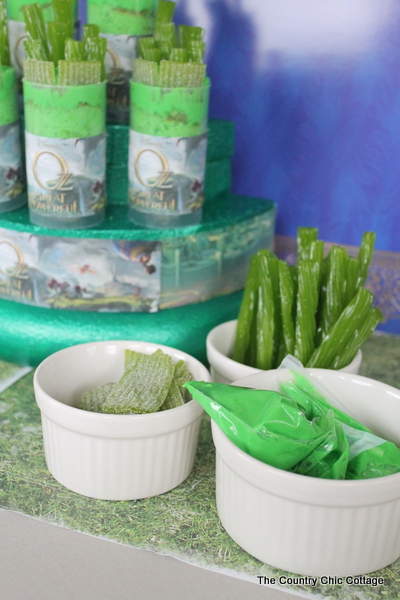 Each push pop cupcake uses two sticks of the long green licorice cut into different sizes. Then I placed one of the smaller "sour" pieces cut in half in the front of each one.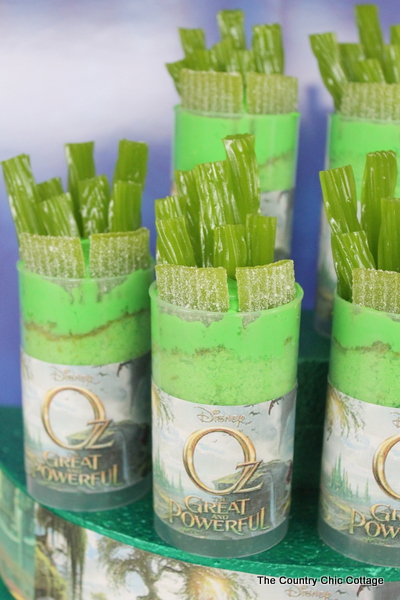 The wraps themselves are just put around each container and secured with a bit of tape. I also used one of the cupcake wrappers on the stand itself. Then I added a bit of the Emerald City fence on either side of the stand. Print the
cupcake stand wrap
then cut it in half to use on both sides of your stand. Again this is just secured in place with tape.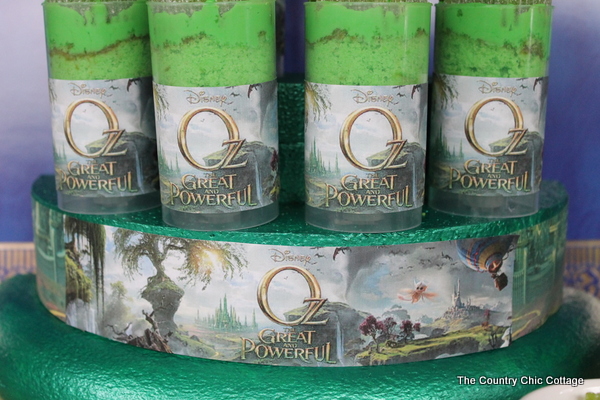 You are now ready to have a great movie party with your family! Take an adventure to the Land of Oz starting on June 11th with the release of the movie on Blu-ray and DVD. Find out more information on where to purchase your own copy of the movie here.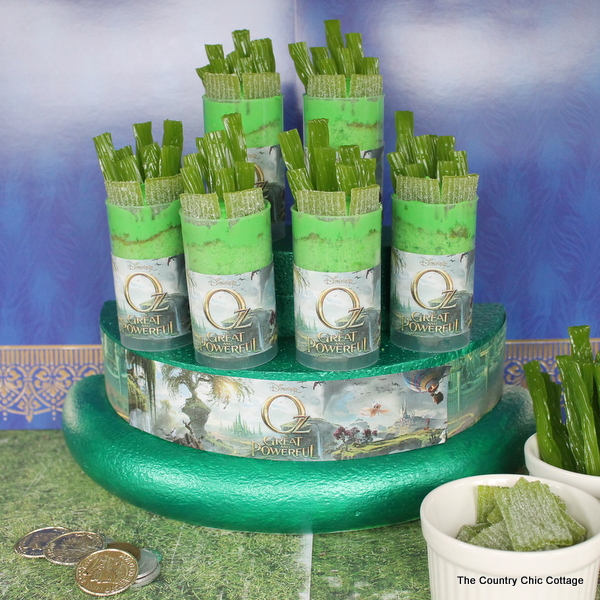 Also be sure to keep up with Oz the Great and Powerful on facebook, twitter, and Pinterest. I was provided a copy of the movie and given compensation for my participation in this program. However, all projects and opinions are my own.
Looking for easy recipe ideas?
Struggling with supper and what to make? Do you wish you had a way to make meals faster? The dump recipes system allows you to make 10 meals in just one hour or less, rescuing your dinnertime and saving you time and money.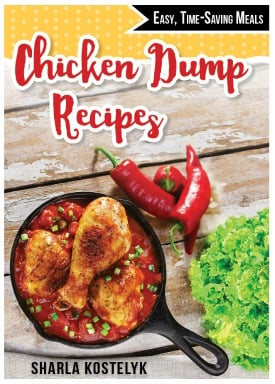 Want to try it for yourself? I have the perfect cookbook for you. Chicken Dump Recipes includes 5 plans, each with printable shopping lists and printable labels. Most of the 25 recipes included can go from the freezer to the crockpot, saving you even more time. All the recipes include gluten-free instructions as well.
What are you waiting for? Give the dump recipes system a try in your home and make meal time a bit easier!