Make a fun addition to any summer barbecue with these grill cupcakes. They are also perfect the dad who loves his barbecue! These are so much easier to make then you are probably imagining! So, grab your ingredients and make your own for some summer fun.
This is a sponsored conversation written by me on behalf of J.M Smucker company. The opinions and text are all mine.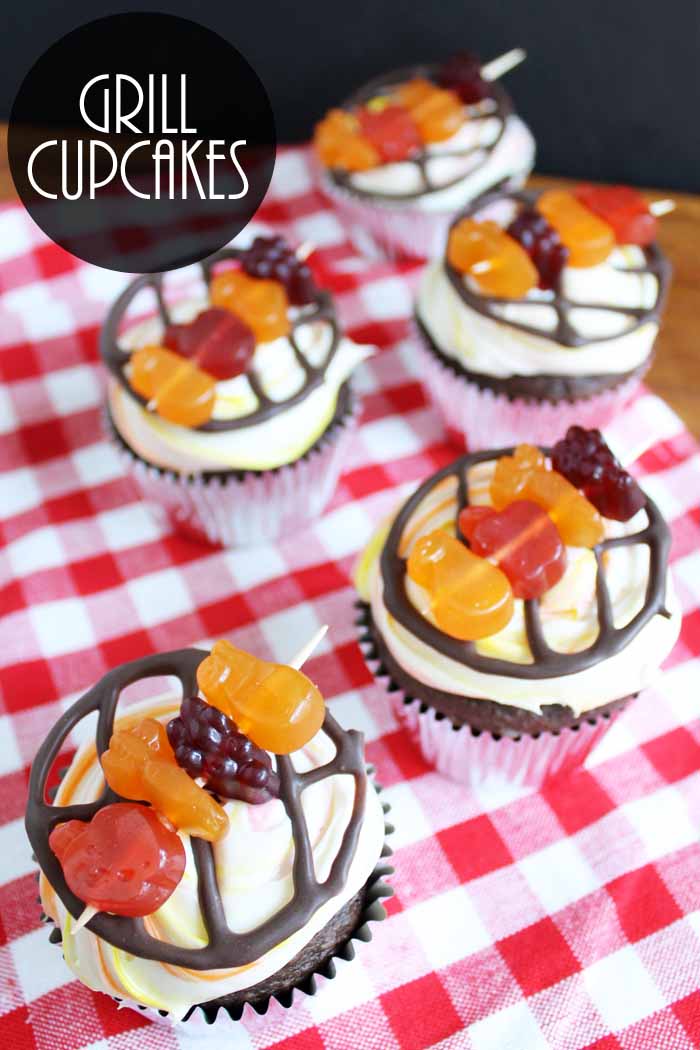 Grill Cupcakes Ingredients:
Pillsbury™ Filled Pastry Bag (Vanilla)
Pillsbury™ Cake Mix
Ingredients to make cupcakes
Fruit snacks
Toothpicks
Chocolate flavored almond bark
Cupcake liners
Food color in yellow, orange, and red
Wood skewers
Pint size mason jar lid
Marker
Wax paper
Zip topped bag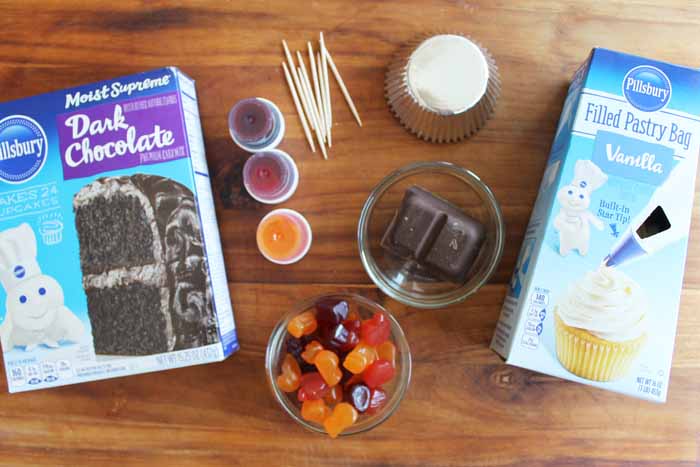 How to make grill cupcakes:
Start by mixing up the cake mix according to the package instructions. Add to cupcake liners and bake. I used silver foil cupcake liners but you can use any that you feel work with your grill cupcakes. While those bake and cool, you can make the other decorations for the cupcakes.
To make the grill tops, trace the inside of a mason jar lid onto a piece of paper with a marker as shown below.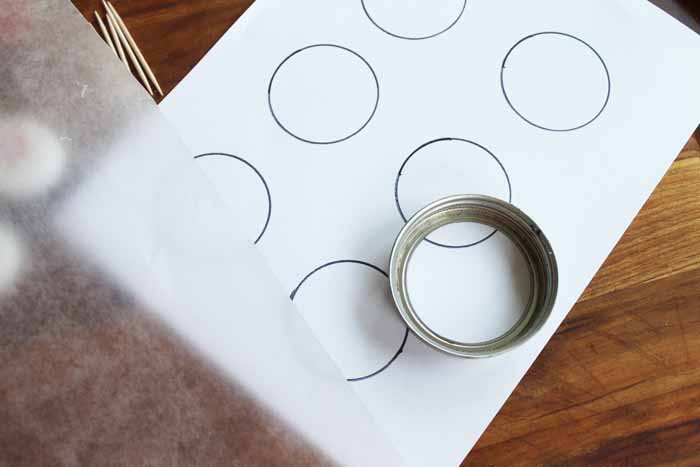 Lay wax paper over the top of your paper. Then melt your chocolate flavored almond bark in the microwave according to the package instructions. Add it to a zipped top bag and snip the corner off with a pair of scissors. Use this to trace the circles and add grate lines as shown below. Set these aside to harden as they cool.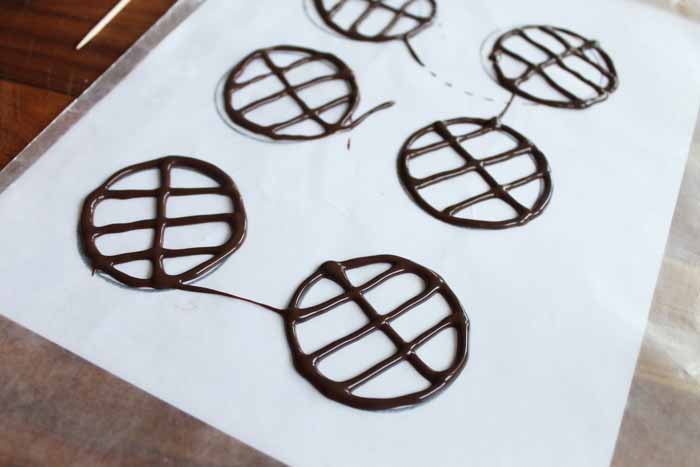 You can also make your skewers during this time. Use toothpicks and add on various fruit flavored snacks.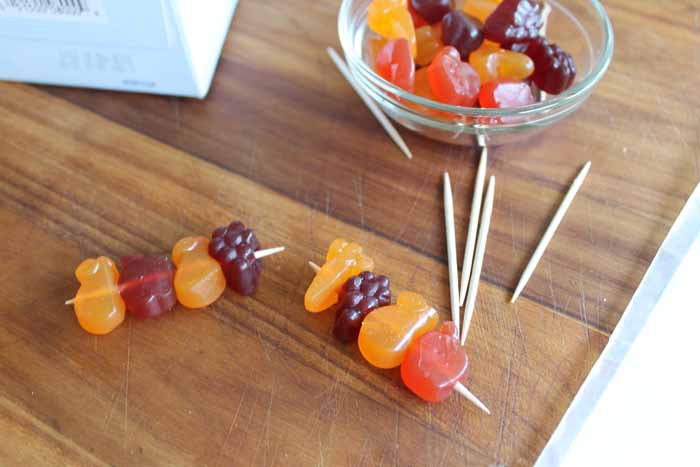 Once your cupcakes are cool, it is time to use your Pillsbury Filled Pastry Bag. I am using the vanilla flavor but these also come in chocolate fudge and cream cheese. You can find them in the frosting section of the baking aisle at your local Walmart store. They are new and make whipping up cupcakes like these a breeze. You see they come pre-filled with the star baking tip already attached as you can see below. The best part? You don't need any special tools to create these grill cupcakes! Just a quick trip to Walmart!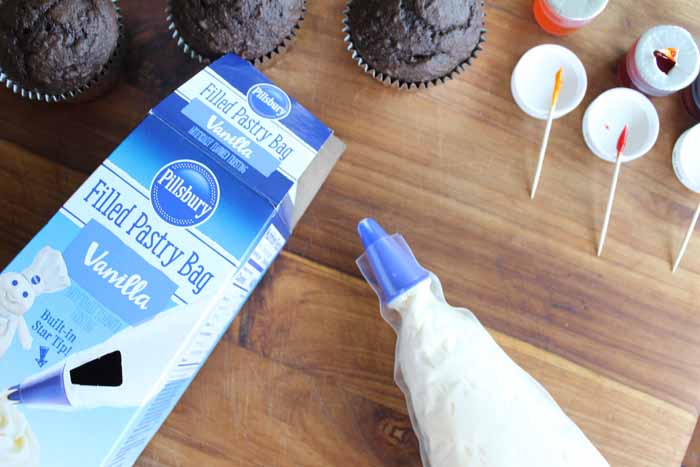 Now, I wanted a marbled effect to my "fire" frosting. So, I added a bit of food coloring inside of my Pillsbury Filled Pastry Bag. To do that, use toothpicks to pick up a bit of food coloring from the container then add it to a long wood skewer. Clip off the top of your pastry bag with scissors and put the wood skewers blunt side down into the bag at a variety of locations. This will add the food coloring as stripes throughout the bag.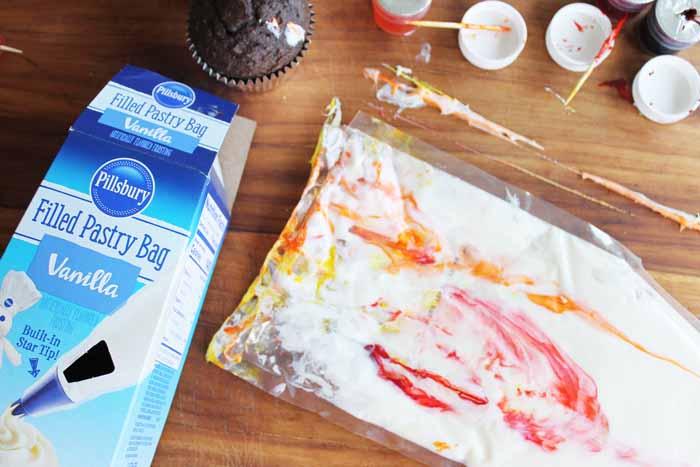 You may need to frost a few cupcakes with plain white but once your food color starts to flow you will have that gorgeous marbled effect. Just swirl it around each cupcake.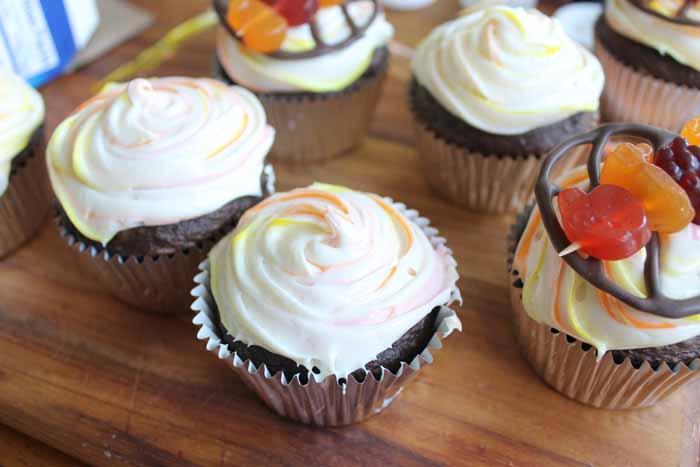 Then remove your grill "grates" carefully from the waxed paper and set on top of each cupcake. Add your fruit skewer and these grill cupcakes are complete!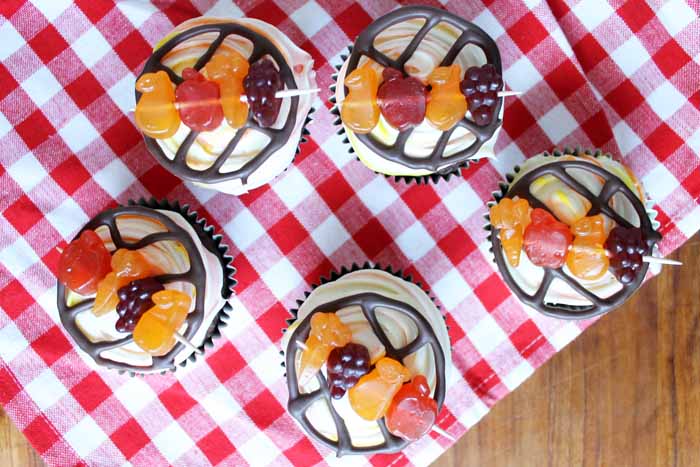 Be sure to get the kids involved with whipping these up as well! The Pillsbury Filled Pastry Bags make frosting fun and easy for the entire family.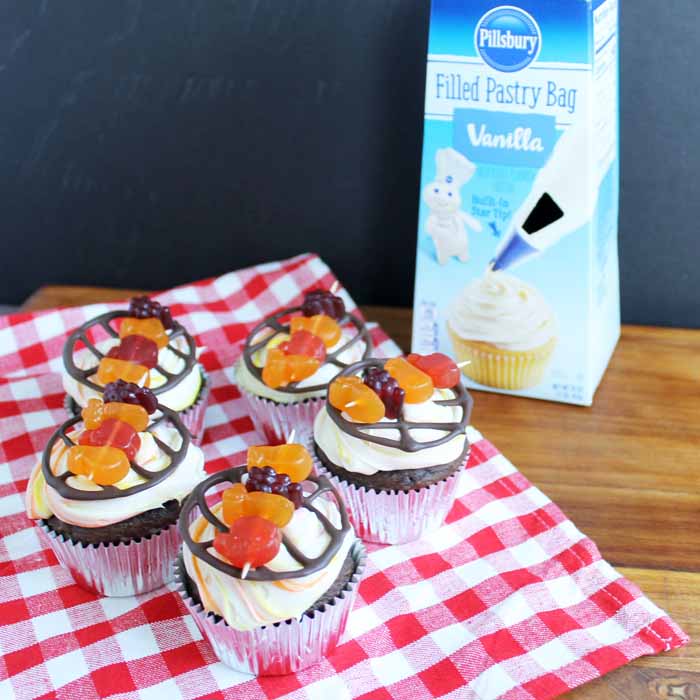 Add as little or as much food color as you would like to your bag to create fun "fire" effect with your frosting.
Who can resist some grill cupcakes served up at a summer barbecue? I know your entire family will love these simple edible grills that are perfect for any summer party. Be sure to head to Walmart to get your Pillsbury Filled Pastry Bag to make adding the decorations on these super simple! Love this and want more? You might also enjoy this cute condiment bar perfect for summer!