Do you know how to clean house after you or someone in your home has had the flu? When someone in your house has been through the flu, it feels like beautiful, warm sunshine the moment they start to feel better, doesn't it? As wonderful as that feeling is, unfortunately, there is still work to be done in order to protect everyone else in the house. Today I'm going to give you some doctor-approved tips to properly clean your house after the flu.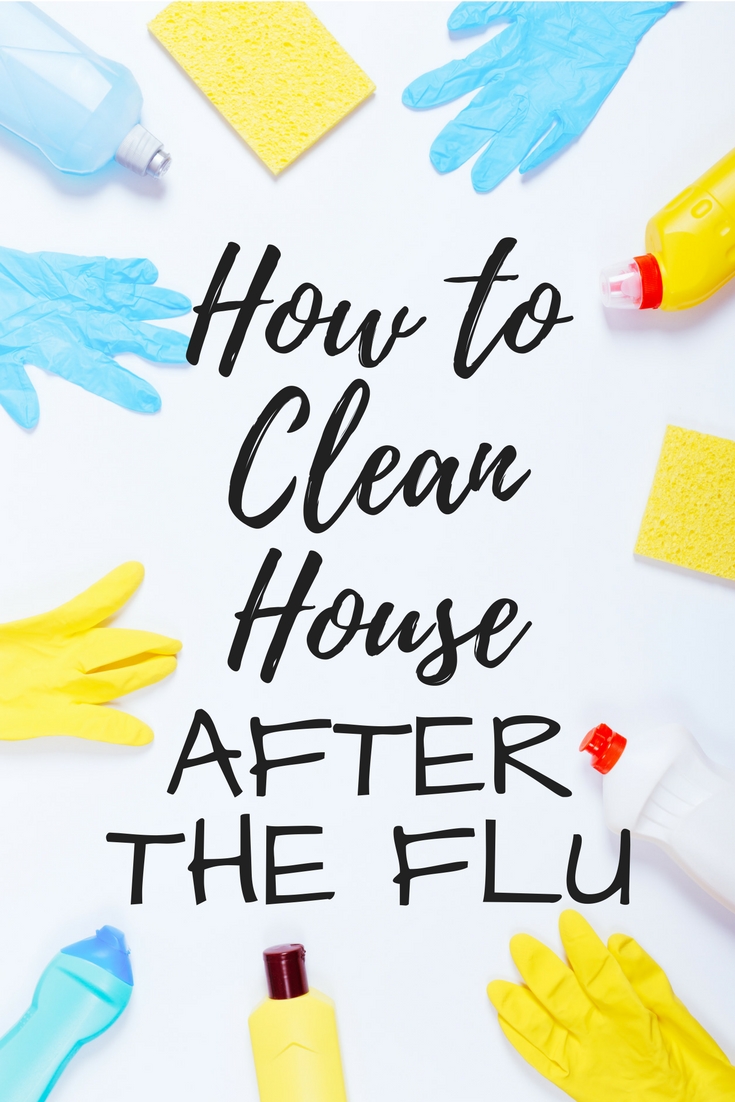 To clean, disinfect, or sanitize? That is the question.
You may not know it, but there are differences between cleaning, disinfecting, and sanitizing. It's important to know what those differences are as you work to rid your home of that nasty flu virus.
When you clean something, you use soap and water to remove dirt and germs. You are not necessarily killing germs. Cleaning lowers the number of germs, and therefore also lowers the risk of spreading the flu or other illnesses.
When you disinfect something, you're using chemicals to kill the germs on an object. To properly disinfect a surface, it should be wet with whatever disinfecting solution you use for 4 to 5 minutes and then allowed to air dry. Disinfecting, however, doesn't mean that the surface isn't still dirty.
Sanitizing something lowers the number of germs to a safe level. You use heat and/or chlorine bleach to sanitize. Use your machine's hottest water setting and don't use a short cycle.
Confused? Think of it like this…
Your sick family member may have left a spoon covered in sticky cough syrup residue on their bedside table.
Using soap and water on a cloth is great to clean it up and get rid of the sticky mess. To be sure all of the germs left by the spoon are dead, you'll spray some disinfectant on the surface. Your dirty cleaning cloth will now be washed in hot water to sanitize it so that the germs it picked up aren't spread.
Make sense?
How to Clean House After the Flu
Step One – Protect yourself.
The whole purpose of cleaning up after the flu is to make sure others in your home don't get sick. That begins with you.
Wear disposable gloves and a paper mask if you happen to have one. They're often available for free during flu season in hospitals and doctor's waiting rooms. Avoid touching your eyes, nose or mouth while you're cleaning. Try to use disposable cloths or paper towels as much as you can.
Step Two – Disinfect all hard surfaces throughout the house.
Think about every place in your house the sick person may have touched. If you aren't sure, disinfect it anyway.
Some common places you should definitely disinfect are: doorknobs, light switches, faucets, tub, toilet seat, toilet handle, remote, drawer pulls, countertops, and even the refrigerator door handle.
Step Three – Sanitize everything you can in the washer.
Whether it's bed pillows, sheets, blankets, clothes, towels, it all needs to be washed and sanitized. If the sick person was a young child, be sure their plush toys are washed as well.
While cold water wash is usually fine when doing everyday laundry, you'll want to use hot water when cleaning after the flu. Cold water can clean clothes and bedding, but it can't sanitize them. If you have a sanitize setting on your washer, you're all set. Otherwise, you can use hot water. If it won't damage the fabric, you may want to add little chlorine bleach as well. Non-chlorine bleach does not sanitize.
Step Four – The sick person's bedroom needs special treatment.
From the blades of the ceiling fan to the wastebasket, you'll need to wipe it all down with a disinfecting solution or wipe. Vacuum or sweep, and mop. Open a window to let in some fresh air. Even if it's cold outside and you can only do it for a few minutes, it will help. If there are surfaces that you might ruin with a disinfecting wipe, mix a 50/50 vinegar-water solution and spray generously.
Step Five – Toothbrushes are little germ bombs.
Throw away the toothbrush used by the sick person and buy new. To be certain germs from one toothbrush haven't made their way to everyone else's, soak them in hydrogen peroxide.
Step Six – Completing the job.
If you've used a mop or cloth to clean up after the flu, they need to be disposed of or sanitized before being put away. Wash all buckets with water and bleach and dry them. Empty the vacuum bag.
Make sure that when you've finished cleaning you take off your clothes, put them in the wash, and hop in the shower. You'll need to shed all those germs to avoid any chance of cross-contamination.
Those are some of the things doctors say you should do to clean your house after the flu. What do you think? Are there things I missed, or tips you have about how to clean house after a family member has the flu? I hope you'll share it. We need all the great ideas we can find in order to get through this awful flu season! Stay well!
Love this and want more cleaning tips? Try the links below!
Want to see my favorite cleaning supplies and products?
I have gathered all of the products I love using around my home into one great section of my Amazon storefront. You can click here to shop! If you're looking for just about anything to clean your home, I probably have an option that you will love!