This post and photos may contain Amazon or other affiliate links. If you purchase something through any link, I may receive a small commission at no extra charge to you. Any supplies used may be given to me free of charge, however, all projects and opinions are my own.
I titled this post learn the technology side of blogging but it could have been called "why I am not afraid of my blog anymore". Yes I used to be afraid of my blog. Afraid of messing things up. It started when I moved to WordPress a few years ago. I was paralyzed by the lingo and the updates and the coding and….I could go on and on. Then along came Lesley with a fabulous ebook that she let me read. Y'all. I am not afraid anymore. You too can learn the technology side of blogging….just keep reading!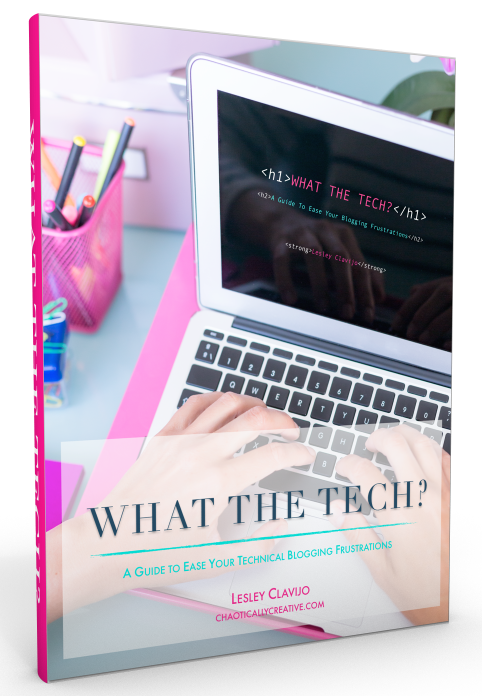 This post contains affiliate links which means a portion of your purchase will go to support this site.
I will tell you my story and let you decide whether the program Lesley has put together will be worth it for your business. I moved to WordPress over 2 years ago and there was a SMALL minor glitch on my site that I despised. But once I realized that I would have to go into the dreaded CSS to fix it…I was out. I lived with it. For a loooong time. I considered hiring someone to fix it but did not want to put the money into something that most people probably never noticed. But I noticed. Everyday. For two years.
Enter Lesley. Enter the ebook – What the Tech? I read the book in a few hours and was inspired. Inspired to not be afraid any longer. Inspired to take that CSS code by the reigns and OWN IT! Two lines of code. Two lines. That was my entire bug on my site. I fixed TWO LINES of code in 5 minutes and that glitch that haunted me for two years was gone. Five minutes. The best part? I did it myself!! I didn't hire anyone. I didn't pay anything. I learned how to take the mystery out of my little home on the web.
Guess what? If you have a blog, Lesley can do the same for you! Your issue might be two little lines of code. It might be an element of your design that you have been unable to change for TWO YEARS because you had no idea where to GO in WordPress to change it. Yes that happened to me as well. I have not actually changed that portion yet…but y'all…I found it. It has been a two year hide and seek mission and it took Lesley to point me in the right direction. She can do this for you as well. She can inspire and teach you to take control of your own site and make those changes you have been wishing for….for years!
Are you ready to OWN IT? Are you ready to TAKE CONTROL?
Click here to read more about "What the Tech?" and get your own copy. I personally recommend the master package but you can start with the ebook and upgrade later. That way you can dip your toe in the water with the book. By the end, you will be jumping off the diving board. Jumping off into your own site and making it gorgeous….yourself! Look at this as an investment in the future of your business. An investment into being able to make all of those coding tweaks yourself without hiring it out. An investment into the knowledge to fix your own issues on WordPress. Now isn't your business worth that? I thought so!
Click here to read more about the book and get your copy today!
THIS GIVEAWAY IS OVER! THE WINNER IS Ashley with 3 Little Greenwoods. CONGRATS! Lesley has agreed to give one lucky reader a FREE copy of the book! Just click here to read more about the book and leave me a comment below with something you think you can learn. That is it! One entry per person! Void where prohibited and must be 18 to enter. Good luck y'all!
Get Our Weekly Newsletter