I have a great recipe for you today. Make your weeknights special with this lemon rosemary chicken recipe. You can also get tons more fabulous weeknight recipes from Food Network's Weeknight Kitchen — a fabulous pairing from Food Network and GE Appliances. GE is awesome enough to sponsor this post and we will talk a bit more about them in a second.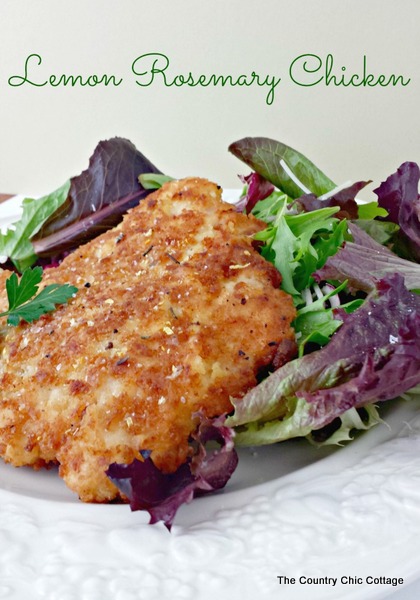 Right now lets get to a delicious recipe that can be made any night of the week.
Crispy Lemon Rosemary Chicken
Ingredients:
4 whole boneless skinless chicken breasts
Lemon Rosemary Salt (click here for the recipe)
Freshly Ground Black Pepper to taste
½ cup all purpose flour
½ cup panko bread crumbs
1 egg
4 tablespoons butter, divided
4 tablespoons oil, divided
Directions
Place one chicken breast between two pieces of plastic wrap on a cutting board. Pound out the chicken until slightly flattened. Repeat with remaining pieces. Season both sides of the chicken breasts with a lemon rosemary salt and freshly ground black pepper.
Heat a skillet over medium-high heat and add 2 tablespoons of butter and 2 tablespoons of oil.
Combine the flour and breadcrumbs in a square baking dish. Beat the egg in a shallow dish.
Working with two breasts at a time, dredge the chicken in the flour mixture, then dip into the egg, then once more back into the flour mixture. Shake off the excess flour. Fry the chicken until golden, flipping once it's crispy on the first side – you may need to reduce the heat a bit if it's cooking too quickly.
Remove the chicken to a plate and sprinkle with additional lemon rosemary salt.
Cook the remaining chicken breasts and sprinkle those with lemon rosemary salt as well. Serve immediately with a salad or rice for a delicious meal.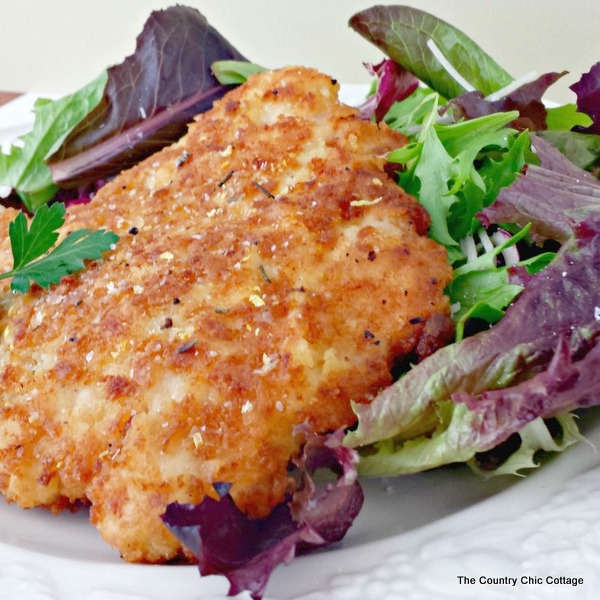 Are you shopping for new appliances this year? Be sure to check out the new look of GE Appliances while shopping. My favorite? I could take that refrigerator right this second! I hope to be shopping for one soon and I will definitely research these appliances first. Plus you know my lemon rosemary chicken would be fabulous cooked up on that stove as well. For more inspiration when shopping for appliances or even what to cook on them, be sure to follow GE Applicances on Pinterest. Cook up my lemon rosemary chicken tonight and dream of these fabulous GE Appliances and how they would change up the look of your kitchen.
Weeknight dinners should be quick and easy for any busy family. GE Appliances can help streamline the kitchen process with their hands-free auto-fill refrigerator, their double oven range, to their 102 jet wash system dishwasher. To see these appliances in action check out GE: Kitchen Reimagined. For more tips on weeknight dinners head over to FoodNetwork Weeknight Kitchen page for recipes, tips, and much more!
This is a sponsored conversation written by me on behalf of GE Appliances. The opinions and text are all mine.