This post and photos may contain Amazon or other affiliate links. If you purchase something through any link, I may receive a small commission at no extra charge to you. Any supplies used may be given to me free of charge, however, all projects and opinions are my own.
I don't always have tons of time to spend in the kitchen. These are my top 20 tips for saving time (and money) in the kitchen. Enjoy! I hope they help you to make meals in minutes!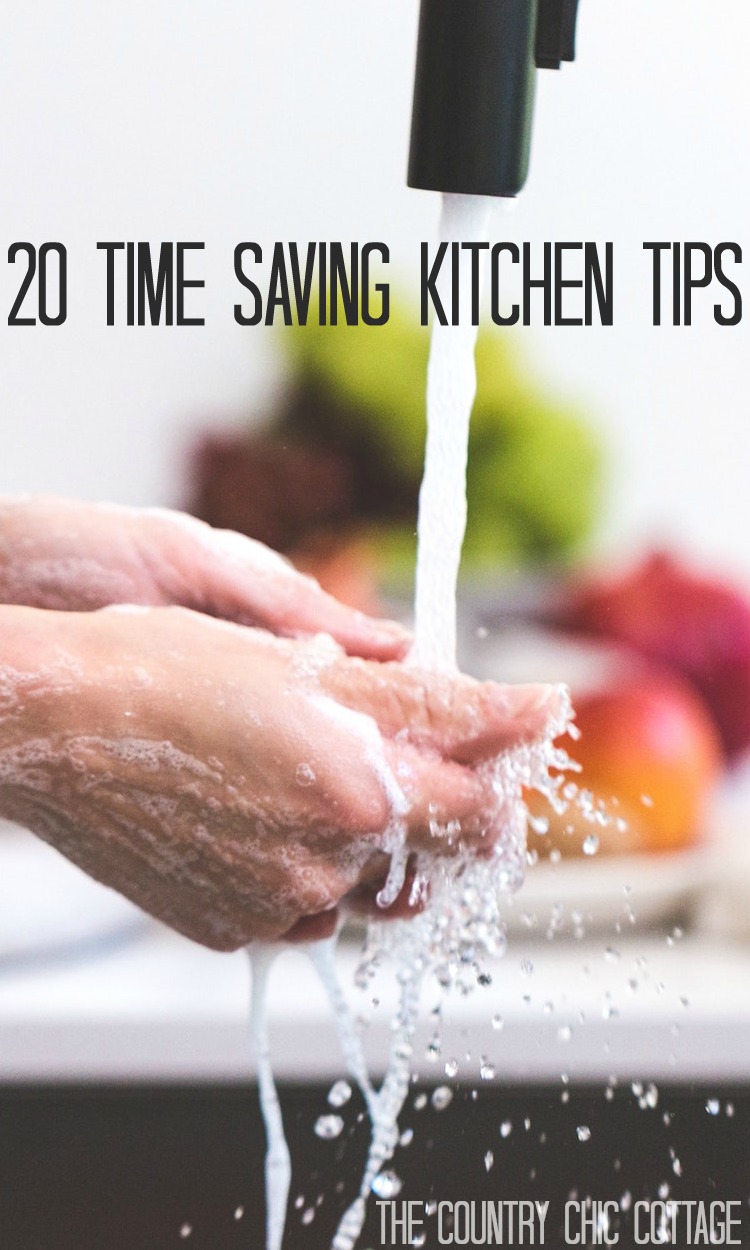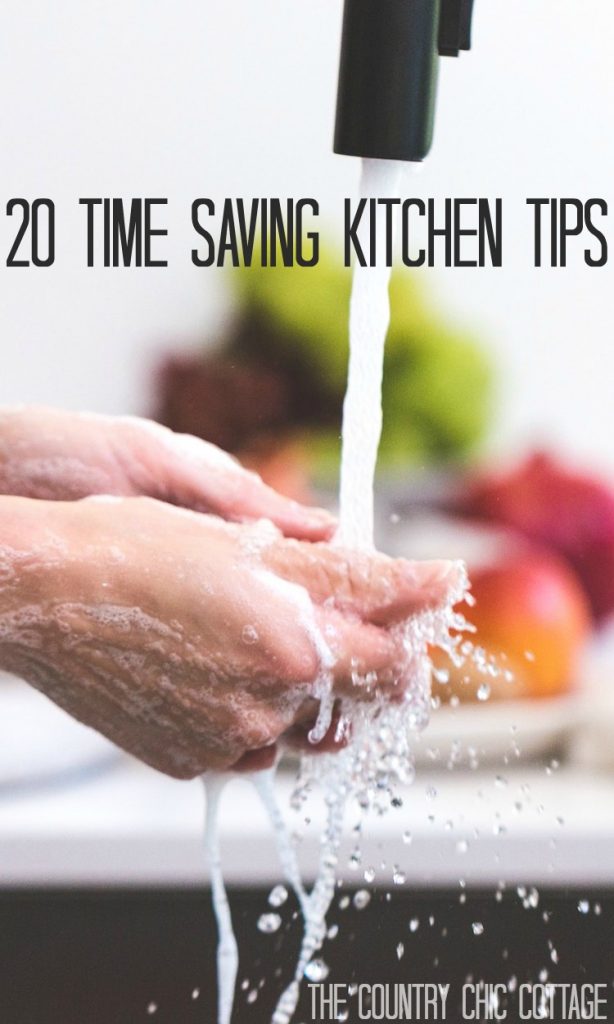 Place chicken in marinade before placing in freezer. When you are ready to cook, chicken can marinade while thawing.
Dice onions and green peppers in bulk and freeze. Break off amount of frozen item you need for recipe.
Cook double. Sometimes it is just as easy to double a recipe. Eat half tonight and freeze the remainder for a night in a week or two.
Make dual use proteins. Bake an entire chicken instead of just two breasts. The remainder can be used for a second meal the next night.
Stock staples. Make a list of nonperishable staples that go in your "go to" recipes. Always keep these items on hand.
Cook two meals at once. You can often cook tonight and tomorrow nights supper at the same time. Two times the meal, one time the clean up.
Use your crock pot! Find recipes your family loves then use them. The crock pot is a mom's best friend.
Wash your veggies as soon as you get them home from the store. Doing this all at once will save time in your nightly meal prep.
Meal plan. I know it is hard to get this organized but it will save you time. Plan well and make one grocery store stop a week.
Line your pans. That aluminum foil liner can save tons of scrubbing time later.
Simple side dishes are healthy too. We often have just cut up broccoli and cauliflower with dip as a side dish. No cooking involved.
Gather up the leftover veggies. Just a spoon full of corn left? Drop it in a gallon size freezer bag and freeze. Add tomorrow nights portion of left over green beans. Before too long you will have a soup starter pack right in your freezer.
Serve breakfast from the freezer. Most muffin, pancake, and waffle recipes can be frozen in individual portions. Make a large batch then eat off of it daily. Try my peanut butter pancake recipe with this technique.
Brown ground meats for the week all at one time. Split to make multiple meals when you are done.
Use your oven space. If you are baking anyway, throw in some potatoes and one of your side dishes is complete as well.
Put a lid on your pots when bringing water to a boil. It will actually boil faster.
Rely on substitutions. I have an old cookbook with a list of common substitutions. These work in a pinch and are much faster than a trip to the grocery store.
Keep kid friendly snacks easily accessible. You don't want to have to stop cooking to grab the kids a snack.
Trim and portion meat when you get home from the grocery store. Freeze or refrigerate until ready to use.
Save the liquid when boiling chicken. Chicken stock can be frozen for use in a later meal
What are your tips for saving time in the kitchen? Please tell!
Be sure to stop by
30 Minute Crafts
for even more great cleaning and organizing tips this week!