I was given the opportunity to pre-order the
Monsters University
movie by Disney and Collective Bias. We are huge Monsters fans so I was happy to jump on board this campaign. I made some Monsters University Push Pop Cupcakes to celebrate our pre-order of the Disney movie. Come along as I show you how to make your own cupcakes and how the pre-order process works.
Too cute right? So I will admit something to y'all. I had never pre-purchased a movie before. So I am going to tell ya how to do it in case you are like me! Head to your local Walmart store and find the

Monsters University
Collector's Edition 2D Superset Blu-ray DVD combo pre-purchase package. There was a display at my store and you can find my full shopping trip here. Grab your package and check out as normal. The package has the full instructions for redemption both on the outside and the inside. I also show some screen shots in my google plus album if you are interested. So what comes inside the pre-purchase package?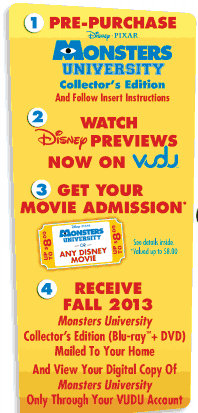 You get full instructions on how to logon to
vudu.com
and input your address for shipment of your collector's edition. Plus free previews on vudu of other great Disney movies (hello Lone Ranger!). You also get a free movie admission to Monster University or any other Disney movie worth up to $8 (the redemption on it is also super simple). Then your collector's edition will be mailed directly to your home Fall 2013 with no further headache on your part. As a bonus there is also a Juicy Juice coupon in the package. Great right? How do you celebrate the pre-order of a great movie?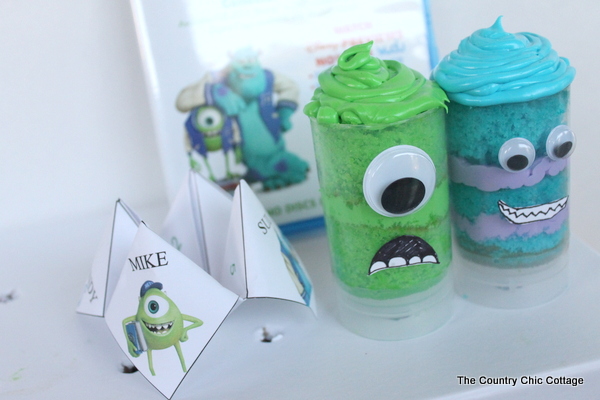 Make some fabulous push pop cupcakes and print out one of my Monsters University cootie catchers of course! To make the push pop cupcakes, just make green and blue cake. Once cool, you will need green, blue, and purple frosting. The push pop containers can actually be purchased at Walmart now in the craft section. Cut your cake with the containers and layer in frosting plus add lots of frosting on top. I just used glue dots to add on some google eyes and hand drawn mouths for Mike and Sully.
Yep they are that simple and make such a big impact. Your kids will love this treat. Use this recipe after you go see the movie in theaters or just to further your kids love of Mike and Sully!
I am a member of the Collective Bias® Social Fabric® Community. This shop has been compensated as part of a social shopper insights study for Collective Bias and its client.