Today we have Lois from Auntie Lolo Crafts!! I am sooo excited about this one!! I am scared on fondant and want to try it soo bad!! Lois is going to show us how to decorate with fondant and make a picnic cake!!
*~*~*~*~*~*~*~*~*~*~*~*~*~*
I am so thrilled to be a part of Country Cottage Chic's Beach Bash! My name is Lois but most people call me Auntie Lolo 🙂
When I'm not crafting, I work with my Aunt at her cake shop! For Angie's Beach Bash, I made a super cute picnic cake that is perfect for summer and the beach!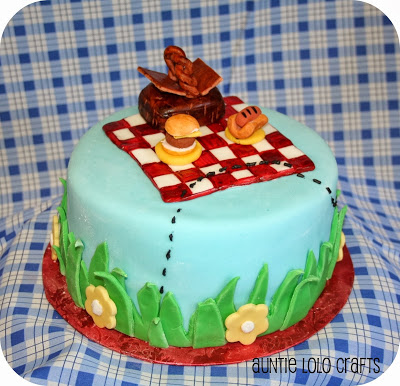 This cake might look hard but if you break it down into steps, it's actually pretty easy!
A day before you make this cake you will want to do some prep work to make your life easier 🙂
Step 1: Bake your cakes, let cool (you can do this the day before as well)
Step 2: Put frosting on first cake, spread and then put 2nd cake on top.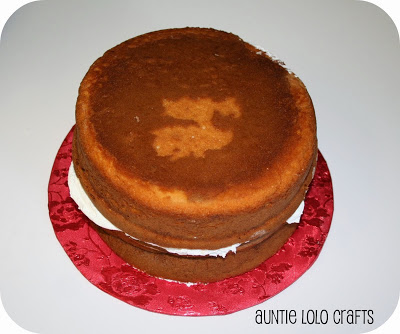 Step 3: "Crumb Coat" your cake or in simpler terms, cover the entire cake with thin layer of frosting.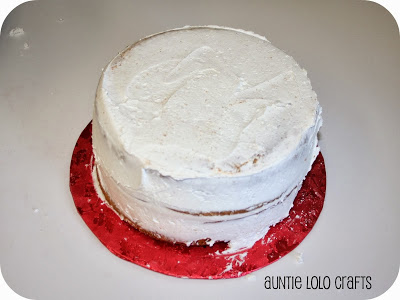 Step 4: Take your fondant and knead it like you would bread. And form it into a nice ball. Use lots of powdered sugar on your work surface and roll out the fondant, until desired thickness.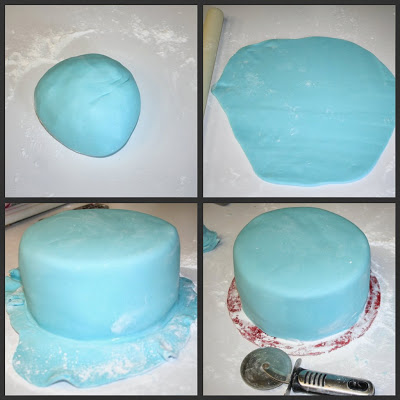 Step 5: Pick up half the fondant and place over the opposite arm, lift over cake and take a deep breath! 🙂
Step 6: Rub fondant onto cake with your hand or "smoother tool", cut off excess with pizza cutter or knife.
Step 7: Now you decorate! I used green fondant to make grass all along my cake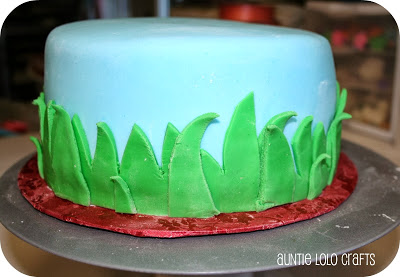 Step 8: After my grass was on, I cut a square piece of white fondant and made the blanket by painting red squares onto the white fondant.
Step 9: Making the hamburger and hotdog is so much easier than you think. Try it, it might take a few times, but I know you can do it! To make the grill marks on the hotdog, I used a food safe marker. To make the basket, I took a piece of white fondant, made a square shape, then painted it brown and made marks with a knife in it. The "flaps" at the top of the basket are just 2 pieces of white fondant, painted brown and propped up with a small piece of fondant underneath. To make the handle, I rolled out 2 thin strips and twisted them!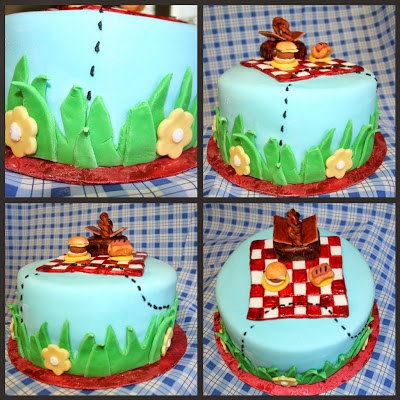 Step 10: I added yellow flowers made with a cookie cutter and fondant and "ants" marching all over the cake with black icing.
I hope that you will try to make this! And if you aren't comfortable with covering a whole cake in fondant (it takes practice) use frosting for the whole cake instead of fondant, no biggie!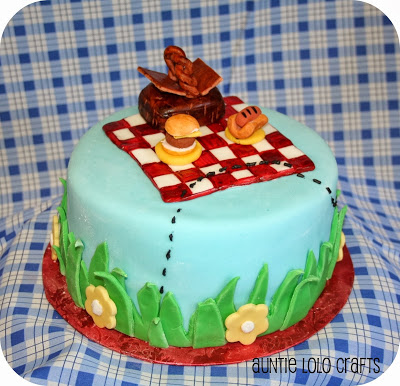 I would love if you stopped by my blog,
Auntie Lolo Crafts
and visited sometime! We also have a facebook page
HERE
. Thanks for inviting me to your blog Angie!
*~*~*~*~*~*~*~*~*~*~*~*~*~
Thank Lois!! I hope I can overcome my fear and make a great cake like that!!
The Beach Bash has been full of great ideas and runs til July 20 — follow along with The Country Chic Cottage and don't miss a day!! Grab a button if you want and help spread the word!!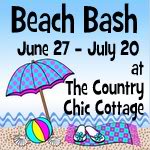 ~Thanks for stopping by!~
~Angie~