It is fall and time for all things pumpkin! I thought I would share this pumpkin bread with caramel frosting recipe with y'all today. I know…it just sounds perfect for the cooler weather! Grab your loaf pan and oven mitts…..it is time to open a can of pumpkin.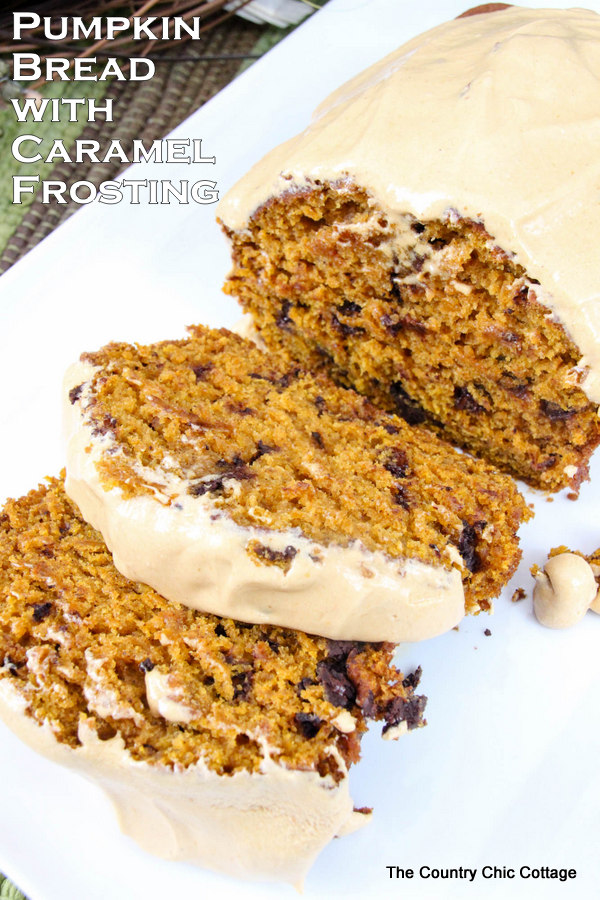 Pumpkin Bread w/ Caramel Frosting Recipe
Ingredients:
Dry
1 3/4 Cup of All-Purpose Flour, sifted
3/4 Cup Granulated Sugar
1/2 Cup Light Brown Sugar, packed
3/4 Teaspoon Kosher Salt
1 Teaspoon Baking Soda
2 Teaspoons Ground Cinnamon
1/4 Teaspoon Ground Nutmeg
1/4 Teaspoon Ground Cloves
Wet
2 Eggs, room temperature
1 1/2 Cup Pumpkin Puree
1/2 Cup Coconut Oil, melted, but at room temperature, not hot
1 Tablespoon Orange Zest
1/4 Orange Juice, fresh squeezed
Chocolate:
2/3 Cup of Semi-Sweet Chocolate Chips
2 Tablespoons Dark Chocolate, shards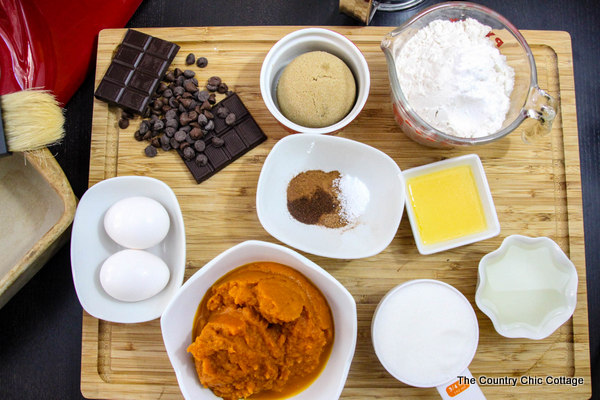 Directions:
1. Place oven rack to the lower third slot and preheat the oven to 350F degrees. Lowering the oven rack prevents the top of your bread from browning too soon.
2. With a baker's brush butter 9×5 inch loaf pan. Cut out
parchment paper
to fit and line the bottom of pan only, paper should not cover the side of pan, butter the
parchment paper
as well.
3. In a large bowl mix all of the dry ingredients and whisk together.
4. In the bowl of a stand mixer, fitted with the whisk attachment, add the pumpkin puree.
5. Add the eggs one at a time, allowing each one to be fully mixed before adding the last egg.
6. Add the melted coconut oil, orange zest and orange juice.
7. With the stand mixer set on low add the flour mixture a little at a time until it is all incorporated.
8. Remove bowl from stand mixer and using a rubber spatula scrap down sides. Do not over mix.
9. Pour batter in prepared 9×5 bread pan.
10. Bake for an hour (60 minutes).
11. Check the bread after 30 minutes, if the top is browning too quickly tent with aluminum foil.
12. Check for doneness by inserting a toothpick in the center of the bread if it comes out clean bread is ready.
13. Remove from oven and set on a wire rack to cool.
14. If desired add Buttercream Caramel Frosting (recipe below).
15. Serve.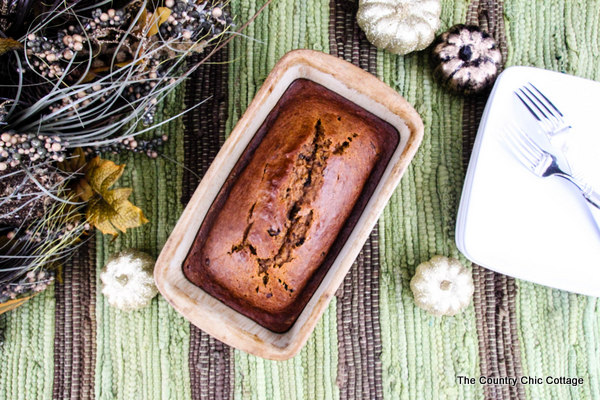 Buttercream Caramel Frosting
Ingredients:
3 1/2 Powdered Sugar, sifted
1 Cup Brown Sugar, packed
1/2 Cup Butter, softened
1/4 Cup Whole Milk
1 Teaspoon Pure Vanilla Extract
Directions:
1. In a large saucepan, melt butter and add brown sugar.
2. Allow mixture to come to a low boil, stir frequently. Continue stirring for 1 minute or until mixture thickens.
3. Remove saucepan from heat then add milk. Beat with wire whisk until mixture becomes smooth.
4. Add pure vanilla extract, and continue to whisk until vanilla is fully incorporated
5. Next, slowly add powdered sugar until you get the desired consistency, frosting must be pourable and spreadable.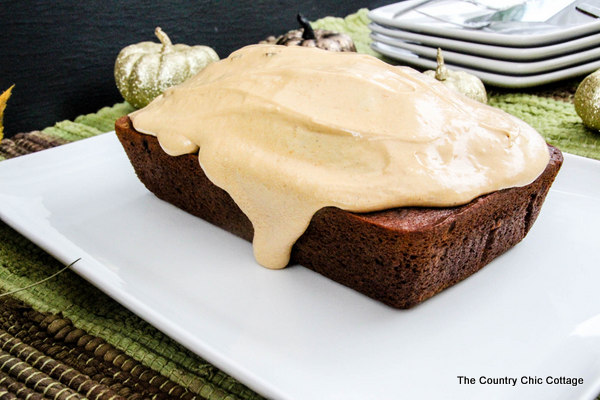 Once you add that amazing caramel frosting to your pumpkin bread, you will not be able to resist trying a slice!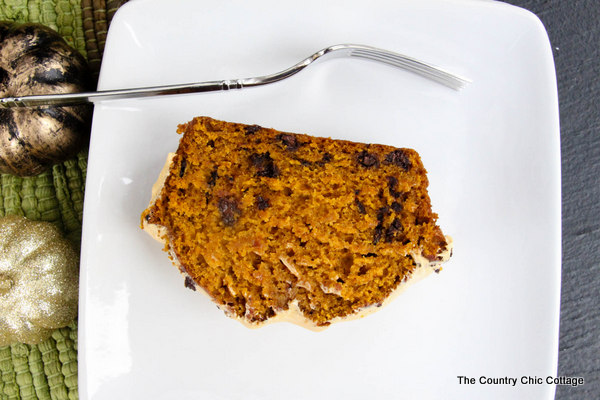 Be sure to make a loaf or two of this pumpkin bread with caramel frosting. You know that this one will be eaten in no time at all!