Tomorrow I am going to share with you a vintage cabinet that I have repainted. I thought tonight I would share a method of removing paint from your cabinet hardware. The rights and wrongs that I learned. So my vintage hardware was looking worse for the wear with a previous owners bad paint job. So I googled my options.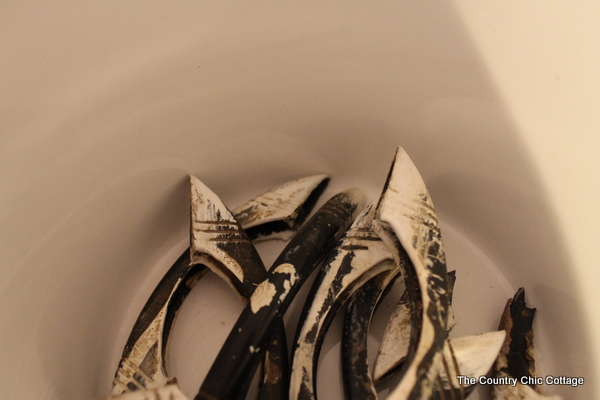 I found a brilliant plan. The website said that for metal hardware, a soak in the crock pot with water and a little liquid laundry detergent would do the trick. In my mind, these plastic like handles would surely make it through a short crock pot swim. Please note that I had one broken handle that can be seen in the pic below. I had high hopes of saving these original handles and finding one replacement online. See how I said high hopes right? So the page I found for METAL hardware said to turn on your crock pot overnight. I left mine for maybe a little over an hour.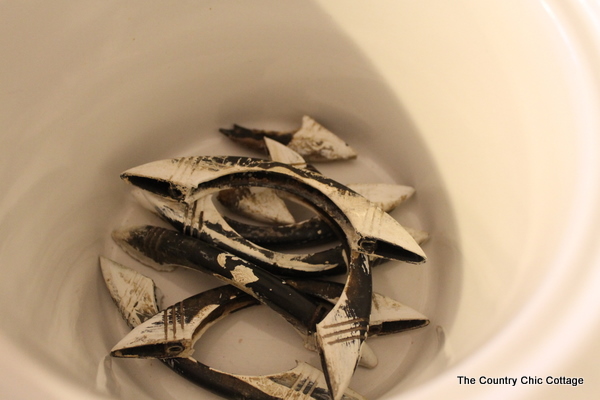 I pulled them out and the paint slid right off. Can you imagine me getting all giddy and doing a happy dance? The happy dance quickly faded. The handles warped TERRIBLY. They were beyond repair. Once I did a little research, I found that these are bakelite or an early form of plastic. Let's just say that vintage plastic handles don't like heat from the crock pot.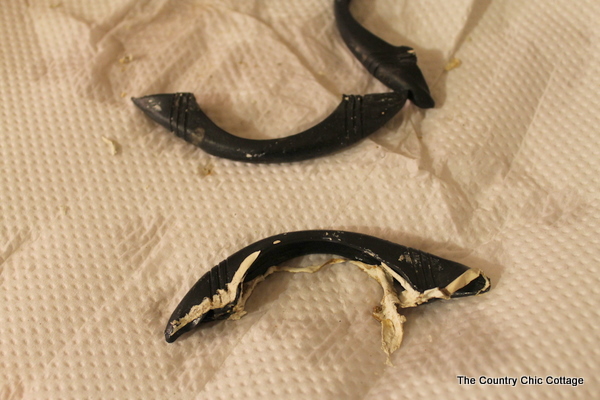 So my advice for removing paint from cabinet hardware:
1) If you have solid metal hardware, go for it. Throw it in the crockpot.
2) If you have any other materials or a gorgeous finish that you are concerned about, think twice and do your research.
This from the girl that had to find 2 3/4″ spaced handles — eight of them — not an easy task but I found some! Come back tomorrow to see the finished product!
~Thanks for stopping by!~
~Angie~