This morning I posted a little about my experience this past weekend at The Shabby Creek Cottage!! Now it is time for some details! Gina revealed the first room this morning! I am going to call this Doodlebug's room! Doodlebug is Gina's youngest daughters nickname! And we used that throughout the room!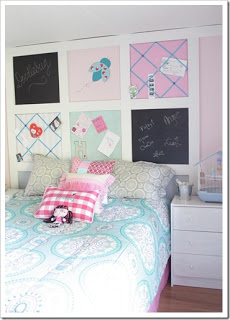 See that night stand to the right?? I am going to let you in on the details about those!! There is one on the right…
Had to have a place for the birdie!! And on the left….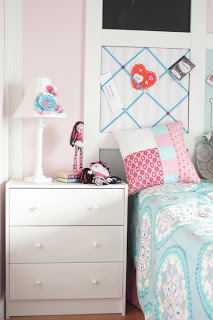 Too cute right?? Well guess where they are from…I am going to give ya a couple of minutes….
IKEA!!! $30 each!! Can't beat that!! Course there was some assembly required…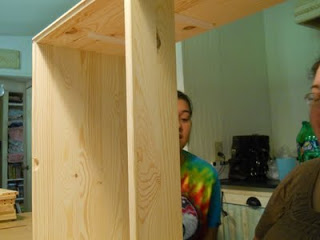 They are REAL wood!! Now doesn't that $30 each sound like a steal!! The hardware also came from IKEA. The nightstands each have two drawers. This is actually where Miss Doodlebug will be keeping her clothes.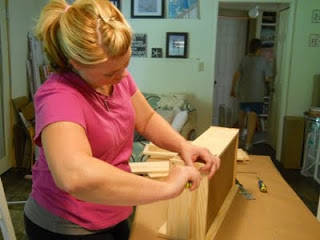 They were each painted white and then rubbed with a black wax. They look amazing on either side of the bed!! A quick, easy, simple solution! Gotta love those!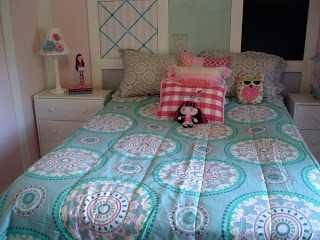 Those memo boards are just fabric covered boards with ribbon!! The hot glue art of myself and
Cha Cha
thank you very much!! Cha Cha sewed the buttons on the memo boards though…I let her have the hand sewing! 🙂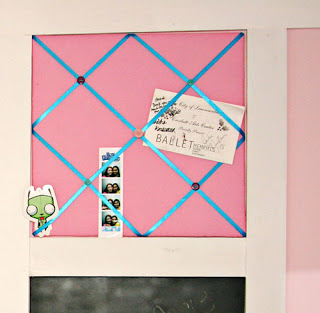 Speaking of Cha Cha…she made those gorgeous flowers on the lamp shade!! I know…amazing!!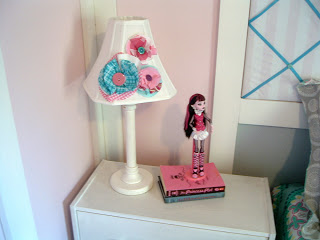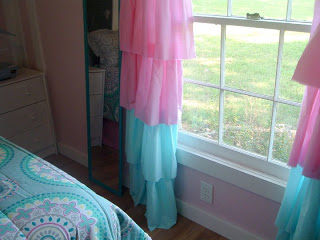 Also I wanted to tell you a little about this little fellow….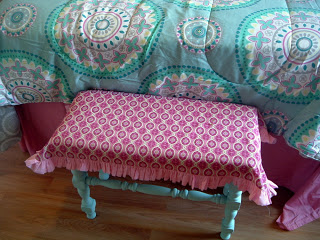 So cute your could squeeze it right?? Bench was painted with Montana Gold graffiti spray paint in cotton candy blue! Then the fabulous Polly with Make Mine Beatiful recovered it and made the darling skirt!! She is after all the sewing master! And aaack…those ruffles are too cute!! She will be posting more about the pillows too…trust me they are too cute!!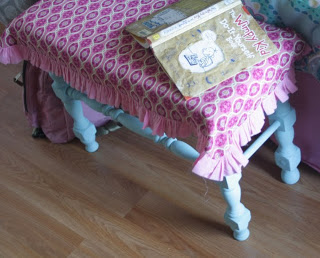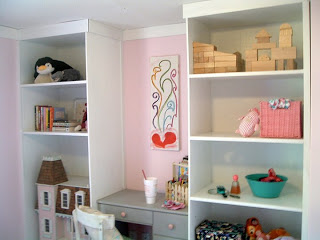 A gorgeous room for a great little girl! And we had so much fun putting it together! We will be revealing the other room late tomorrow! Stay tuned!!
Posted at Whatever Goes Wednesday on Someday Crafts.
Posted at What I Whipped Up Wednesday on Sugar and Dots.
Posted at Good Life Wednesdays on A Beach Cottage.
Posted at the party on Organize and Decorate Everything.
Posted at The Weekend Wrap up on Tatertots and Jello.
Linked up with Best Projects of July on Beneath my Heart.
~Thanks for stopping by!~