Spring lawn care can be confusing. What do you need to do now for the optimum yard all summer long? We have the best tips for maintaining and making the best of any lawn. That Memorial Day party will be here before you know it and we want you to be ready! I know I can't wait to break out the grill.
This post is sponsored by Grass Seed USA, however all projects and opinions are my own.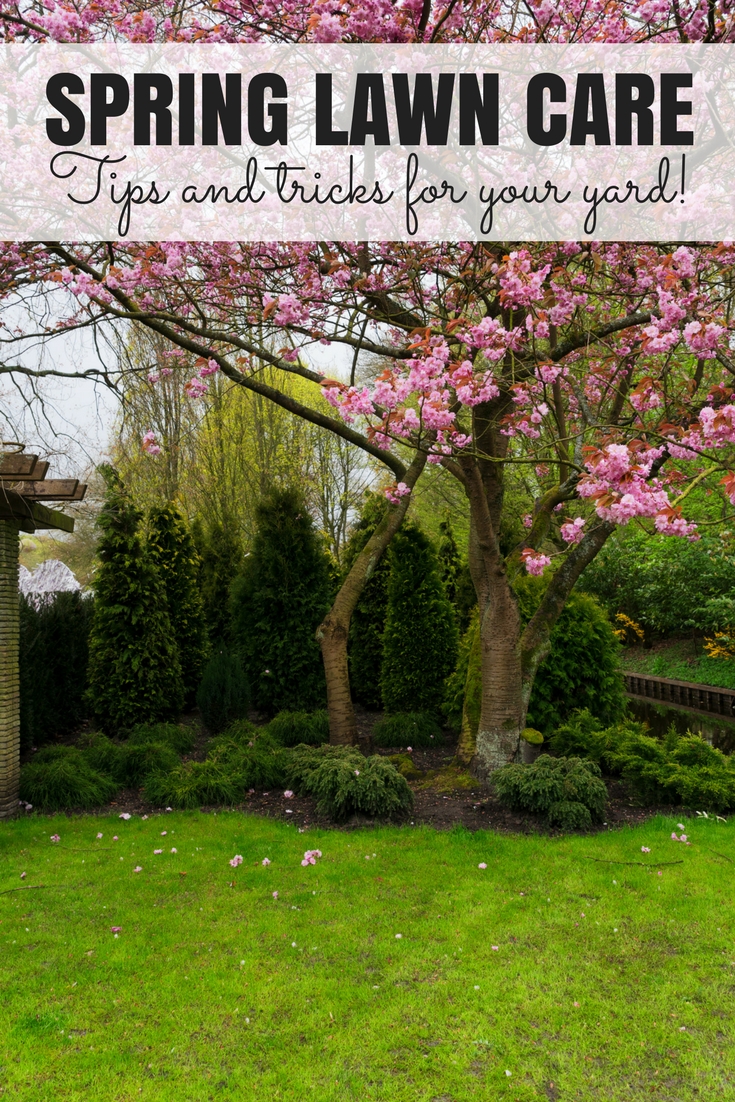 Spring Lawn Care Tips and Tricks:
If you have thin or bare patches in your yard, be sure to reseed in the spring. In fact, the earlier in the year that you seed the better! This gives the turf more time for root development before summer. Those longer roots will allow the plant to pull water from deeper in the soil when warmer temperatures hit. That is a major consideration where we live. Planting early also allows the grass to get established before summer annual weeds start popping up. This enables your lawn to fend off pesky weeds naturally.
But what seed should you choose? Choosing the right seed for your region and lawn setting is important to establishing a lush green lawn. If you irrigate your lawn during the summer and you have a sunny lot, look for a seed blend with a high concentration of perennial ryegrass. Irrigated but shady lawns will do better with fine fescue. If you do not plan to irrigate, use tall fescue.
Perhaps your yard is overrun with weeds. You may want to consider applying a pre-emergent herbicide in the spring before the weeds emerge. A healthy, lush lawn will squeeze out weeds, but a damaged lawn may need some help. Talk to a local garden specialist about which herbicide is right for your lawn and the best way to apply it. Herbicides can kill grass seeds, so if you've applied seed you'll want to make sure you use a product that will not affect the new growth.
Your final step in spring lawn care? Tune up that lawn mower! Change the oil, change the spark plug, swap out or clean the air filter, and sharpen the blade. You will be ready to mow once that lawn starts growing in! TIP: Let your grass grow no taller than 3 inches and cut it to no shorter than 2 inches.
With warmer weather and longer days rolling in, it's time to start thinking about outdoor fun. Having a yard is about more than lawncare, it is about enjoying it too! For me personally, I can't wait for Memorial Day! It is like the official kick off for summer fun and celebrating with a backyard cookout on a well-maintained lawn is just perfect!
You will also want to make our outdoor lawn games for extra fun this summer. Need more tips? Try our advice for fall lawn care as well. Then make sure your yard is ready with these spring lawn care tips. A healthy lawn is the perfect place to spend time outdoors with your family this season!