Got some tired old pillows that need a face lift? Sweaters are the answer! Remember I promised to show you what I did with the rest of this sweater. Well here ya go….my sweater pillows. Use any old sweater to cover a pillow with these simple steps.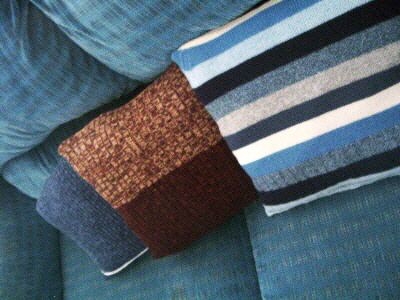 I covered some throw pillows with sweaters I got from Goodwill and the local thrift store. All three of these cost me less than $12. The inspiration? Why PB of course…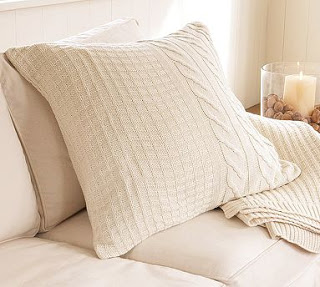 image courtesty of The Pottery Barn
I used pillow inserts that were about the same width as the sweaters I bought. That way you can just use the side seams of the sweater as the seams of your pillow. (Remember the sweater will stretch so the insert can be slightly larger.) The bottom of the sweater will be the bottom of your pillow cover. Just cut off the sweater at the top of the pillow. Lay your sweater on top to measure it up.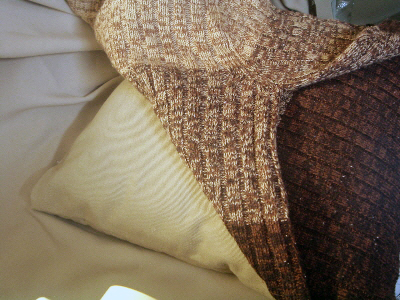 Turn the sweater piece inside out and sew along the top. Turn it right side out and insert your pillow.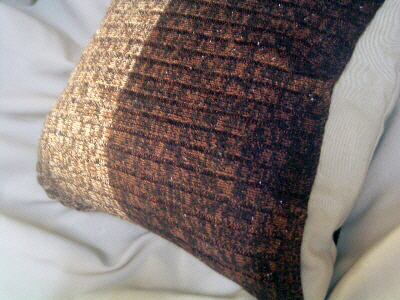 Okay I had to get the little balls off this sweater… I should have done that before the pic huh? Sew along the outside of the bottom edge…and you are DONE! You can hand sew or use a sewing machine. That part is completely up to you!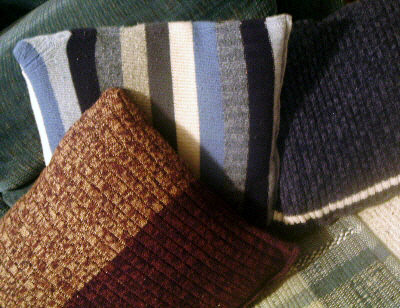 I love these cause the kids can throw em or jump on em all they want. If they get messed up – another sweater is just a few dollars away! Cover your old pillows with sweaters for an entirely new look. Make your own sweater pillows in just minutes with our guide. Will you be saving your sweaters to make pillows from now on? Look at your old sweaters in an entirely new light. I love a good recycled project.