This post and photos may contain Amazon or other affiliate links. If you purchase something through any link, I may receive a small commission at no extra charge to you. Any supplies used may be given to me free of charge, however, all projects and opinions are my own.
~*~*~*~*~*~*~*~*~*~*~*~*~
I cannot begin to tell you how excited I am to be here today on CCC! Long time follower and now a guest blogger, who'd have thunk it! Well I am so excited to share my little addition to the beach bash with you today. But oh wait I guess first things first, allow me to introduce myself, I am Kori. I have a blog with my buddy Tara.
We have been friends for as long as I can remember! Most days we have a hard time remembering last week, I promise it longer then that! We are both married to the greatest men on the planet and we are both moms to the cutest toddlers, 1 boy and 1 girl! We have shared many things as Friends: wedding, parties, pregnancy, babysitting, recipes and crafts! We are text addict friends (our favorite joke is our thumbs would get chubby if we didn't text so much!). We love blogging and the fun friends we have made and sharing all of our craftiness with you! We hope you will check out our site as soon as your done checking out our post here!!
I thought I would share with you a simple Custom take on a store bought swim suit. I don't know if any of you have this problem but suits always seem to show a little more of myself then I am comfortable with! Chasing my little girl around the pool the last thing I want to worry about is cleavage! So I started with this fun suit from Wal-Mart (its all we have in my small county!)
A little low cut but I have a simple solution I promise! I had an old workout tank top in my old clothes and the neckline was already finished YEAH! I love it when the hard part can be skipped!
I cut out the front panel of the tank top.
Next you will want to try on your swim suit and pin this panel in place. Or have a friend help (a close friend!!) This way you know how high you will want the piece.
Simply sew it in place then cut off all your extra material! Or leave it in for extra padding 😉 Oh wait then you wouldn't need the panel in the first place!!
Tada! You now have a more modest swim suit. You can stop there but really where is the fun in that!
In my bag of old clothes there was also a pair of black spandex pants. I know save the 80's jokes I knew I would use them like this right! I decided that a black band would add some fun contrast. I simply used the front half of a leg on the pants and sewed it into a tube and then pinned it on to the suit.
Then once it is sewn add a little Flair and TADA!
No longer Wal-Mart generic! Gotta love what a few simple steps and get such an outcome!
Thank you so much Angie for having us here today! I hope we have insipid you and you will stop by our neck of the woods one of these days!
*~*~*~*~*~*~*~*~*~*~*~*~*~
Thanks Kori!! I need to do this to one I have. I hate that low cut in the front!!
The Beach Bash has been full of great ideas and runs til July 20 — follow along with The Country Chic Cottage and don't miss a day!! Grab a button if you want and help spread the word!!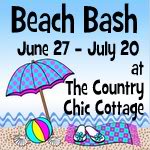 ~Thanks for stopping by!~