Taking a break from my 10 tasks in 10 days for The CSI Project. This week the theme is Red, White and Blue.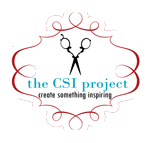 So I racked my brain for something red, white, and blue. Then I remembered my red jars from this post (

yep plain old mayo jars turned red by glue and food color!!

). They were still on my kitchen table looking the same as they were when I first made them. Time to make them festive!
They already had the Epsom salt in them. I just removed the candle and added some dollar store flags. A ribbon and a tag finished it off.
The number 4 seemed to fit right in! 😉
Never thought an old mayo jar could look so good!!
Weekly Newsletter
Subscribe to get our latest content by email every week!