I actually made topiaries from a sweater. I was inspired by these topiaries on Homebody Holly. She did a fantastic job! A few days later I was in Goodwill and spotted a green wool sweater. My very first thought?? Topiary! Yep — only I would have that as my very first thought….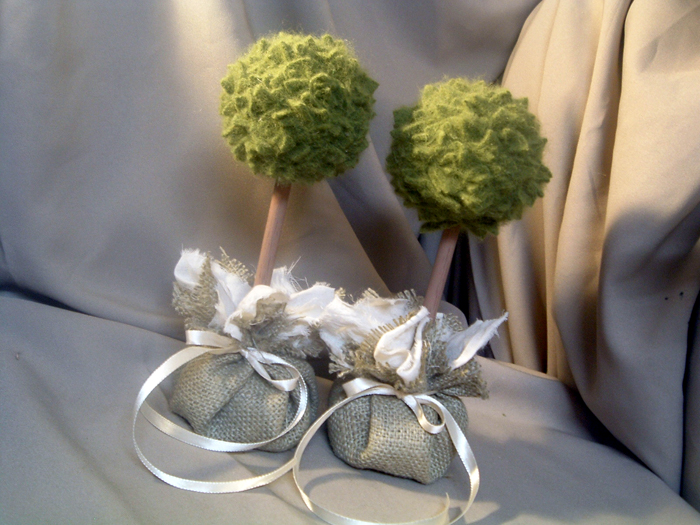 To make these you will need: a wool sweater, styrofoam balls, short wood dowels, block of wood, burlap, white fabric, paint, and ribbon. I took my wool sweater and washed in hot water and threw it in the dryer. That "felts" the wool (ie makes it like felt) and it will not ravel when you cut it. And you can of course cut off a long dowel — these are at the dollar store here just like this!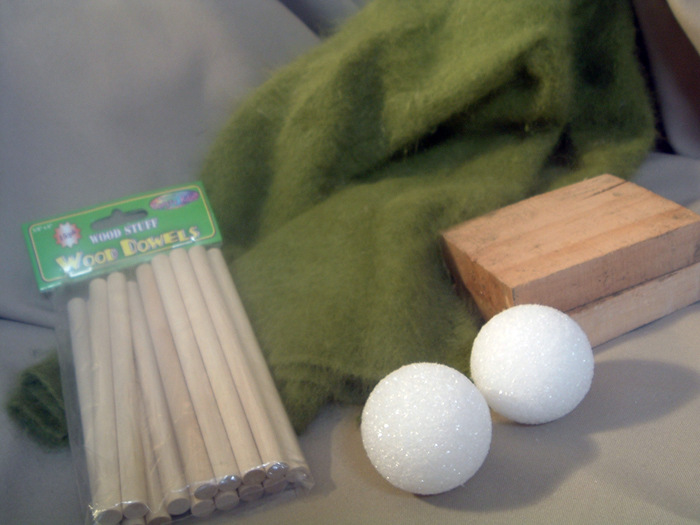 Now mid ways I decided that those blocks of wood were too large and I swapped em. I glued my dowels to the blocks of wood. Yes glued. I used some wood glue first then hot glue to hold it up while it dried. Then paint that dowel with a dark brown paint.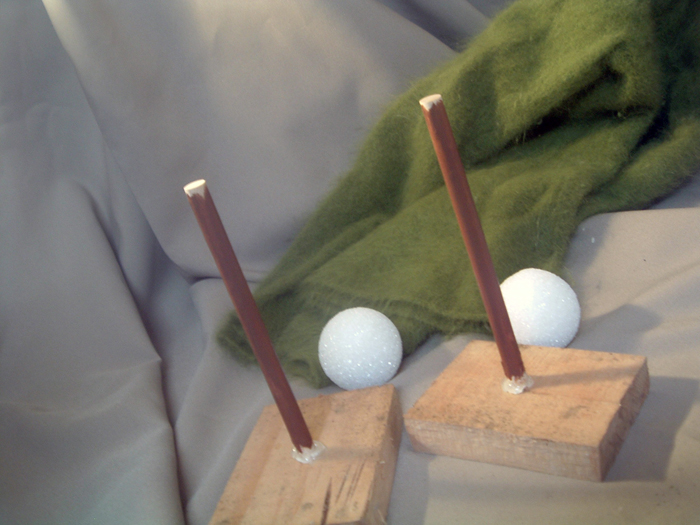 Okay let that dry and let's make the balls in the mean time. Do you remember these fabric balls? We are going to follow those same directions but cut up that felted sweater….1.5″x1.5″ squares glued to the styrofoam.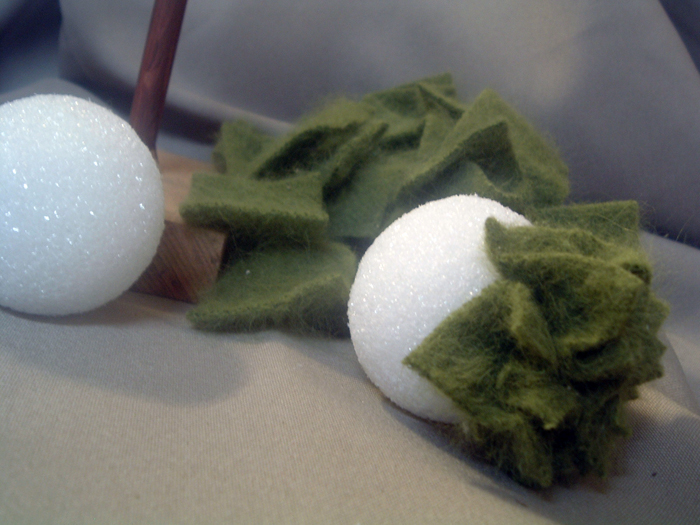 Keep it up til they are nice and full. I left a very small area on the "bottom" so I could poke in my dowel. Paint your dowel with plain white glue and then paint with a lighter brown and watch the magic. You will get a great cracked effect!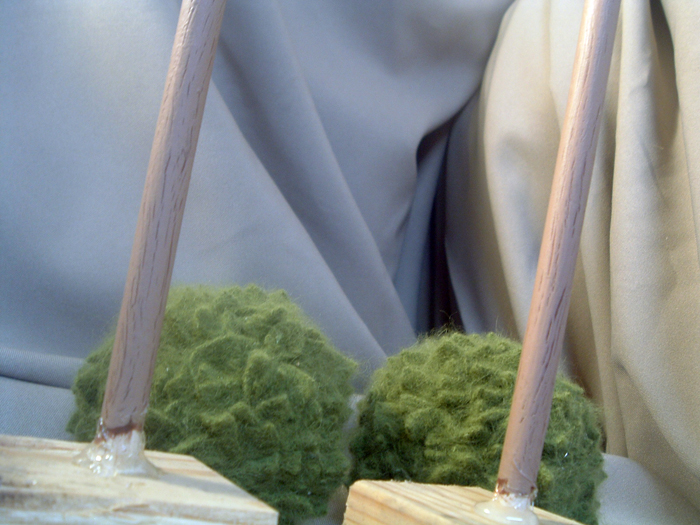 Let that dry and then press on those styrofoam balls. I added a bit of glue in the hole I made and pressed em on again to hold. Cut some squares from that burlap and white fabric. I just held it up on my block and made it where it would cover and leave some overhang.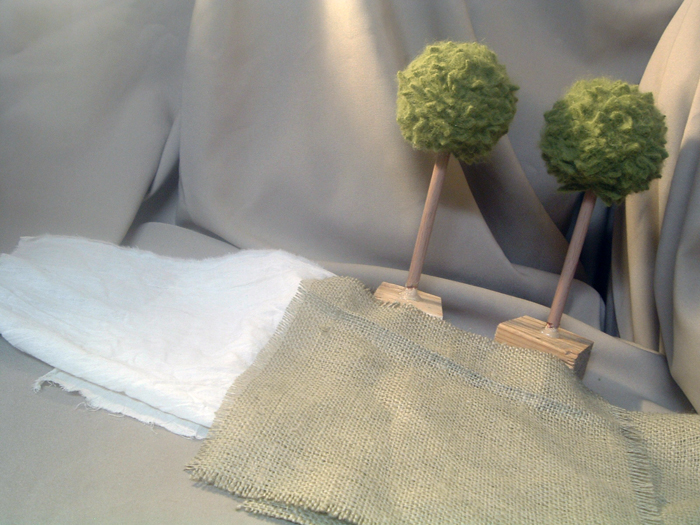 Place the white fabric inside of the burlap and wrap around that wood block. Tie it up with a length of ribbon. Now…that burlap is great to cover on the sides but those corners make it look long to me….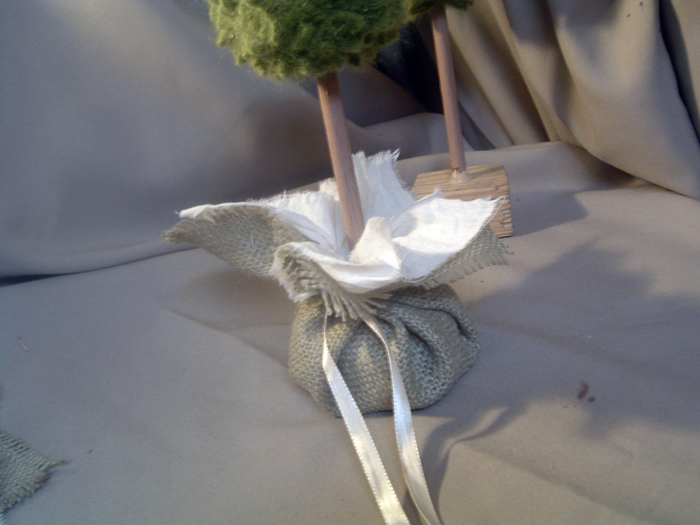 So I worked with it and cut some more off where I felt it was long. Tie that ribbon into a bow and you are done!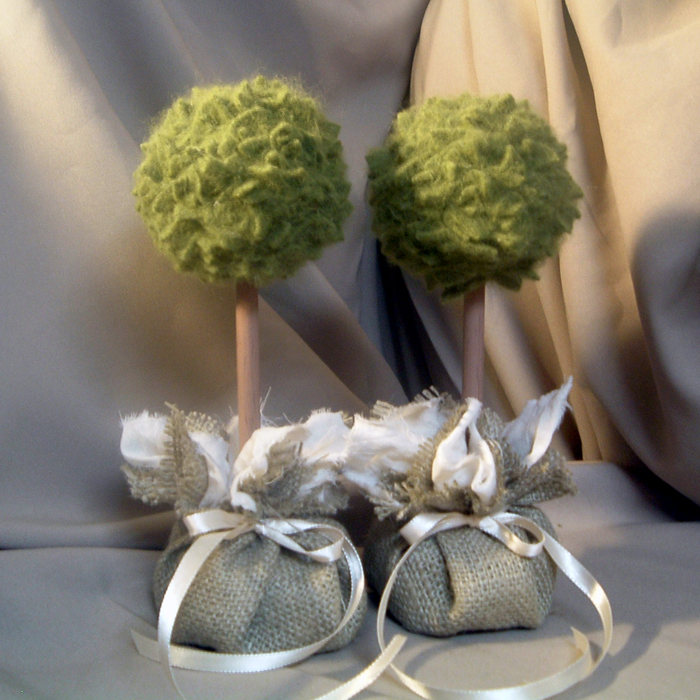 I added these to the top of my vintage sewing machine. A little spring touch don't ya think?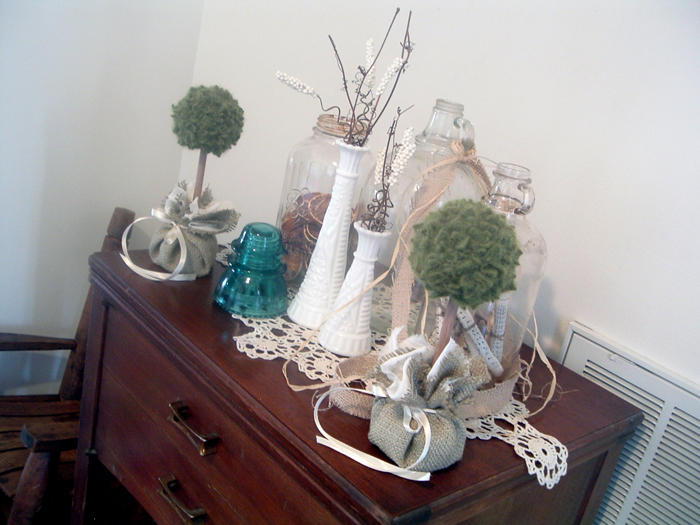 Now who knew a Goodwill sweater could look so good? Did you know you could make topiaries from a sweater?