This post and photos may contain Amazon or other affiliate links. If you purchase something through any link, I may receive a small commission at no extra charge to you. Any supplies used may be given to me free of charge, however, all projects and opinions are my own.
Welcome to What Would You Do With It Wednesday??
It is the one day each week were a blogger asks YOU "What would you do with it?".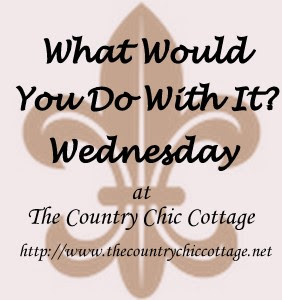 I needed to figure out what to do with these old pepper mills….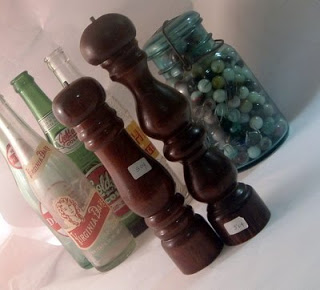 I asked and you answered. Y'all had some fantastic ideas! I loved the cheese dome idea for a "cloche" but alas I could not find one. I also loved the finial idea…and I had the PERFECT one already! And for the other one…well…I went with my own idea and added a bird! So here are my supplies (y'all just ignore that glue….I did not have the patience that day so I used hot glue instead)…
Tearing apart the pepper mills turned out to be oh so easy. And I hot glued up my pieces. For a look at that bird before check out this post. Looking better already….
Yes there is a trailer in my backyard…this is a "country" cottage on a farm after all…
For the bird, I coated with tan spray paint. Then white washed and distressed with stain…just kept repeating those two til I loved it. Then I took sand paper and roughed it up….yep just right….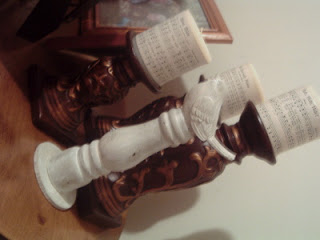 For the finial, I coated with off white spray paint. Then I wanted to attempt this paint technique, however the weather in Tennessee has not been on my side….yes it even snowed some on Monday…sigh… So my work in progress….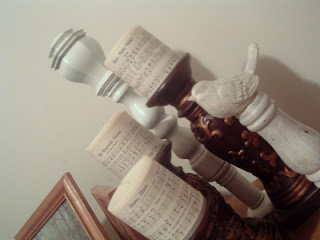 Looks pretty good in white….I will reveal this one all painted to ya n
ext week — how 'bout that?? Now would you ever guess those were pepper mills at one time?
~*~*~*~*~*~*~*~*~*~*~*~*~*~
~*~*~*~*~*~*~*~*~*~*~*~*~*~
I am so excited to be the FIRST guest blogger on What Would You Do With It Wednesday!
I am fairly new to blogging – I started a personal/family blog last summer, but didn't really keep up with it. Then, after 12 snow days this winter, I had some free time and

became obsessed with

really got into the world of craft and decorating blogs. Since then, I have been sharing my interests with the world
On the Banks of Squaw Creek.
I live in Central Iowa with my husband, son (20 months) and Shih-tzu, Sally. My husband and I have been married since 2006, moved to our house in May 2008, and have been renovating it since. It is a 102 year old farmhouse, surrounded by our turkey farm. We began raising turkeys last July, and my husband is proud to be a third generation turkey grower. I am a 4th-6th grade reading and math teacher, although next school year, I will be part time TAG teacher. I love decorating and all artsy-fartsy housewife projects.
I saw Angie's announcement last week, and the perfect, inaugural WWYDWIW item fell into my lap that very afternoon. My mom collects everything. Seriously. Her house is like Martha Stewart's prop room. And at the bottom of her blanket basket was this: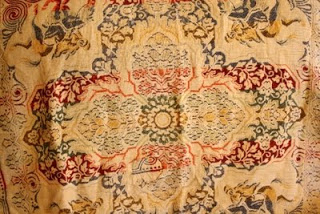 It is some sort of a vintage textile. It has holes that have been patched, and one side is cut and hemmed. It is about 36" by 42" (or so – I measured using the ol' arm to nose method.)
When I saw it, I said, "Oooh, Mom, that has all the colors I'm trying to work into my living room."
"Oh, yeah, it does!" was her reply. (I'd already shopped her house and taken most of her bright blue and yellow pottery, along with our old, weathered, primary colored croquet set.
"Well, I was going to recover the footstool with it someday" (she's always going to do something someday) "but it's got those patches in it, so go ahead."
"You mind if I cut it up and stuff?"
"Nah, do what you want. I always thought someone could do something really cool with it."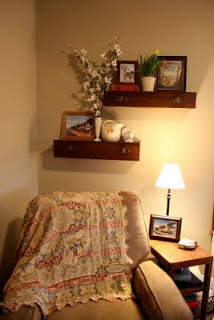 I want to use it to add a bit of color to my otherwise very neutral living room. As I said, I've been shopping mom's house for other colorful accessories, and I got out a few postcards from our honeymoon in Charleston to liven things up a bit. (See a before of our living room here.)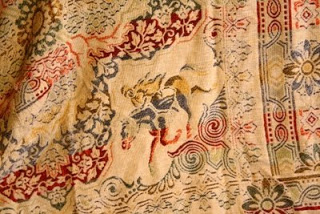 The details show a jockey and some sort of palace. Weird. But the colors are perfect, and I know I can put this to good use. But how?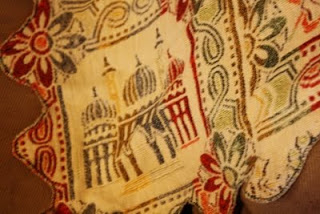 So…What would YOU do with it? Obviously, pillows come to mind, but I'd love to do something more creative, too! I'm not great at coming up with ideas on my own, but I'd love to hear from all of you!
~*~*~*~*~*~*~*~*~*~*~*~*~*~
So y'all let Katie know what you would do with it — and stop by next week to see what she does!
Do you have an item you don't know what to do with? Drop me an email!
Get Our Weekly Newsletter