What Would You Do With It Wednesday time!
The one day each week were a guest blogger asks YOU "What would you do with it?".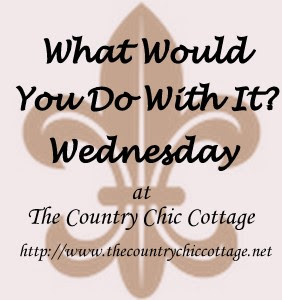 Meg from
A Little Knick Knack
posted last week on her bedroom wall. Let's see what in the world she did with it…
~*~*~*~*~*~*~*~*~*~*~*~*~
Hello All!
Wow, thank you for all of the wonderful suggestions! Some, I have never heard of and I LOVED them. I decided to use canvas, because it's light and pretty much unbreakable. And, it turns out I had a huge canvas that I didn't have a plan for and Michael's was having a sale on their canvas. I bought 2 for $4! Deal.
Well, I got them home and I thought about all the great ideas you guys had. I liked the suggestion to cover the canvas with fabric, but I didn't have any on hand that I truly wanted displayed on my wall. I did have some cool paper, however.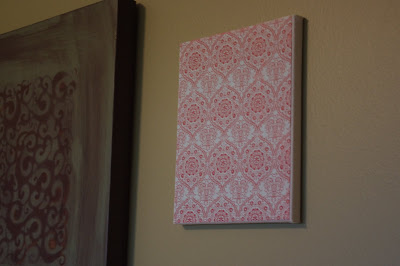 This is a clear plastic with butterflies over another piece of scrapbook paper. I used spray adhesive to attach them to the canvas.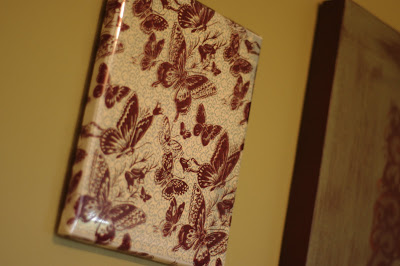 My big canvas I really wanted to do the spray-paint-over-a-floor-mat idea. I went shopping for a cool design I could spray onto my canvas and guess what? Floor mats are NOT cheap! I was unwilling to spend more than $10 (and that was even making me cringe) on something I was going to spray paint and then throw away! Finally I decided to use a 12″ x 12″ piece of scrapbook paper I was going to cover a smaller canvas with. It had the look I was going for and it was only $1! Can't beat that.
I spray painted my canvas a brown and then placed the paper in the middle and spray painted over that with a sage green. I had a little problem when I peeled back the paper—some of the brown came off and the original color (yellow) was showing below. Grrr. Well, ya'll know how much I love the "distressed" look of things, so I dry-brushed on some watered-down brown all over my canvas. I like it very much, but it may look a little funny to others. My husband said he loved it, and that's all that matters, huh? 🙂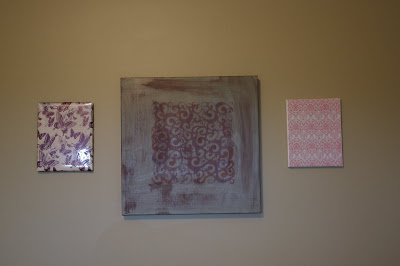 All in all, it's a look I very much like and would never thought of if it wasn't for ya'lls thoughtful suggestions! Thank you so much for helping me out! Don't forget to stop by
A Little Knick Knack
for more ideas and fun! Have a great night!
~*~*~*~*~*~*~*~*~*~*~*~*~
Thanks so much Meg!! Fantastic job! I love it — really love it!
I am letting my blogless friend Jenn post this week. Remember you don't have to have a blog to post an item! Let's look at Jenn's item…
~*~*~*~*~*~*~*~*~*~*~*~*~
Jenn has a 32×50 map world map…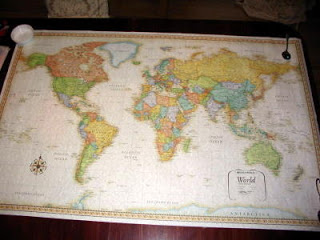 Too cool right?? I
nitial thought was to cut it up and frame 3 pieces of it above the bed. But of course we need to give her some awesome suggestions! Jenn describes her style as bright colors, clean lines, and functional. The bedroom is mostly jade with a brown stripe on the focal wall…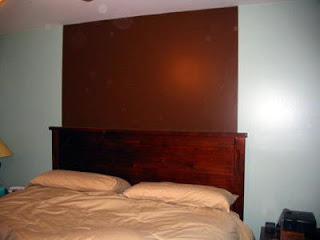 So what would YOU do with that map?? How would you use it on the wall above the bed??
Get Our Weekly Newsletter