Guess what day it is??? Yep another What Would You Do With It Wednesday?
It is the one day each week were a blogger asks YOU "What would you do with it?".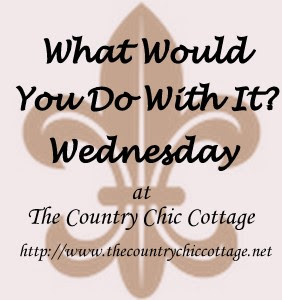 I just can't wait to see what
Lisa from
My Big Life in a Small Town
did with her item. That weird test tube looking mushroom…I have been thinking about it all week!!
~*~*~*~*~*~*~*~*~*~*~*~*~
What a difference a week makes and "Miss Thing" definitely had a good week!
After all of the comments came in here and from my guest post over at The Country Chic Cottage for What Would You Do With It Wednesday, the majority of you said that you would make Miss Thing into a bead or button sorter. There were some other really creative ideas too, but this one really intrigued me and was more what I had in mind when I bought her.
As a reminder, this is what Miss Thing looked like when I brought her home.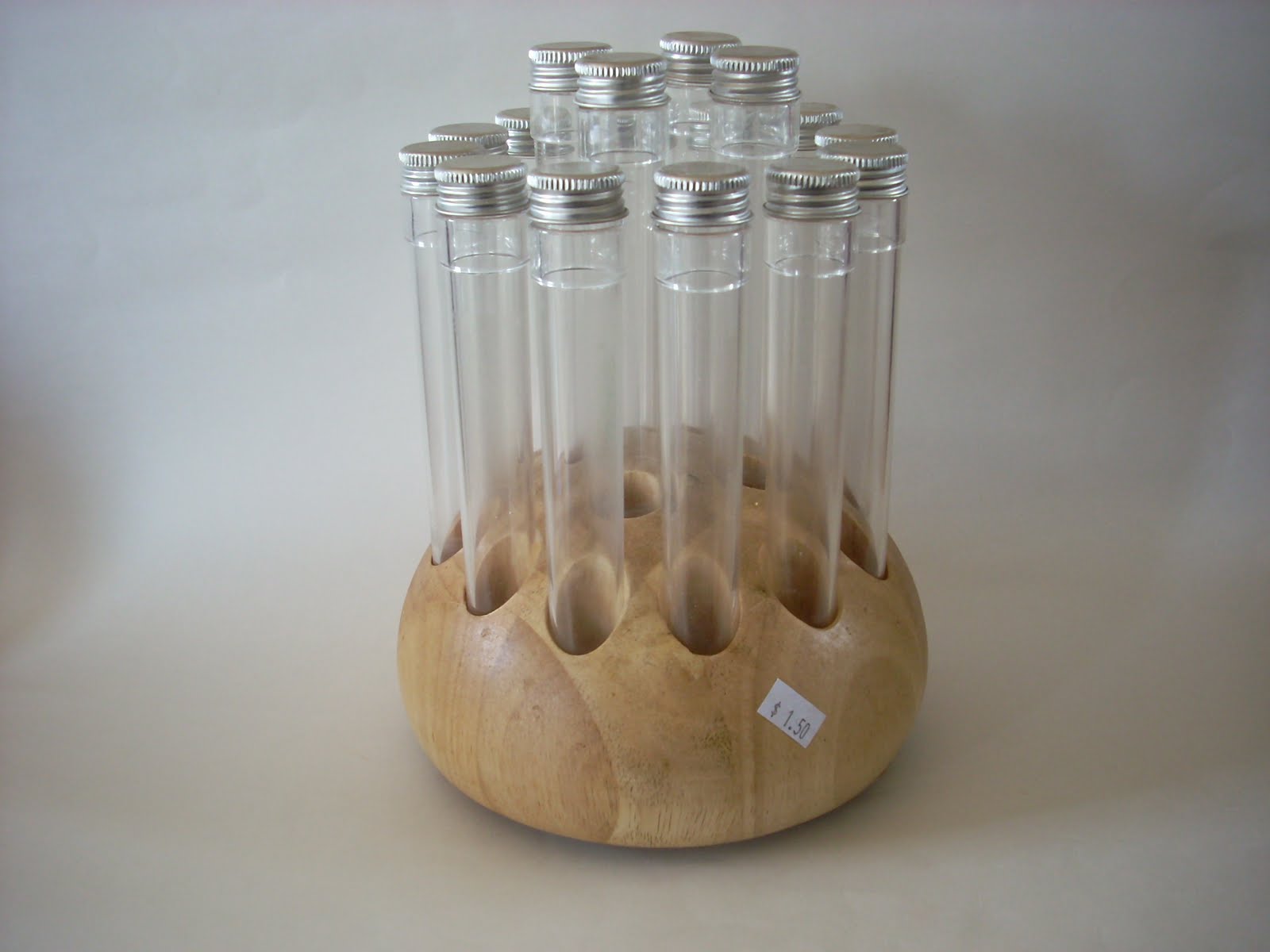 After sitting down with some paint and craft supplies, she began to take on a whole new look.
First, I applied a couple of coats of Heirloom White spray paint to the base. I didn't take photos of this process, but suffice it to say the base went from a light woodgrain to Heirloom White. It was like magic, I tell ya!
I set that aside to dry and started to work on the individual vials.
I tore out sixteen pages from a vintage French print book that I have. Now, I can hear you gasping, but don't freak out about me tearing up a vintage French print book. It is a simple paperback called "Teach Yourself French", not a classic tale by any means!
I used distressing ink on the pages to darken the torn edges, but they already have a great aged patina look to the pages because the book was printed in 1964. Yummy!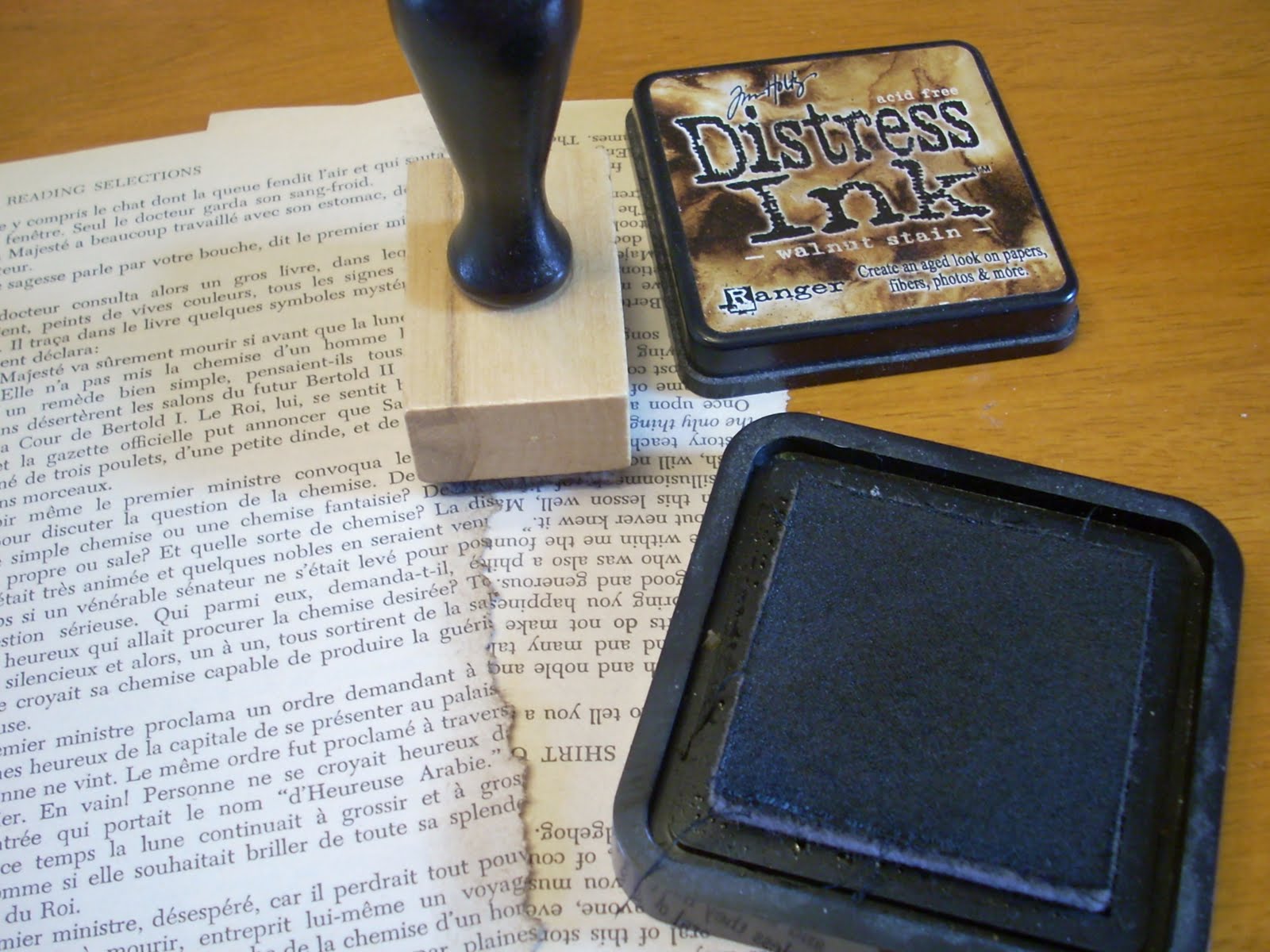 Then I applied a line of glue along one edge of the page so that it would adhere to the vial.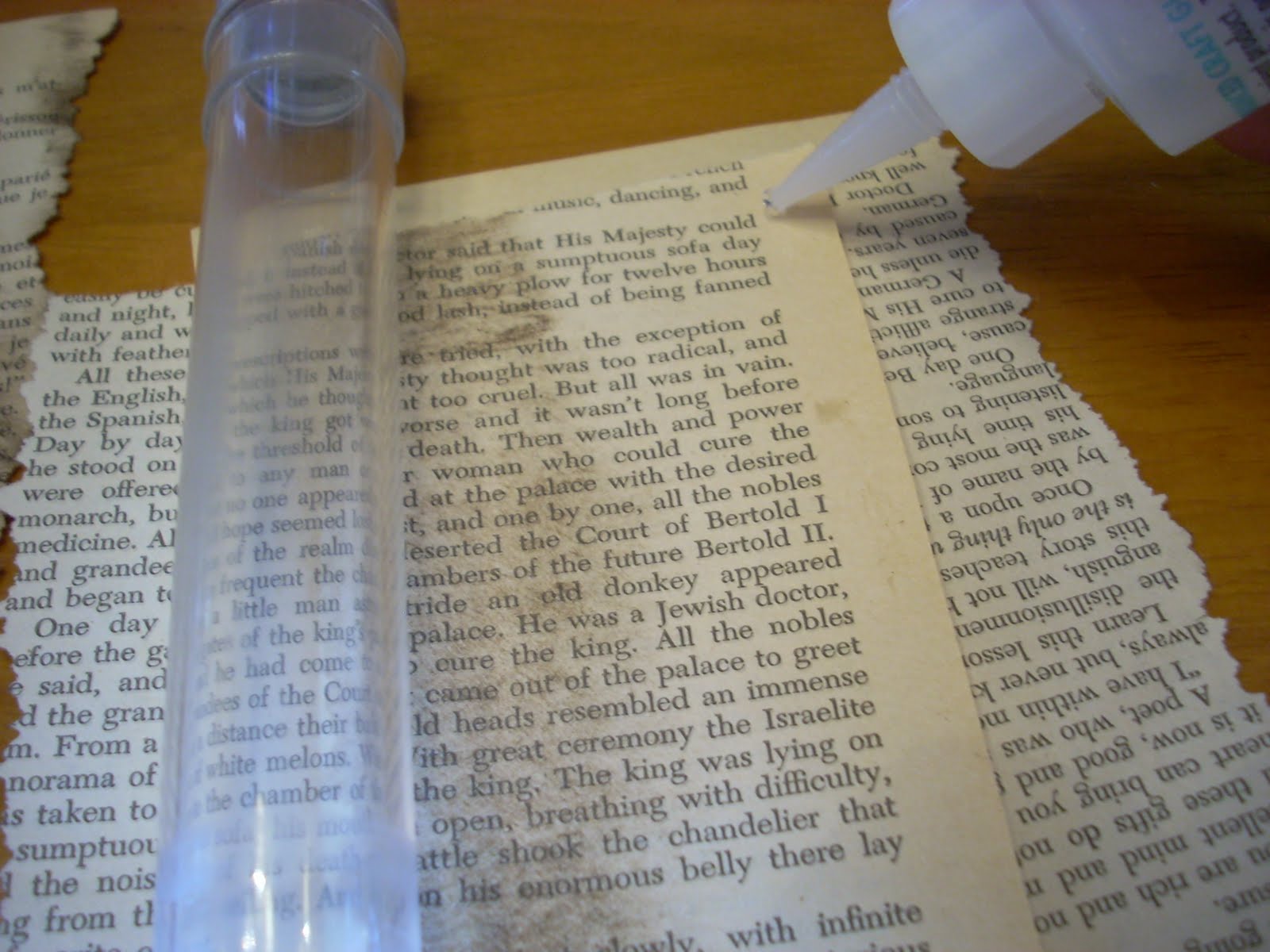 Then I simply rolled them around the vial in various directions. Some wrapped directly around, some wrapped on an angle, because everyone loves a variety, right?
When finished, I sat them back in the base which was now dry.
Then I went diggin' in my bottomless stash of ephemera. This is where the fun began!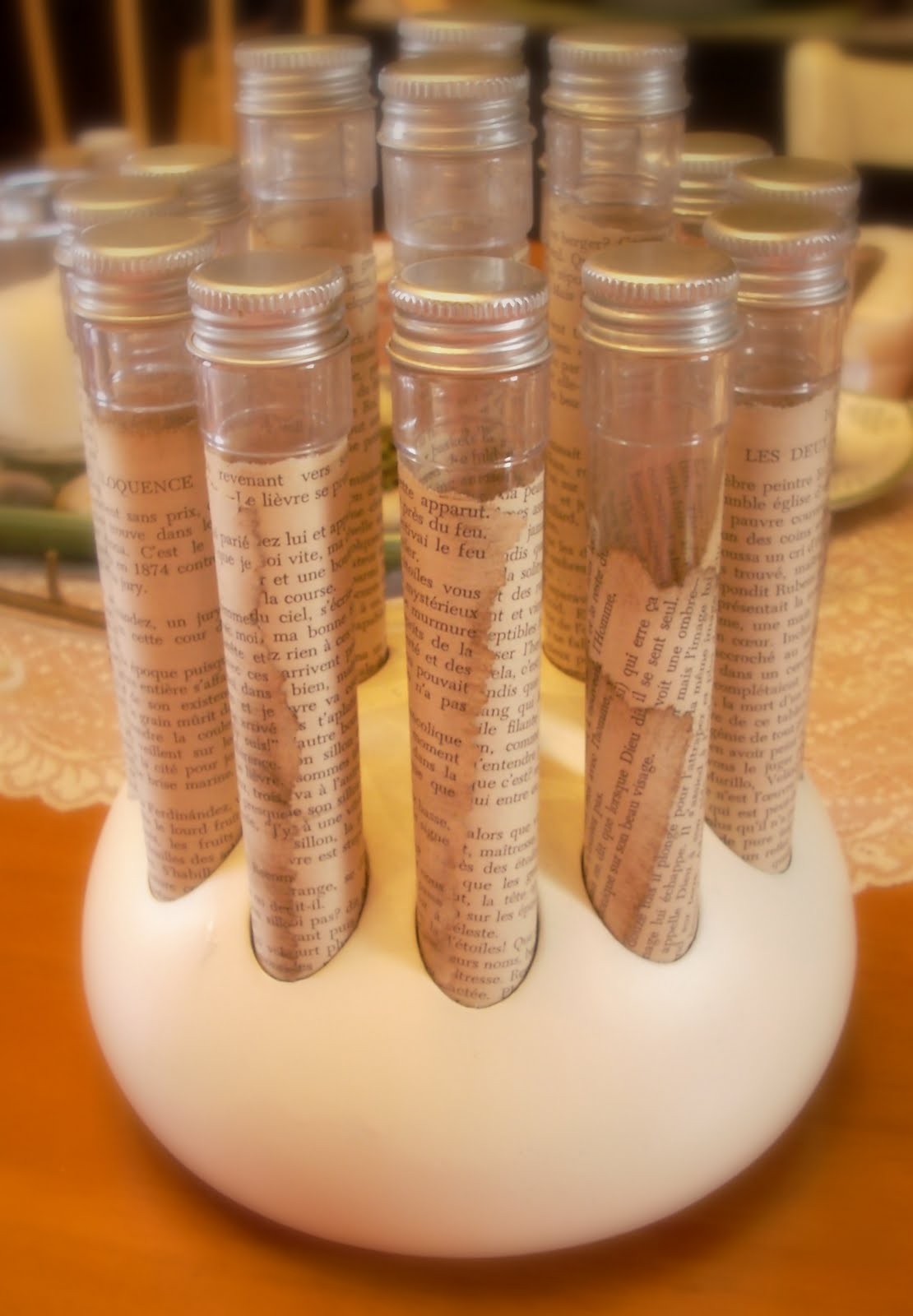 One at a time, each vial took on a personality of their own as I added baubles and trinkets and ribbons, oh my!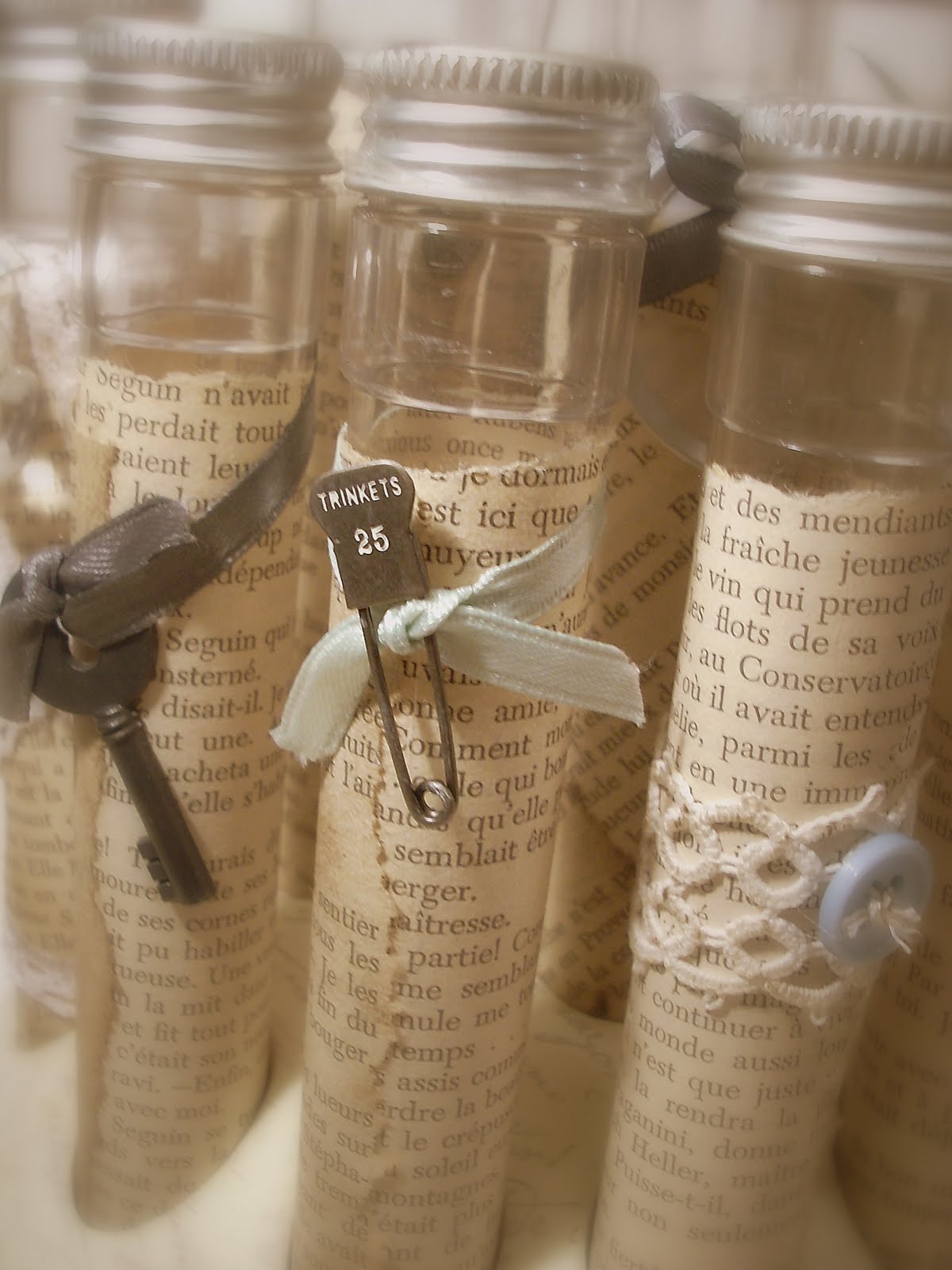 Then I stood back and looked at the entire piece and the base just appeared to be way too stark white to go with the vintage look items that had been applied to the vials. I got out one of my all time favorite rubber stamps and randomly stamped the base with French Script words in all directions.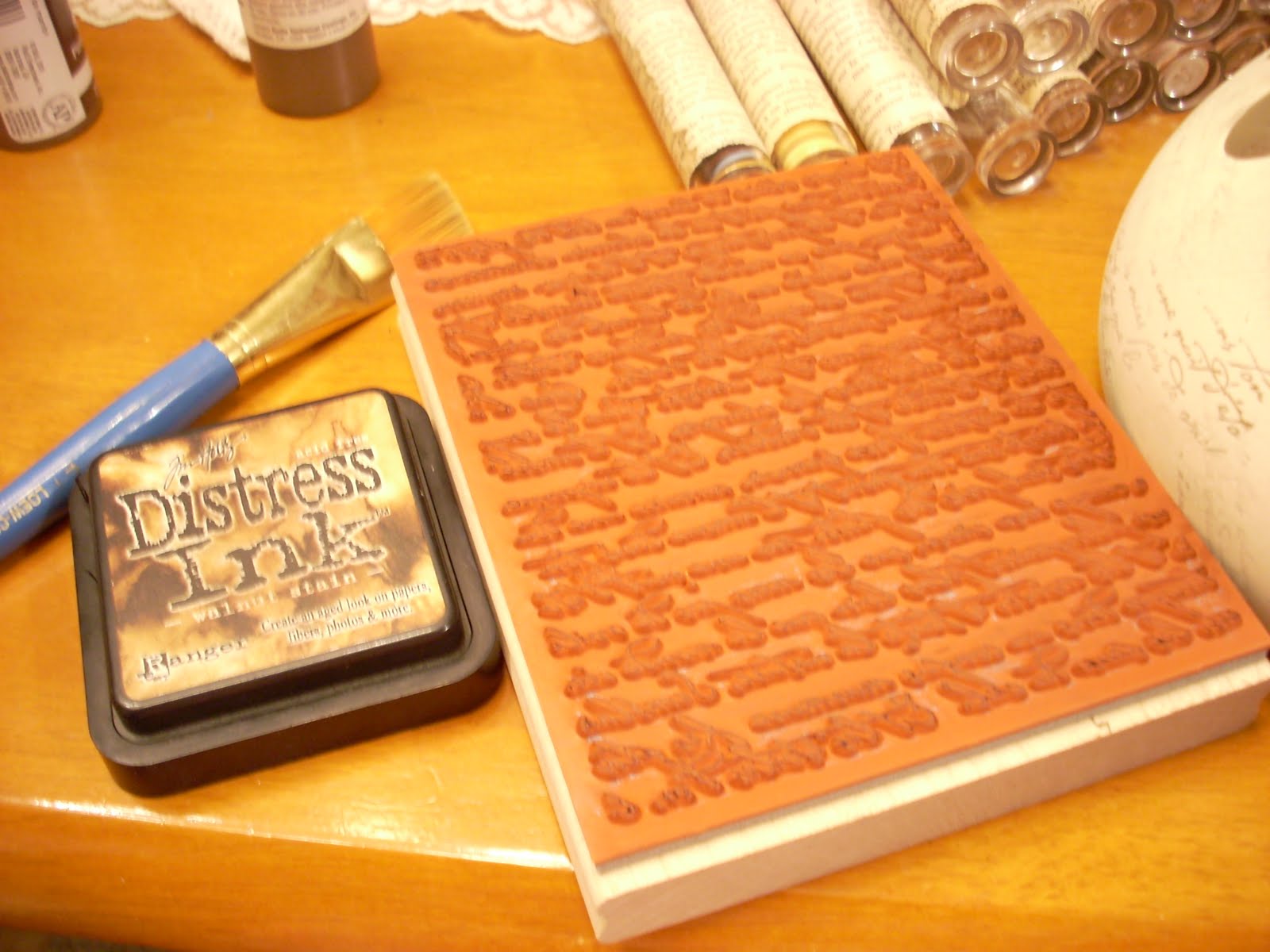 Then, using my paint brush, I randomly dry brushed some ink smudges and smears around on the base to shabby it up a bit. Perfect!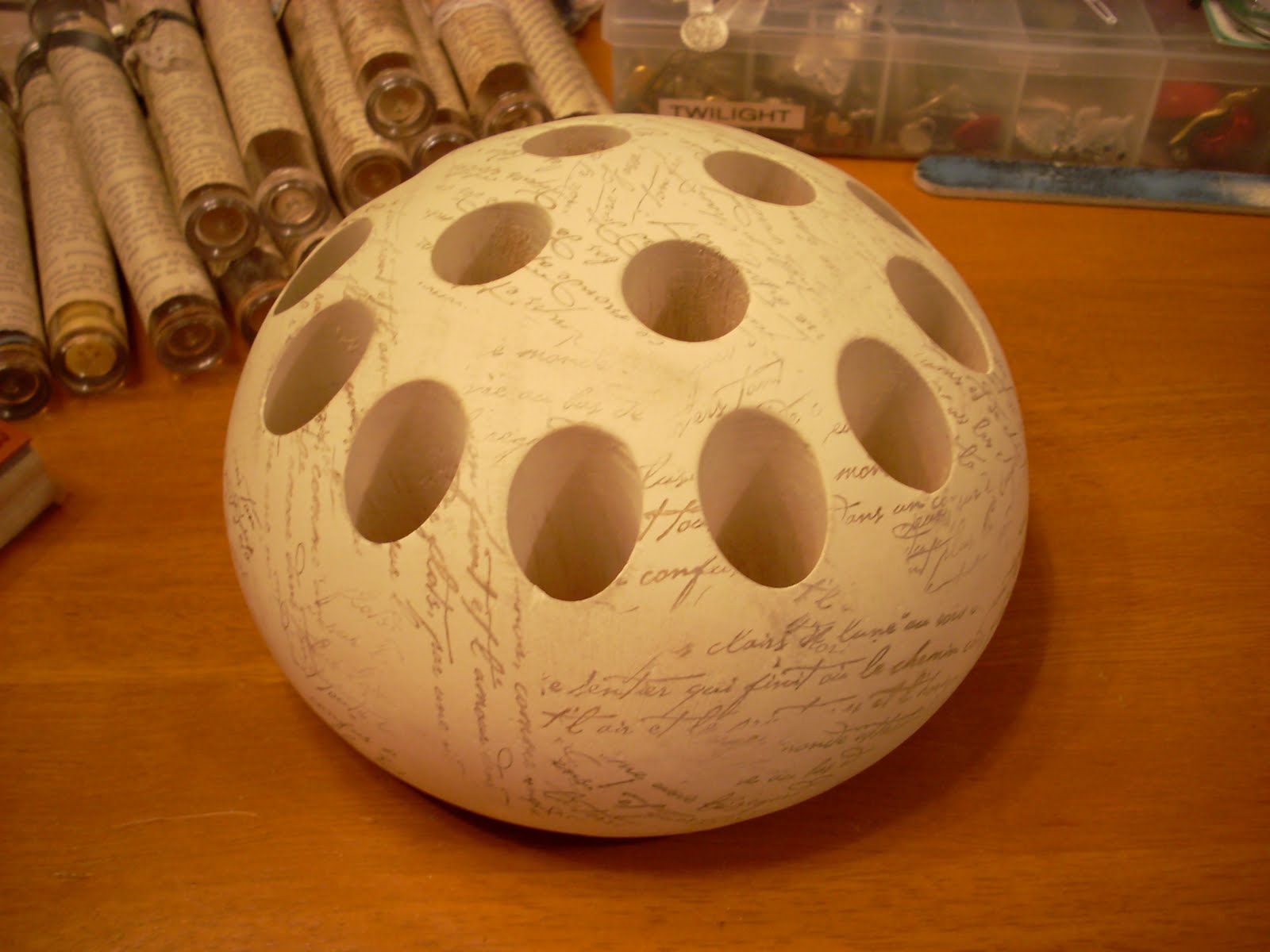 Then I set about filling it with the vials. The following photos need no explaination, but they sure are pretty eye candy!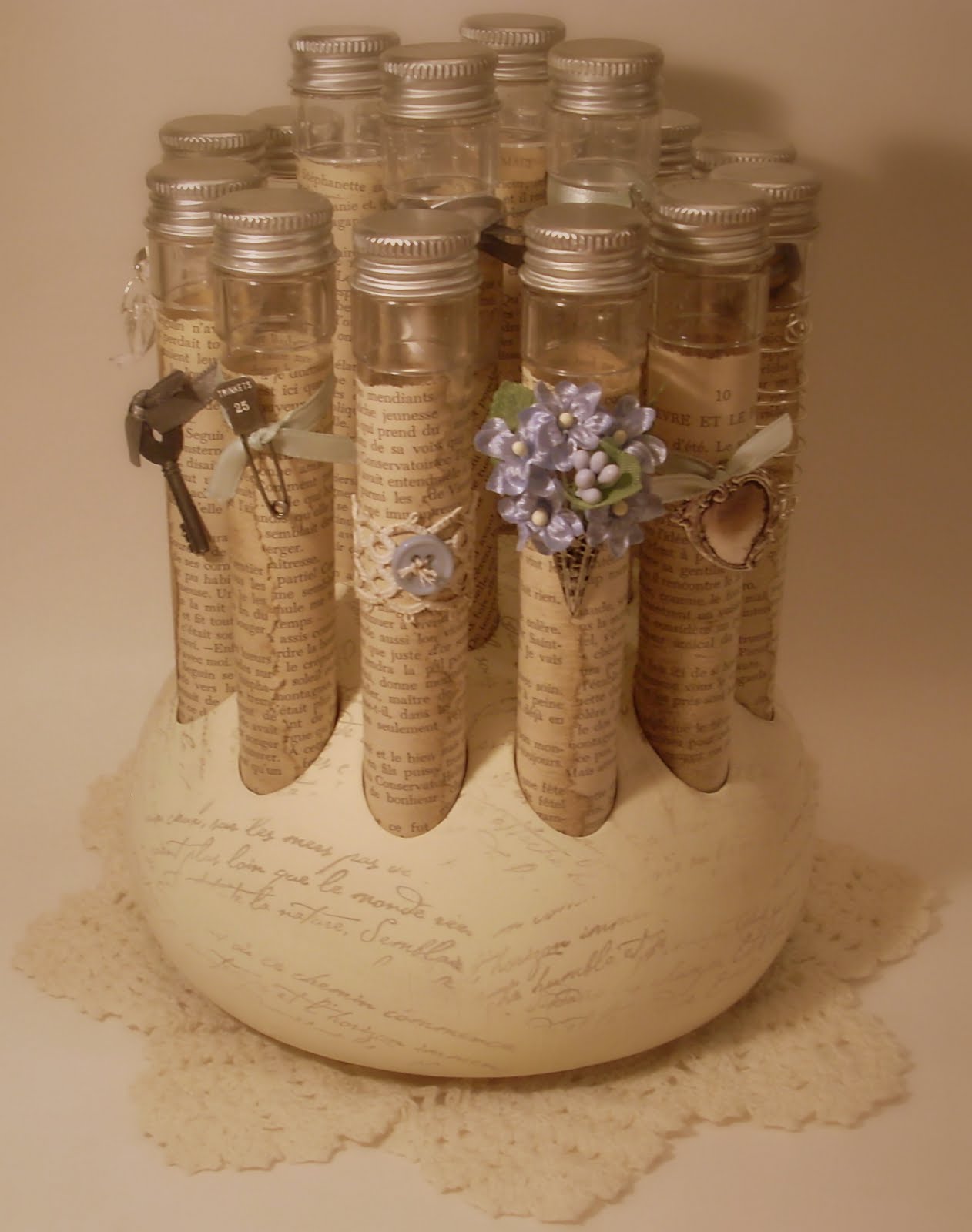 ~*~*~*~*~*~*~*~*~*~*~*~*~
Fantastic job Lisa!! I don't know about y'all but I am still drooling over her vintage French book… Miss Thing turned out GORGEOUS!!
I hope all of y'all are followers over at Someday Crafts. These girls rock I am tellin' ya! I oh so nicely talked Brandy into coming over here and showing us her shelf. So y'all be just as nice and tell her what she should do with it….
~*~*~*~*~*~*~*~*~*~*~*~*~
Hello!! My name is Brandy and I blog over at
Someday Crafts
and am pretty new to this whole blogesphere! I am lucky though I have the support and expertise of Michelle! I have been "lurking" around for a while now and am sooo excited to be a part of this "world!" I live in Utah with my awesome husband of 7 years and our 2 little sweeties Sydnee (5) and Jack (6 months.) I am originally from the south and miss it sometimes, but I love living in a winter wonderland (the lower humidity doesn't hurt either.) I was raised in more of a buy rather than make world so I unfortunately do not have my mom to call when I cannot decorate something. I envy those with that!! I love to do anything crafty, my favorite is decorating on a budget, however I do enjoy sewing (I stink at it, but it is fun,) and lots of other areas of the craft world. Another obsession of mine is shopping a the local thrift stores. Since we moved here 2 years ago from Florida and sold everything, I have had to find "creative" ways to decorate our house. I love going to the local DI (like the Goodwill in Utah) and finding a amazing deal! That brings me to why I am here today. I made such a great find!!!
Isn't she lovely??? I knew I must have her. She was only $5 and was almost perfect the way I found her. I decided though that a fresh black coat of paint, and it is a match made in Heaven…Awww…I love when a plan comes together. But now what do I do with it?? I have had a few ideas, they didn't pan out so well, take a look at one of them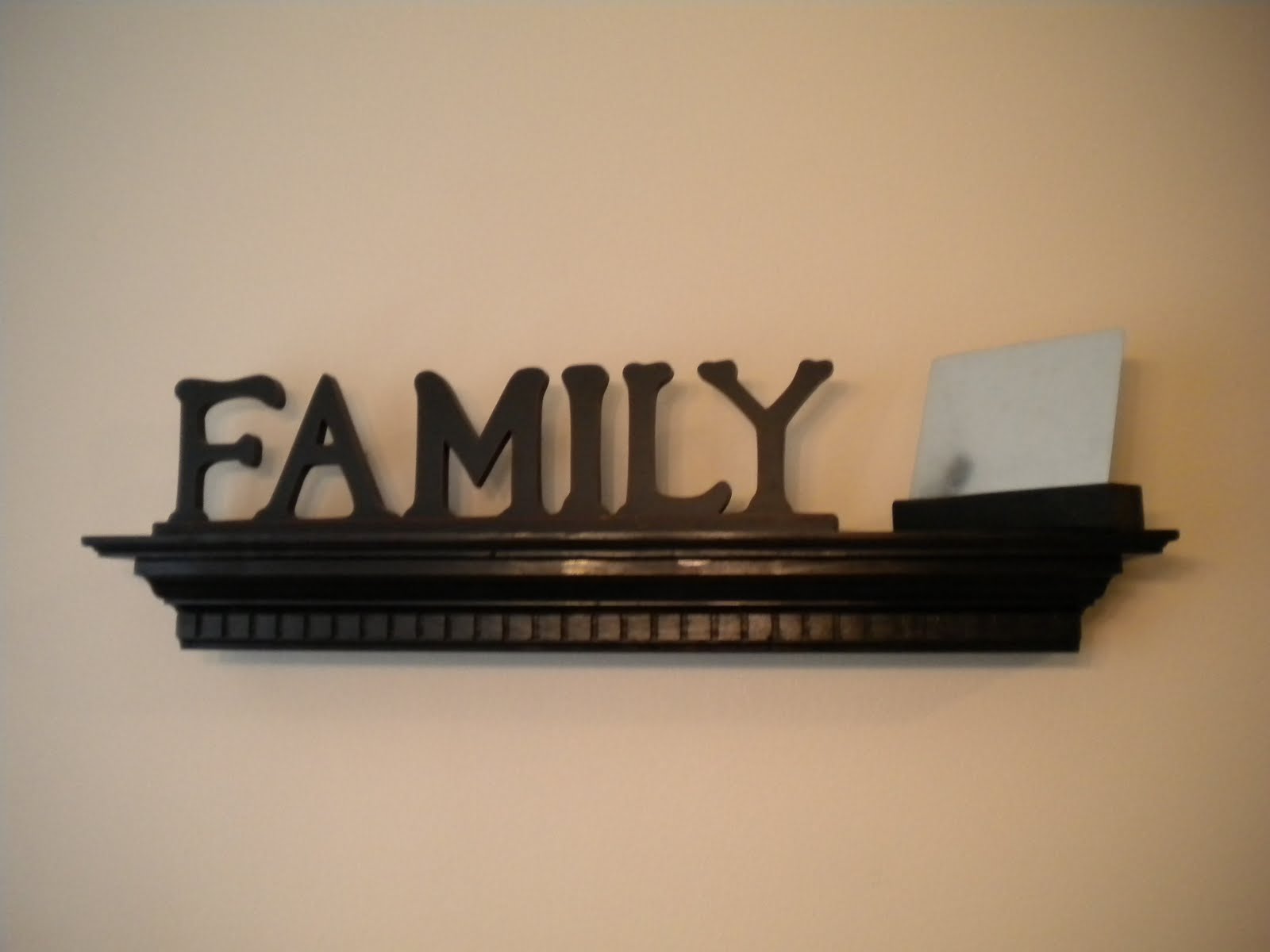 Doesn't look so good huh? So the question is "WHAT WOULD YOU DO WITH IT?" I can't wait to see what you all come up with!! And don't forget to come check me out at
Someday Crafts
awesome blog
HERE
and check out our crafts that we will do someday when we find the time!!
~*~*~*~*~*~*~*~*~*~*~*~*~
So what would you do with that shelf?? Please offer your words of wisdom…
Get Our Weekly Newsletter