I am joining up with an amazing group of bloggers today for Breast Cancer Awareness Month. My contribution is this breast cancer gift in a jar. A perfect pampering package all wrapped up in a way that will make anyone smile. Learn how to make your own version with the instructions below and encourage someone to fight like a girl! Also don't forget to enter the giveaway at the bottom of this post to win your own BCA craft supplies.
Breast Cancer Gift in a Jar Supplies:
Breast Cancer Gift in a Jar Instructions:
I started with the fabulous Rollagraph stamp and my pink ink. I used the stamp over an entire sheet of white cardstock. I just rolled the stamp on the ink pad then rolled it onto my paper.
I then cut the paper into four equal pieces length wise and scored the paper every 1/2 inch using a scoring board.
I cut circles from both the printables supplied by Jen and the pink glitter paper. Speaking of the printables by Jen, she has even more printables for BCA month for you so don't miss those. I used my Sizzix to cut the circles but you can use any method you have available.
Then fold your paper on each score line. Glue together the ends of the each of the four pieces of paper to make one long strip.
Then glue together the ends of the long strip to make a circle.
Apple hot glue to the center of the circle and pull in to make a medallion. Add the center pieces to the medallion to secure.
Lets work on the lid for our jar now. Again I cut a circle out of the pink glitter paper and the printables from Jen.
I used hot glue to secure those circles to the top and some pink glitter ribbon around the outside of the band.
Now lets put this gift together. Start with a wide pink ribbon around the center of the jar and secure with hot glue.
Attach your paper medallion to the front of your gift using hot glue. Add some fabulous pampering supplies to the inside and use pink tissue paper to fill. You could also fill with candy or cookies if you know that the recipient will enjoy them.
Add your lid to the top. I also used a piece of pink baker's twine to add a printable tag from Jen to the top. You can write who your gift is to and from on this tag.
Your gift is ready to put cheer in the heart of anyone dealing with breast cancer. My breast cancer gift in a jar is a simple idea but a great way to encourage anyone to fight like a girl!
Please hop around and visit the other ladies that are crafting for Breast Cancer Awareness month this week. Their projects will be added below as they are published.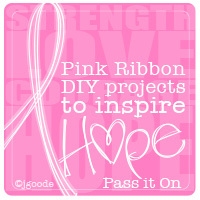 Enter to win a prize pack full of BCA crafting supplies below. Good luck! Please see the terms and conditions in the widget below.
THIS GIVEAWAY IS OVER!
a Rafflecopter giveaway
I was not compensated in any way for my participation in the event. I wanted to do something with JGoode Designs for BCA month.