Jen with 100 Directions is back again this month! This time she is sharing her candy corn cookies in a jar! This is great for Halloween, fall, or heck….anytime of the year! If you love candy corn, this one is for you!
Give me a bag of candy corn and I will be your BFF forever! (And so will my dentist!). Instead of just snacking on all the candy corn this year, I thought it would be fun to experiment and try my hand at a few recipes. I'm a big fan of cake mix cookies and I know Angie loves jar gifts, so I thought I'd combine the two and see what I could come up with. So, today I have candy corn cookies in a jar – YAY! (Plus a free printable of course).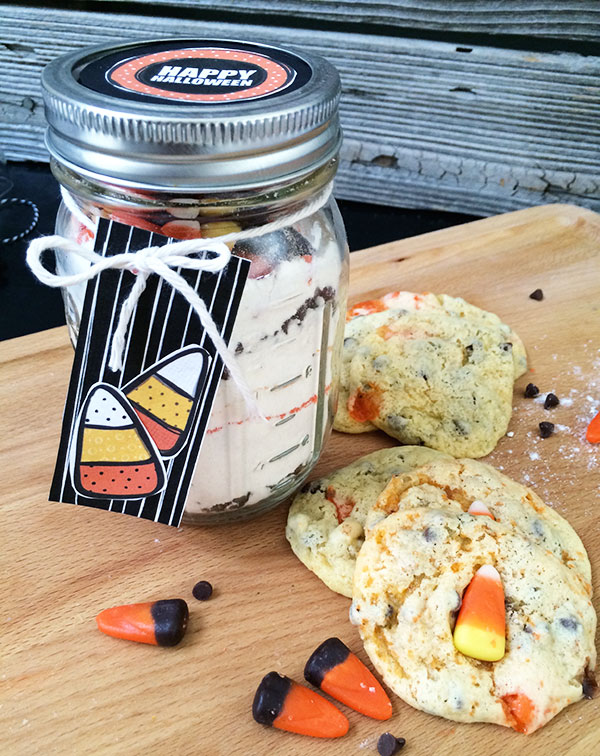 Candy Corn Cookies in a Jar
Ingredients
Yellow Cake Mix – half the box
1 egg
2 TBS oil
2 TBS water
1/4 cup mini chocolate chips
1/4 candy corn – chopped
Orange sugar sprinkles
Pinch of salt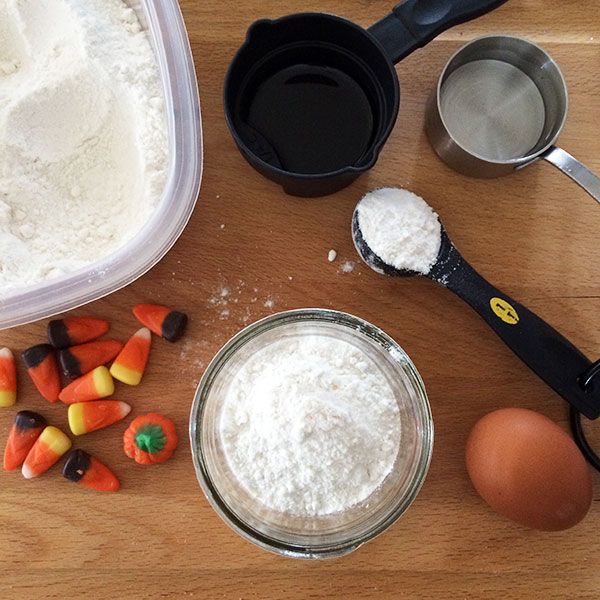 Instructions
You can change up the ingredients however you like, you don't need to include all the candy items if you don't want. Because these cookies use a pre-made cake mix, they are really sweet. You can make the same cookie treat with a basic sugar cookie recipe, decreasing the sugar a bit.
To make the jar gift
Omit the web ingredients (egg, oil and water). and simply layer all of the dry ingredients into the jar. I layered in this order: chocolate chips, cake mix, orange sprinkles, cake mix, chocolate chips, cake mix, candy corn.
To make the cookies
Pour all the dry ingredients into a bowl.
Mix in the wet ingredients and stir together.
Spoon the mixture onto a cookie sheet.
Bake for 8-12 minutes at 350 degrees.
Allow to cool before serving. Makes about 1 dozen.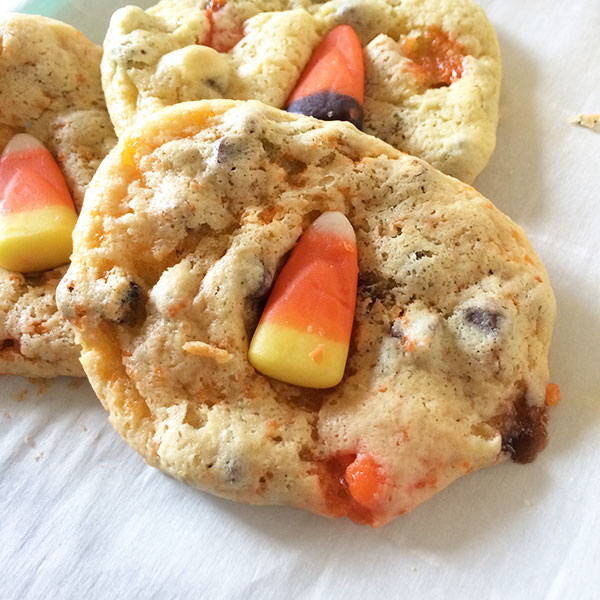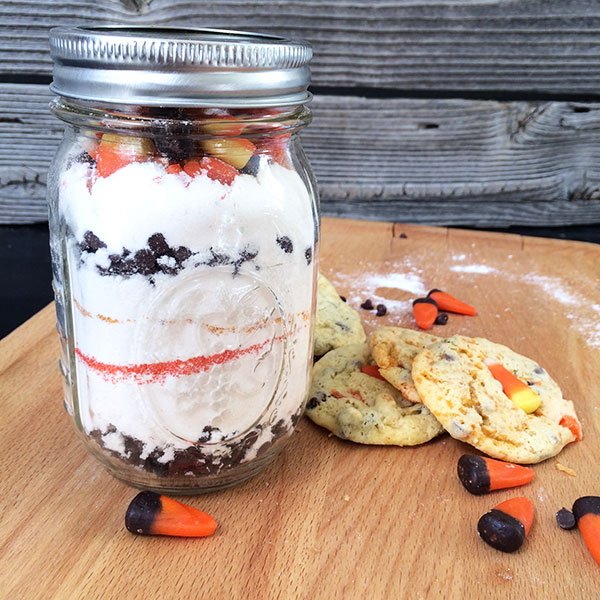 You can decorate your cookie jar gift with a cute gift tag using my candy corn Halloween accents printable (it's free!).
I hope you love these cookies too. I say, any excuse to sneak in more candy corn, is a must!
Looking for easy recipe ideas?
Struggling with supper and what to make? Do you wish you had a way to make meals faster? The dump recipes system allows you to make 10 meals in just one hour or less, rescuing your dinnertime and saving you time and money.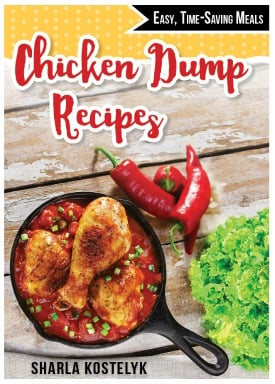 Want to try it for yourself? I have the perfect cookbook for you. Chicken Dump Recipes includes 5 plans, each with printable shopping lists and printable labels. Most of the 25 recipes included can go from the freezer to the crockpot, saving you even more time. All the recipes include gluten-free instructions as well.
What are you waiting for? Give the dump recipes system a try in your home and make meal time a bit easier!
A Year of Jar Crafts
Sign up for our email list to get a FREE book with an entire year of jar crafts! 12 months, 12 crafts, tons of fun!