I love to dig through vintage cookbooks and get inspired by the recipes. I saw this chocolate sheet cake recipe and knew that this was a recipe I needed to try. And y'all….you need to try it too. Like right this second. It is ah-mazing. Seriously.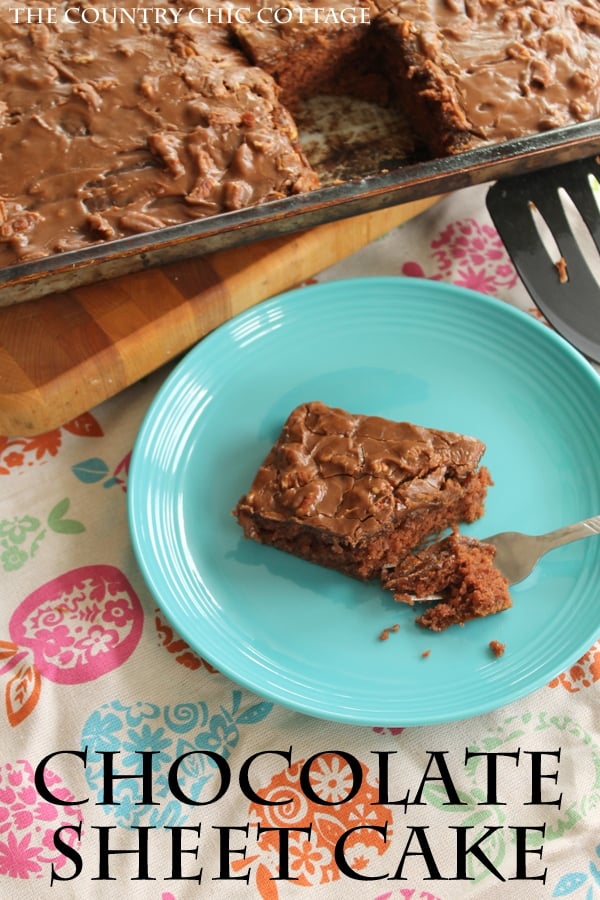 Chocolate Sheet Cake Recipe
2 cups all purpose flour
2 cups sugar
2 sticks butter
3 1/2 tbsp cocoa
1 cup water
2 eggs
1 tsp vanilla
1/2 cup buttermilk
1 tsp baking soda
Prepare a large jelly roll pan or cookie sheet with non stick cooking spray. Mix flour and sugar in a large bowl and set aside. Heat butter, cocoa, and water in a small saucepan. Stir until melted. Add to flour sugar mixture and stir. Beat in eggs and vanilla. Mix buttermilk and baking soda and beat into mixture. Pour into pan and bake for 20 minutes at 350 degrees. While baking make icing below.
Chocolate Pecan Icing Recipe
1 stick butter
3 1/2 tsp cocoa
1 tsp vanilla
6 tbsp milk
1 pound confectioner's sugar
1 cup chopped pecans
Melt butter, cocoa, vanilla, and milk in a saucepan. Remove from heat. Add to a bowl and gradually stir in the confectioner's sugar. Stir in pecans last. Spread over hot cake right out of the oven.
Serve cake warm or after it has cooled.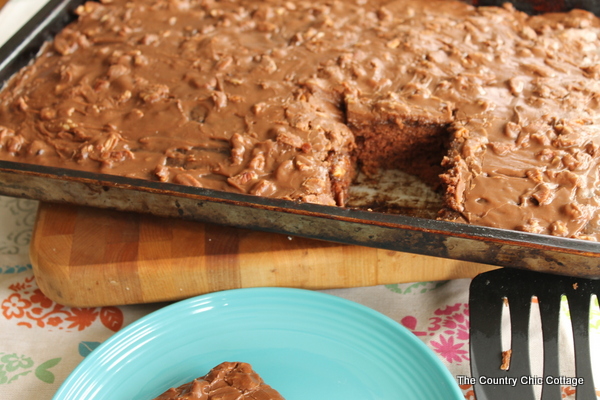 One bite and you will be hooked! This is one cake recipe that I will be making again and again. Try this chocolate sheet cake recipe for yourself. You won't be sorry!