It is the season for overnight guests. Treat your guests right by setting up a coffee nook in your home. This nook has everything they need to get the morning started no matter if you are up or not. I decided on a fall theme for my nook but you can theme it anyway you desire. Be sure to grab a few bottles of International Delight for your guests as well.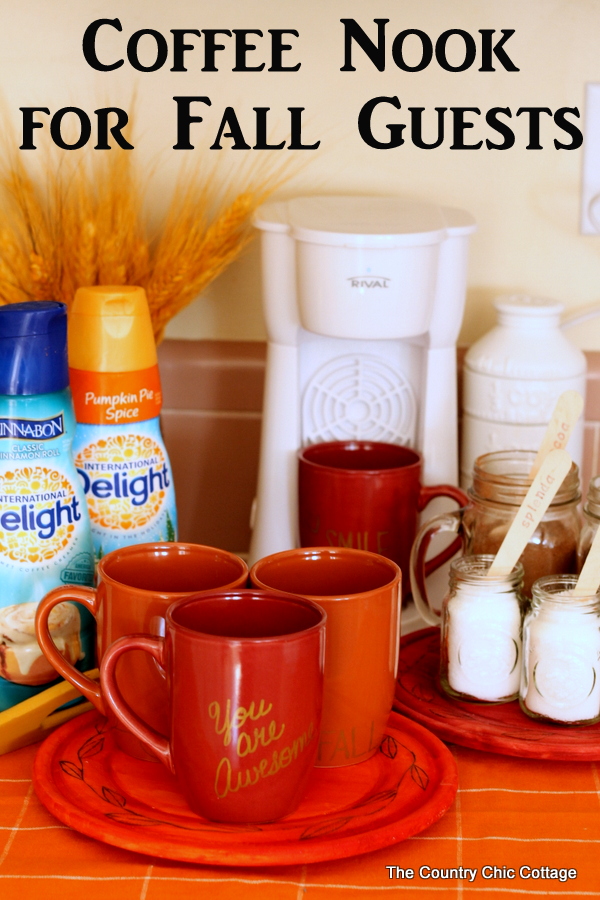 I have a couple of fall themed projects that I added to my coffee nook. Those fall themed wood chargers were a fun project that anyone can make.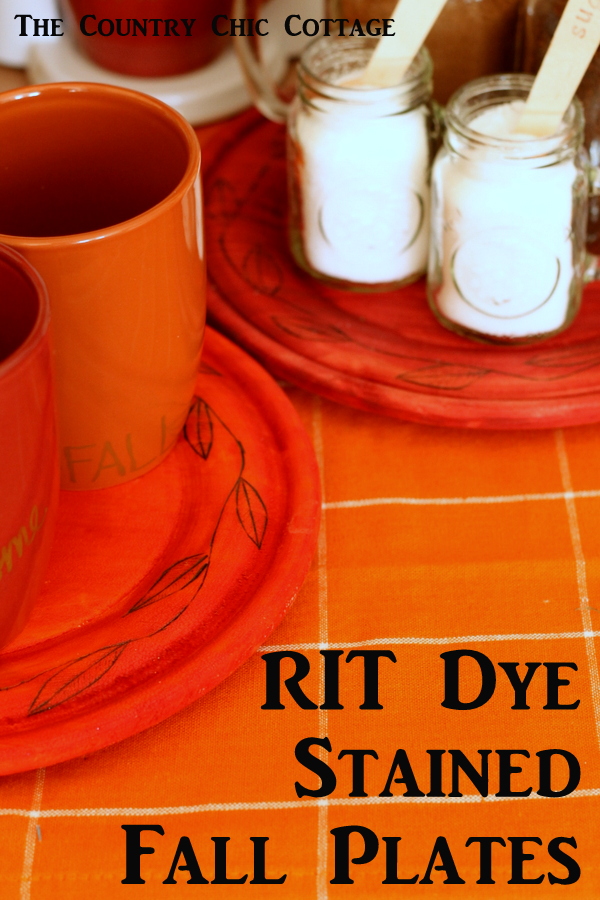 Start with wood plates or charges. You will also need a wood burning tool as well as some RIT dye to stain those plates. We will also seal them with a spray sealer before use.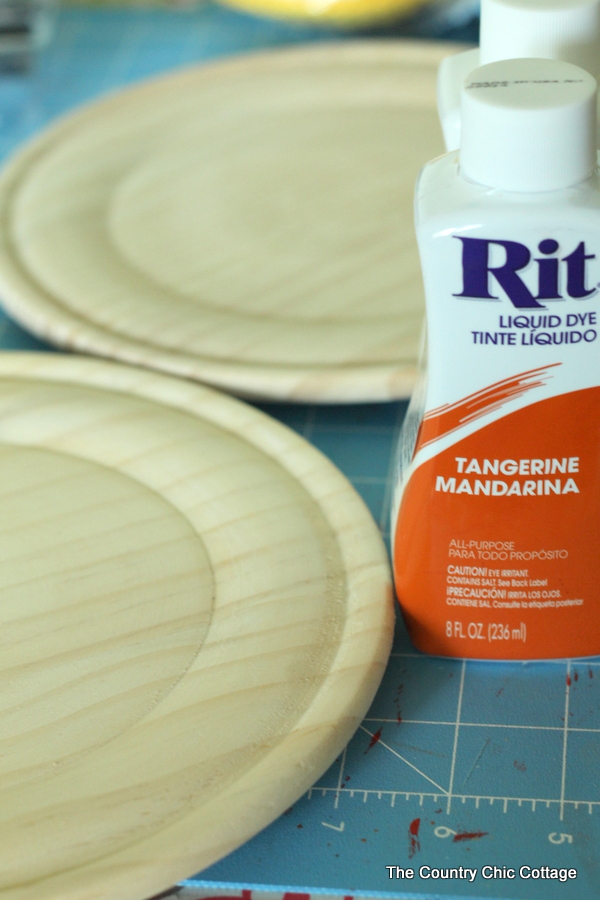 I just free handed on some leaves around the side of the wood charger.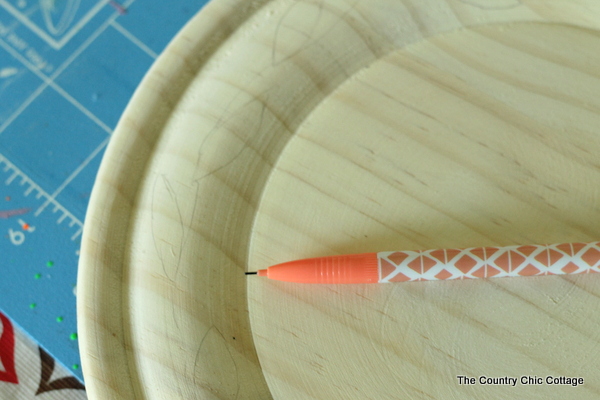 Then just use your wood burning tool to burn those leaves into the wood.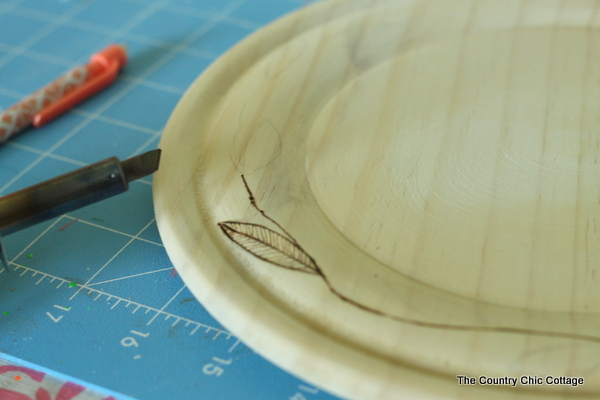 Never used a wood burning tool? Let me show you a brief one minute video of the tool in action on one of these plates. It is just like using a VERY HOT pencil!
Pretty simple right? Continue all the way around both plates.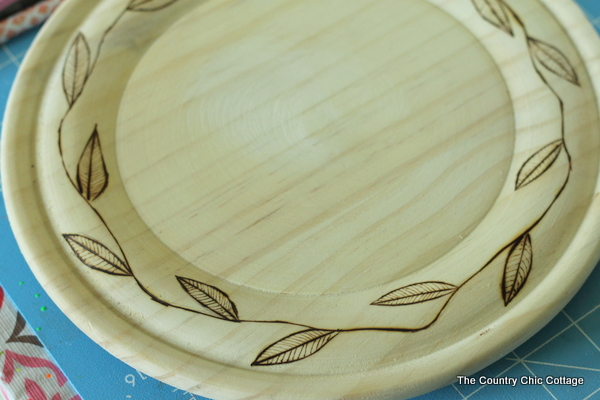 Now for the fun part! Use the RIT Dye straight out of the bottle on a brush. Apply a coat to the front, sides, and back. Wipe away any excess with a rag. I used candy apple red and tangerine on my plates. Allow them to dry overnight before continuing. Spray with a few coats of spray sealer before using.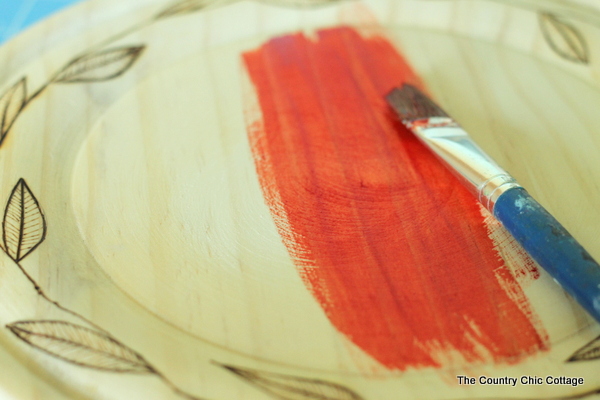 One more super simple project to complete before we can pull together that coffee nook for overnight guests. Lets make some great fall themed coffee mugs.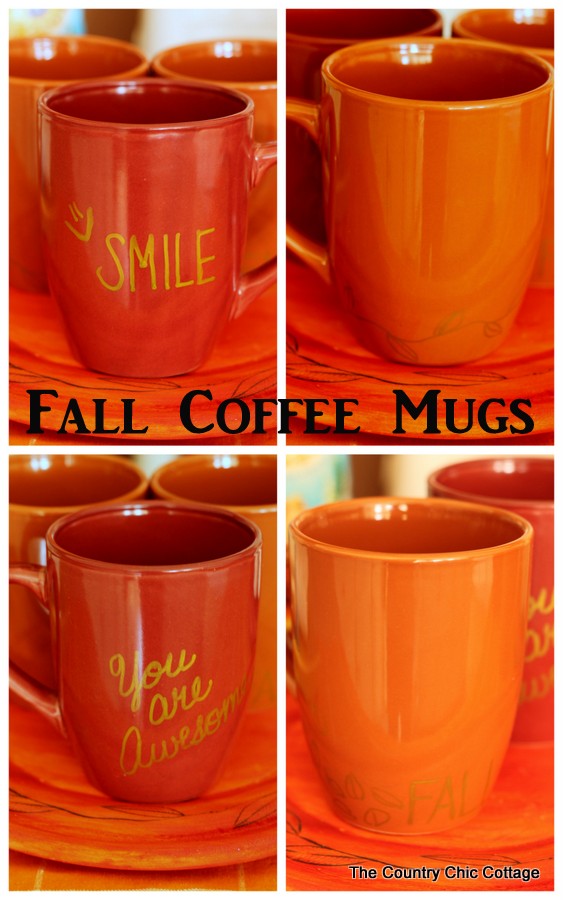 Just pick up a DecoArt paint marker in any color you choose then get some coffee mugs in great fall colors.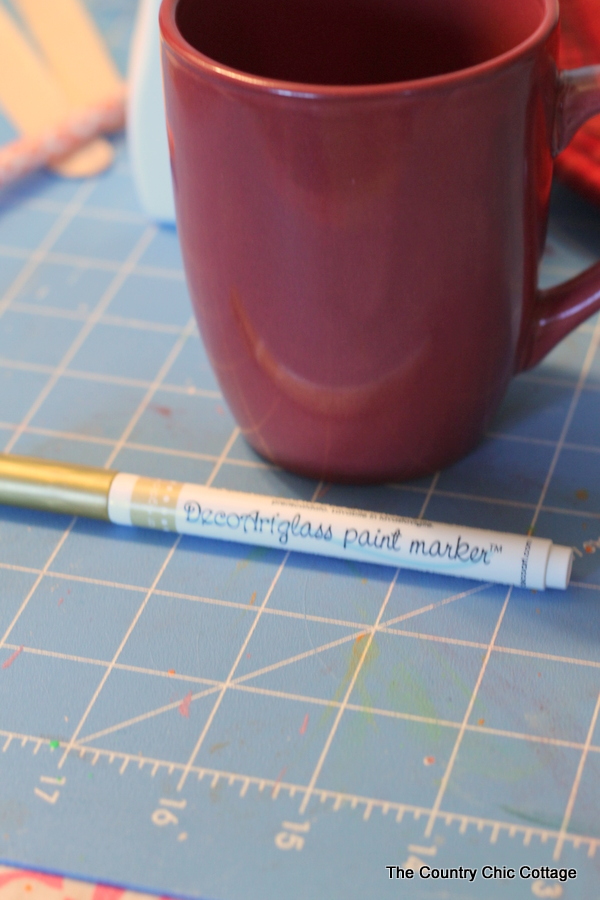 Write directly on those mugs with any saying or drawing that you choose. This project will take 5 minutes and will leave your guests feeling extra special! To make the marker permanent and dishwasher safe, please follow the directions on the package as your mugs need to be baked in the oven.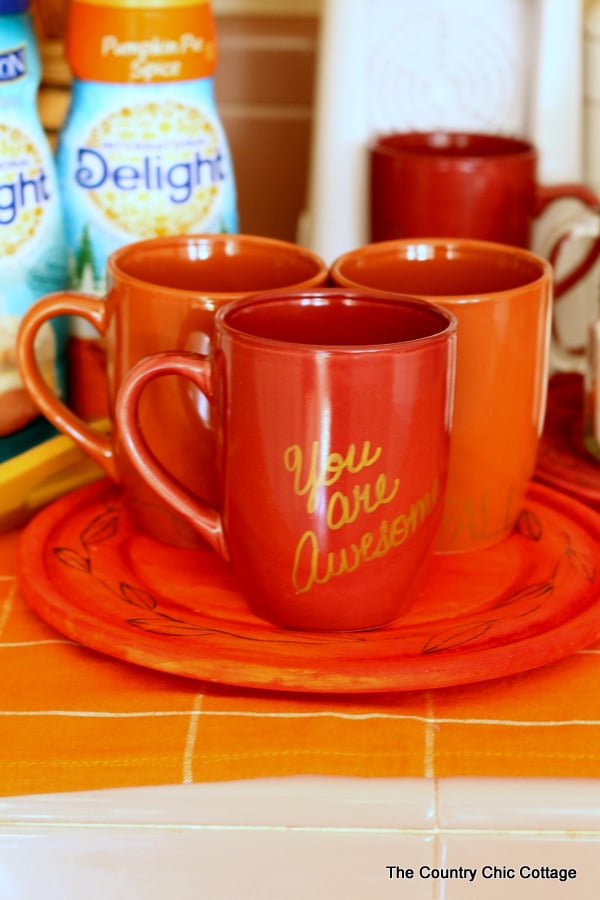 For the remainder of your coffee nook, be sure to add a little something to snack on if your guests are hungry and of course some napkins.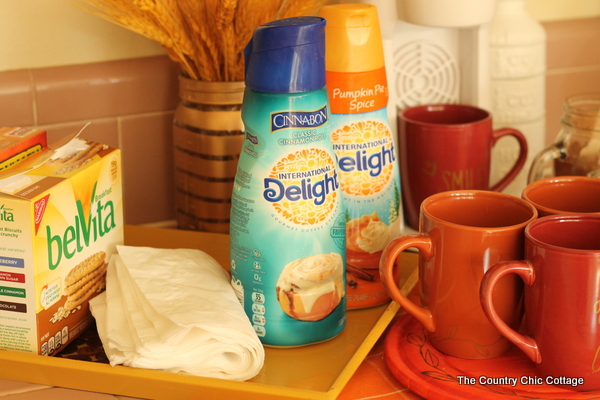 Of course we can't forget some International Delight coffee creamer. My favorites for fall are the pumpkin pie spice and cinnamon roll flavors. If you set up this coffee nook the night before, just leave a note prominently in the coffee nook as to where to find the creamers so they can be kept cold.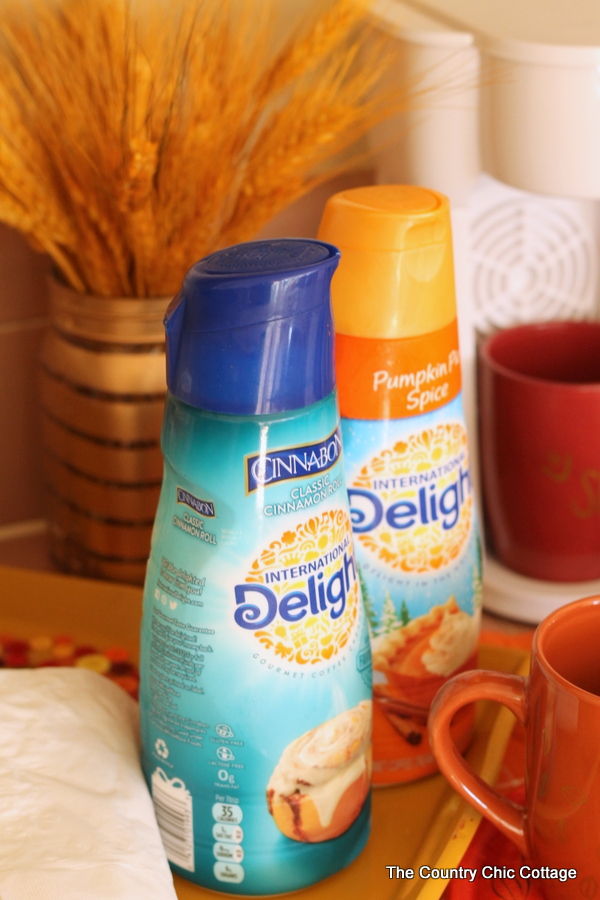 Don't forget the coffee and maybe some cocoa just in case. Sugar and artificial sweetener are also great ideas. I just had to add all of my supplies to mason jars you know.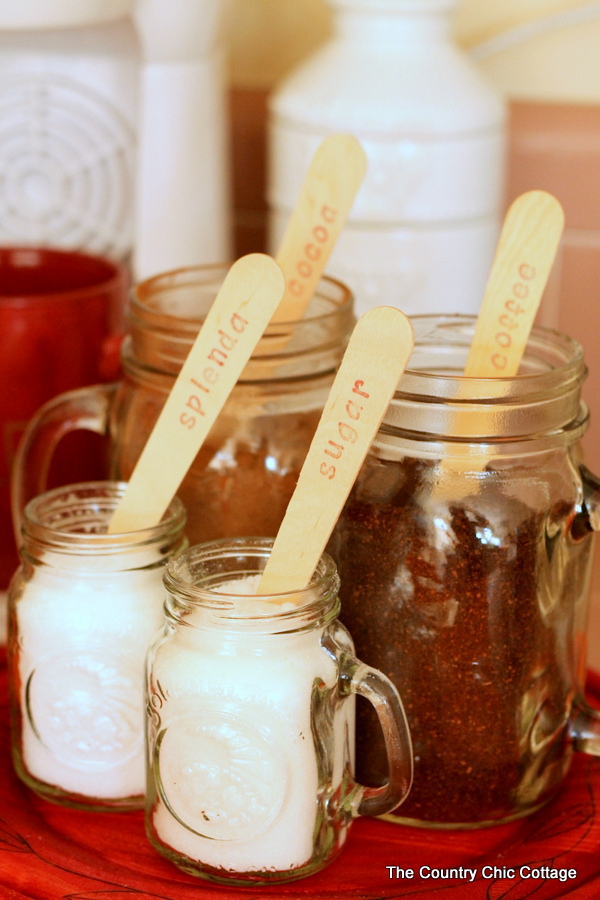 You too can set up a fall themed coffee nook for overnight guests in your home. This is a great way to allow your guests to serve themselves in the morning without waking the house. Make either my fall themed coffee mugs or plate chargers or both for your home as well. Want more ideas using International Delight and possibly some coupons as well? Be sure to follow them on Facebook and Pinterest.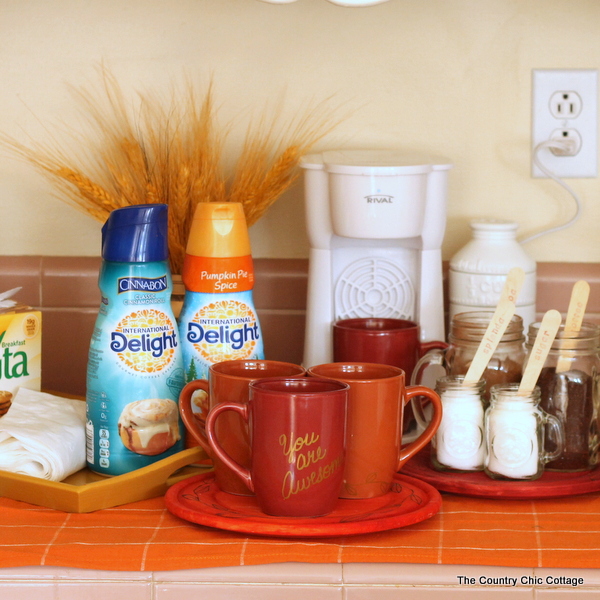 This is a sponsored conversation written by me on behalf of International Delight. The opinions and text are all mine.