Are you unfamiliar with Cricut Design Space? If you have just opened your Cricut machine, you may find the software to use the machine challenging to understand. For this reason, I have created this Beginner's Guide to Cricut Design Space just for you!
This free printable Cricut eBook offers all the fundamentals to get started using your new Cricut machine as well as how to make use of Cricut Design Space. This handbook is applicable to any Cricut you have. To get started, just scroll down to get your free Cricut Beginners Guide and explore the capabilities of your machine to make amazing projects.
Confused about which Cricut to buy? Check out the comparison guide here for help!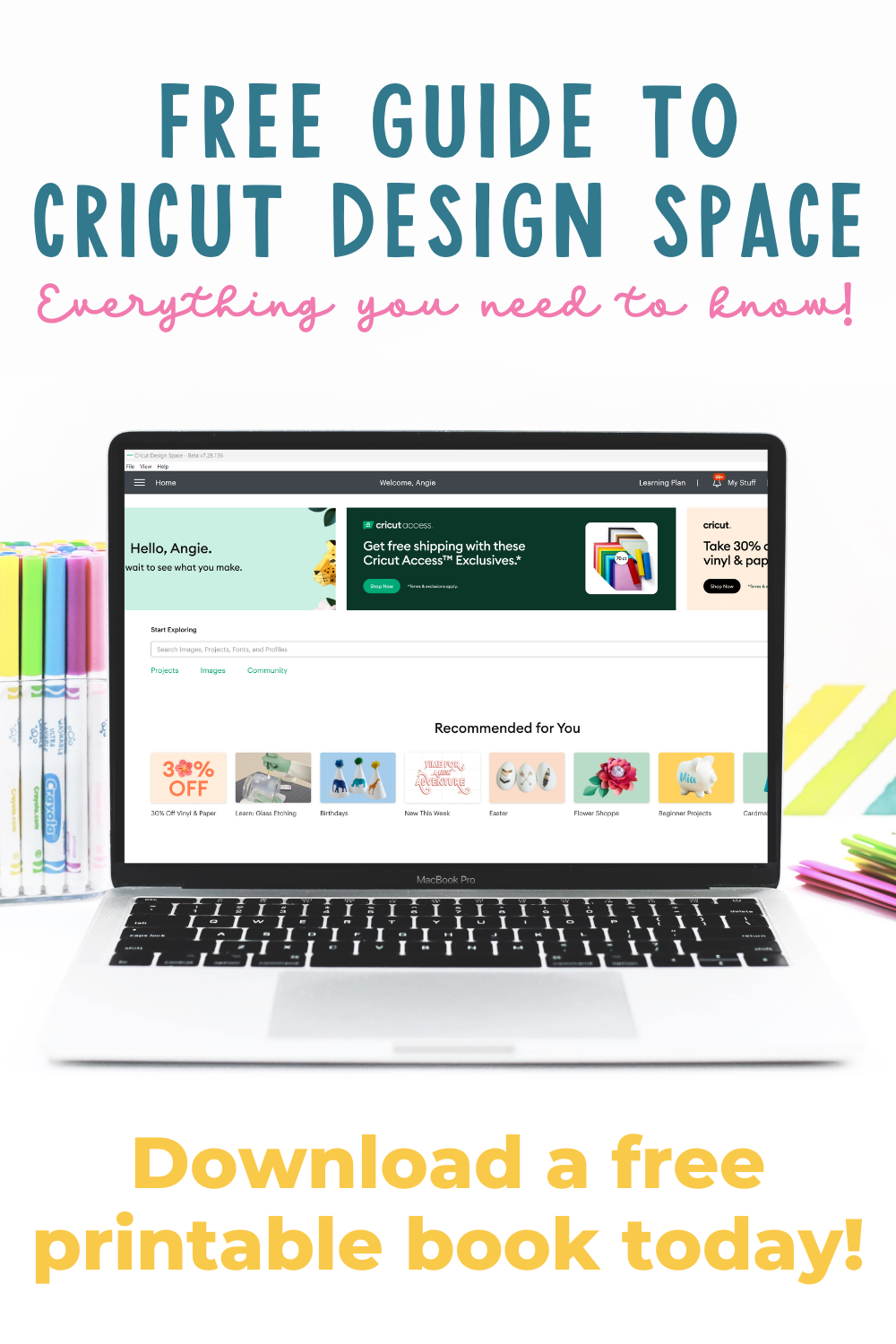 Beginner's Guide to Cricut Design Space
Before you get your guide, you may have some questions about the guide and what it includes. I have included a bit about the guide below to help! You can also email me with any further questions and I would be happy to help.
What topics are in the Cricut for beginners' guide?
Getting started – everything you need to know about setting up your new machine.
Templates – what are templates and why would you use them?
Images – the vast image library on Cricut Design Space can be confusing. This guide can help!
Text – how to use your own fonts plus Cricut fonts.
Shapes – add basic shapes to your design.
Upload images/files – learn how to upload your own images as well as SVG files you find on the web.
Layers – how to work with layers to change up your project.
Saving projects – save your work and even share it with others.
More options – get a little more advanced with these features.
Cut it out – it is time to fire up your Cricut and make something special!
What machines are covered?
This Cricut guide covers all current Cricut machines including the Cricut Explore One, Cricut Explore Air, Cricut Explore Air 2, Cricut Joy, Cricut Explore 3, Cricut Maker, and Cricut Maker 3. The guide does not cover previous generation machines that were before the Explore series.
Do you need Cricut Access?
Cricut Access is a monthly subscription that gets you access to images, fonts, and projects in Cricut Design Space. It is not required to use your Cricut machine and is not required for the information in this book. The Beginner's Guide to Cricut Design Space is for every Cricut user!
Does this book cover tools and materials?
There are other things you need when operating your Cricut like a cutting mat, cutting materials, and even one of the 13 tools Cricut makes. In this book, I only have information on Cricut Design Space. It does not cover those other tools and materials. If you want to learn more about your Cricut machine, I recommend taking my free Cricut class by clicking here.
Is this really free?
Absolutely! The guide is free when you sign up below. Once you sign up to get the guide, you will be offered some additional products in a limited-time sale. You can purchase those or close out that window but you will still get the free guide.
Do you offer a printed copy?
I don't offer a printed copy of this book that you can purchase but I do have a Cricut book that can help! Click here to read more about my book on all things Cricut and get your copy today!
How do I sign up?
Now, are you ready to get creative and use your Cricut machine to its full capacity? Whether you have Cricut Explore, Cricut Joy, or Cricut Maker machines, this is the one guide that will show you where to start. Enter your email below and the 23-page guide will come right to your email. Download, print, and reference this Cricut Design Space tutorial as many times as you would like!
Download the Beginner's Guide to Cricut Design Space HERE:
A box should appear below for you to enter your information. After you click "subscribe", check your email for your free guide. There you can get the guide and even print it if you would like!
If you have any issues with the form or getting your guide, email angie@thecountrychiccottage.net and I can help you!
Y'all enjoy and make all of the things! Once you know the basics of Cricut Design Space, the sky is really the limit with this machine. This is the best Cricut Design Space Tutorial you can find! It has everything you need to know to master your Cricut all in a guide that you can print and keep with your machine.
If you have ever wanted a Cricut reference manual, the Beginner's Guide to Cricut Design Space is for you. It is the only guide that Cricut beginners need for their machines! If you have been scared to get your machine out of the box, this is the guide you need to start cutting paper and fabric and so much more!
Need more help? You can subscribe to our YouTube channel here as we have videos every week to help you with your machine.