I have been working on some Cricut classes for a few weeks now and I am finally ready to share them with you! I have a ton of content showing you how to use your Cricut, but it is all over the place and not organized at all. So, I spent some time putting the content together into a neat 7-day package that helps you to master your Cricut machine. Sound good? Keep reading to see how to sign up!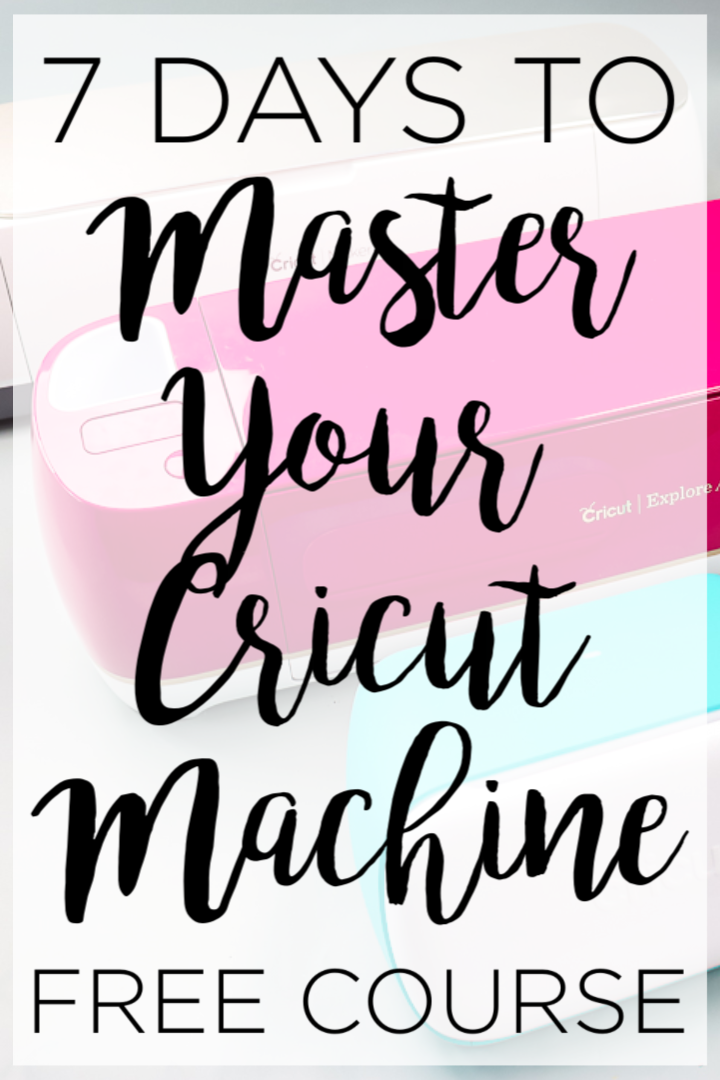 If you subscribe to my YouTube channel, you may have seen some of the videos I do each week. I have actually been doing these videos for years now so some of the content is buried. I get emails every day asking me Cricut questions. Well, I am answering them ALL in one epic email series you don't want to miss.
Free Cricut Classes
In just 7 days, you can learn everything you need to know about Cricut Design Space and using your machine to make projects. It is like the best binge-watching session ever because you come out of it with a new skill! Are you ready to sign up? Just sign up in the email form below and the first email will hit your inbox in a few minutes.
You can also email me if you have any issues with the series. You should get an email every day for the next 7 days with links to learn about your Cricut machine. Then just follow the series by watching each day or keep the emails and watch at your own pace. This is a self-paced course that can go as fast or as slow as you would like it to. You can also start at any time!
Wait. Is this really free?
Yes! It is completely free! The content for the series is all things I have out there already. I just put it in a manageable format for you to digest. You can save the emails and have a one-day-long binge session. Or you can divide up the emails over several days and take a month or more to learn all the things. You decide what works for you and your schedule!
The point is to get you more familiar with your machine. Then you will be creating all the things you dreamed about when you purchased the machine in the beginning. Get that Cricut out of the box and start using it with these free Cricut classes. You will be so glad that you did. Imagine making gorgeous creations for yourself as well as to give as gifts.
What do these Cricut classes cover?
Here is a brief overview of each day:
Day 1 – machine setup, mats, blades, accessories, and more.
Day 2 – kicking off our lessons with basic terminology in Cricut Design Space.
Day 3 – mastering the functions and tools in Design Space.
Day 4 – using your own images and fonts with your Cricut.
Day 5 – the steps to making your project.
Day 6 – how to cut 25 different materials with your Cricut.
Day 7 – wrapping up and advanced functions.
Boy, that is a ton of information! Imagine what an expert you will be after 7 days of watching, reading, and also learning. Don't be intimidated by your Cricut any longer. Sign up and start learning with me. You will be so glad you did once you know how to use your Cricut machine.
Which Cricut machines does this course cover?
There are a wide variety of Cricut machines on the market. Currently this course covers the Cricut Explore series, Cricut Joy, and Cricut Maker series. I don't cover any machines older than this like the Expression or the Cricut Cake. Otherwise, you will learn something to help you with your machine with classes on your Cricut delivered right to your inbox.
So, what are you waiting for? Sign up and join in these Cricut classes. Your Cricut machine is waiting!