Did you know that you can make your own DIY photo coasters? I have a fabulous method below that will give you professional results every single time. It uses two products you might not be familiar with – 2 part epoxy resin and printable tattoo paper. What?? Read on to find out more! This post is sponsored by Environmental Technology, Inc however all projects and opinions are my own.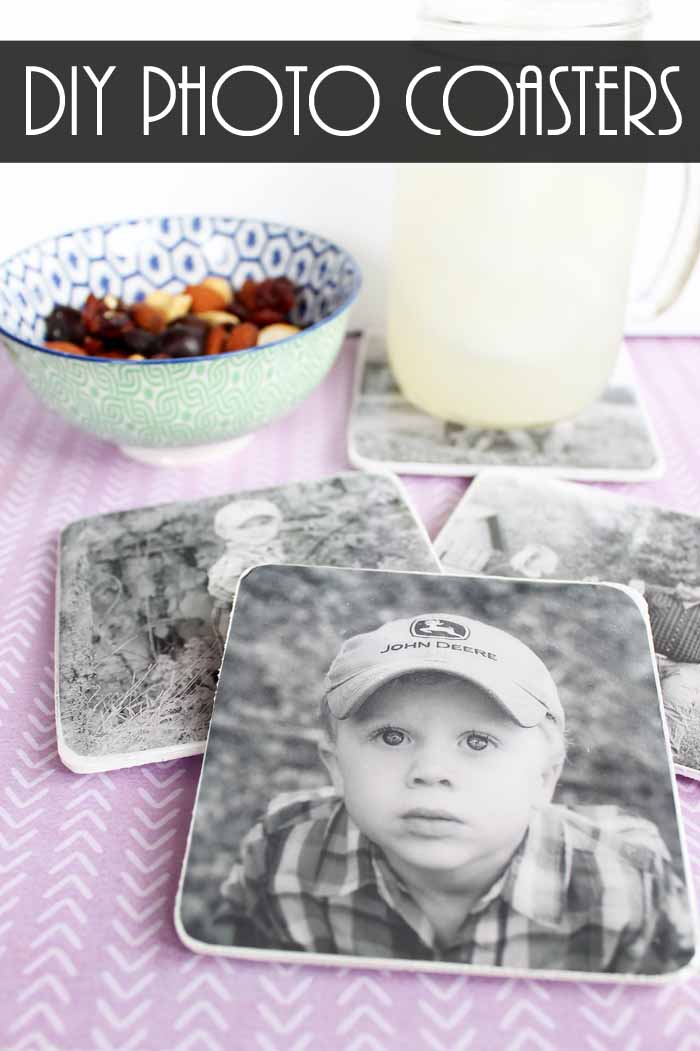 Supplies needed to make DIY photo coasters:
Want to learn more about 2 part epoxy resin? You can watch me make the coasters in the video below and get tons of tips and tricks.
/p>
Can't watch the video or missed some of the steps? Just follow along below!
Instructions:
Step 1: Painting
Start by painting your coasters. I used two coats of white chalk paint on all surfaces (top, bottom, and sides). Be sure to allow to dry in between coats and also before continuing with the tutorial. It is important to paint or seal your coasters when using the tattoo paper method of image transfer.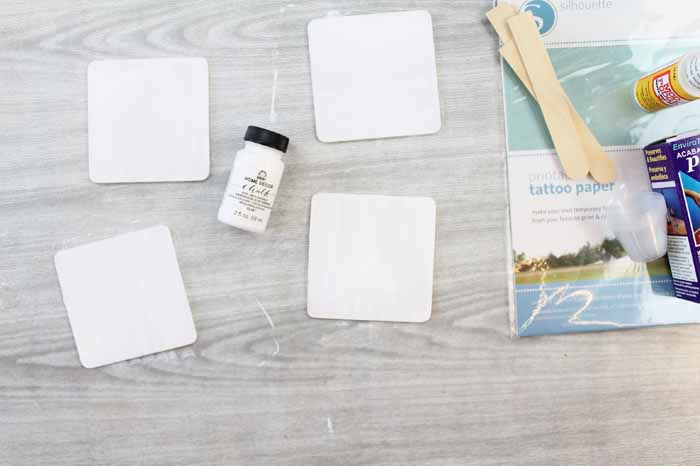 Step 2: Image transfer with tattoo paper
In the meantime, you can print your images onto your printable tattoo paper. I did mine in black and white. Be sure to mirror your images before printing so they will be the correct orientation when transferred to the coasters.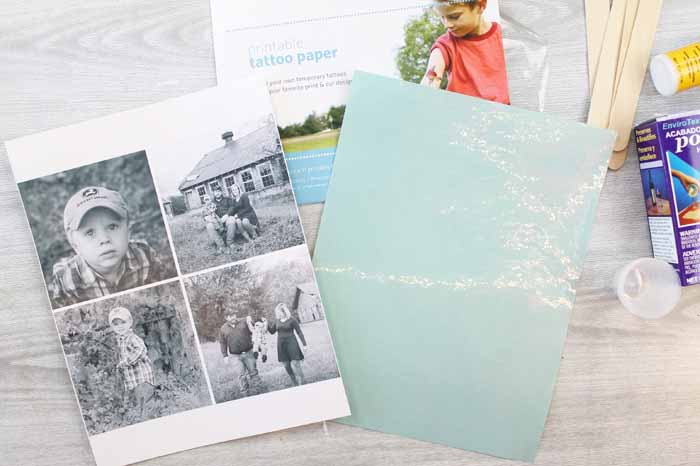 Follow any instructions that comes with your tattoo paper. For this packet, you peel back the liner on the adhesive and put it on top of your printed images. I pressed it down really well using a stir stick like a squeegee.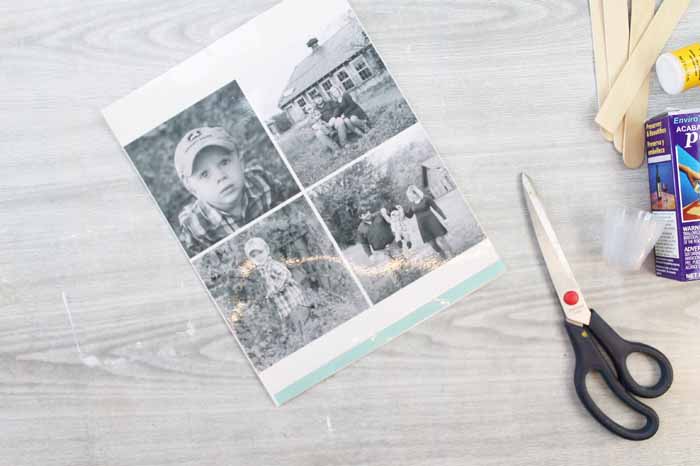 Trace the coasters with a pencil on top of the images. Cut out with scissors.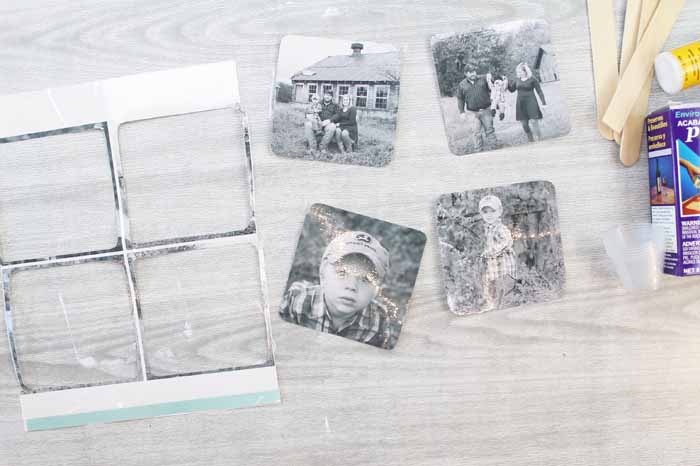 Now just peel away the clear liner to expose the adhesive. Turn the image over with the adhesive down and place it on your painted coaster. Press down really well. Again I used a stir stick like a squeegee to ensure complete adhesion.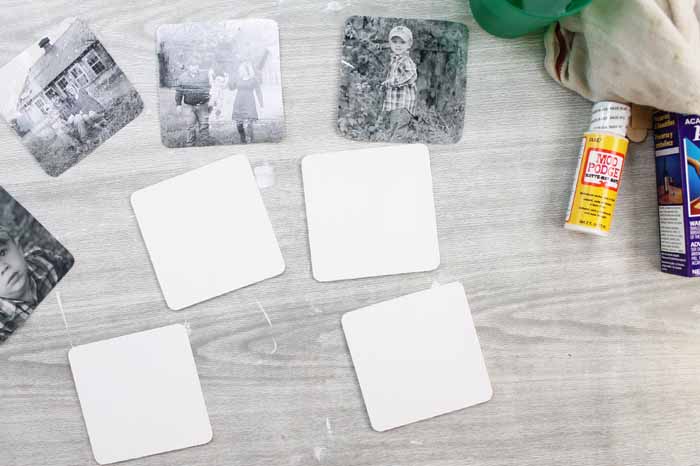 Then use a damp rag on top of the paper that is covering your image. Do not rub. Just press with the wet rag. Eventually the paper will start to lift from the image. Remove the paper and you are left with a gorgeous image on your coaster. This is by far my favorite method for adding a printed image to wood.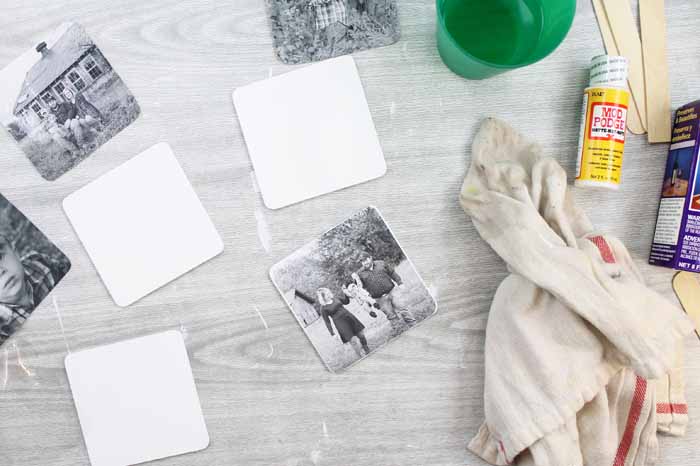 Step 3: Seal
You will need to seal the images before continuing to make your DIY photo coasters. I used two coats of decoupage medium. Apply one horizontally and one vertically allowing to dry in between coats. Also you will want to make sure to get all the way to the edges. Then allow your coasters to dry really well before continuing.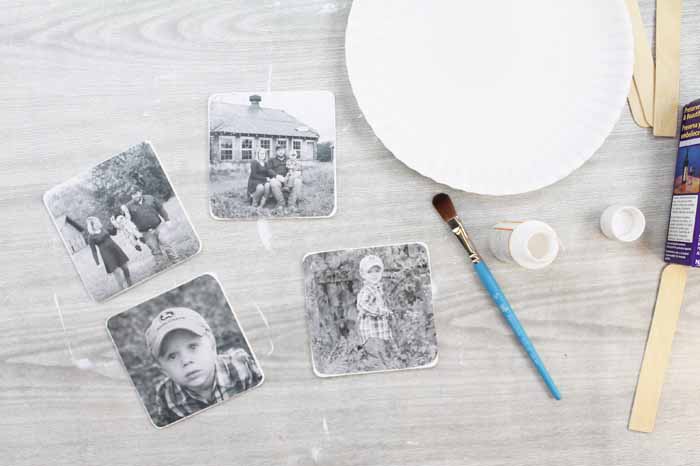 Step 4: Pouring your resin
Now it is time to make a glossy, thick coating on your DIY coasters. You will need to protect your work surface. For this, I use paper plates. You will also want to raise your coasters up off the work surface. I just used a clay pot turned upside down for this purpose.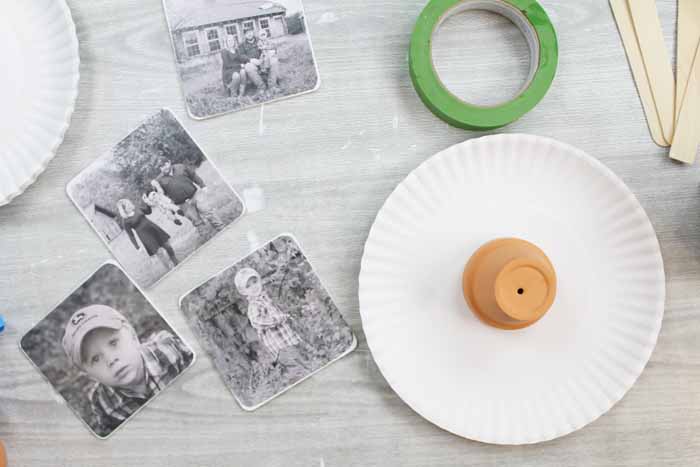 I also like to put painter's tape around the edges of the coasters to protect the edges. Just apply tape all the way around pressing down well to ensure adhesion. Repeat for all four coasters.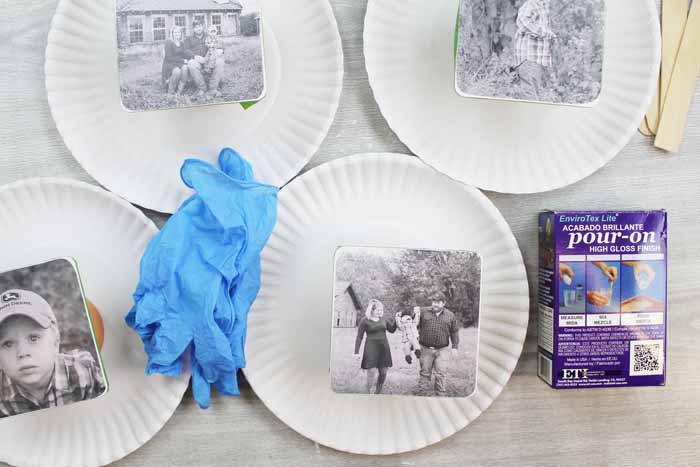 Then put on your protective gloves and start mixing your resin. You will want to follow all instructions that come with the box for this step. Measure equal amounts and use the two container mixing procedure outlined in the instructions. Once you have completed that, you are ready to pour. I like to pour some resin in the center of my coasters then tilt them to get complete coverage.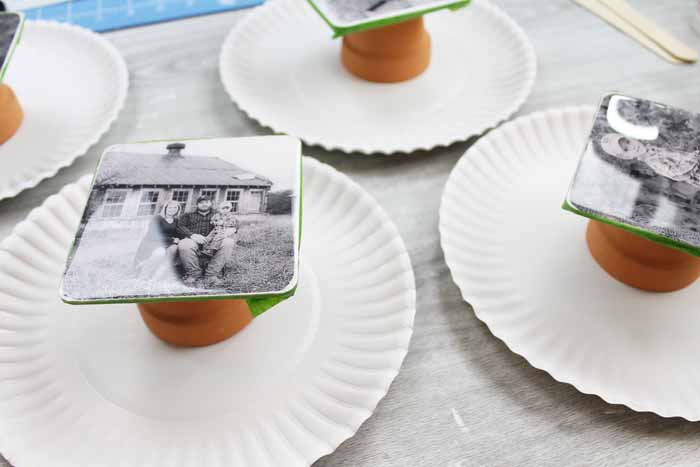 Once covered, I set my coasters on the terra cotta pots over the paper plates. You can then follow the instructions for popping any bubbles that may rise to the surface. I would recommend waiting an hour or so then carefully taking off your tape and wiping away any resin that may have leaked through. Then let your DIY photo coasters rest flat and level until they are fully cured (I do about 24 hours).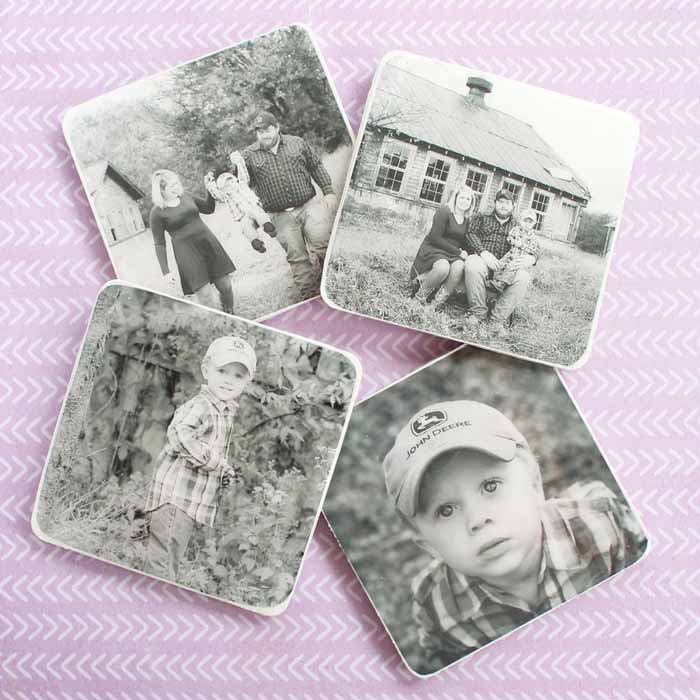 You can tell how glossy they are in the image below! I love the thick professional finish to these and how great they look! Between the awesome tattoo paper transfer method and the epoxy resin coating, these coasters look like you had them professionally made. They are the perfect gift idea for Mother's Day or any occasion really.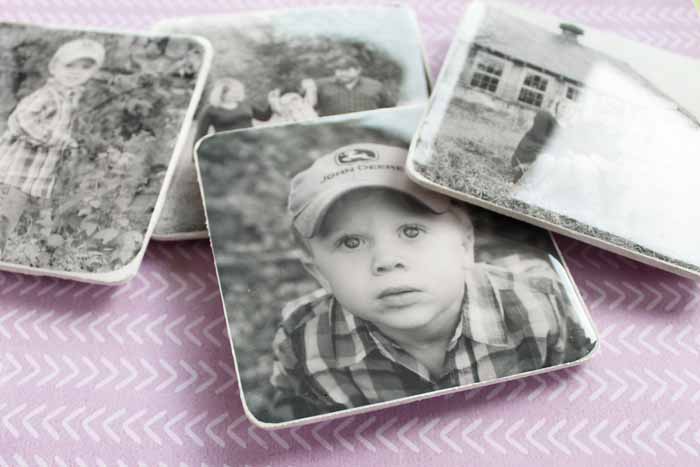 Grab your supplies and do not be afraid of resin! There is a learning curve, however, the results are definitely worth it.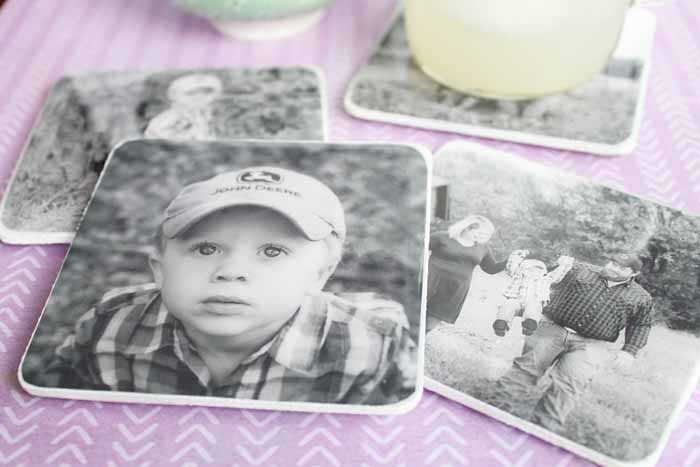 Now, get started picking pictures to make your own DIY photo coasters. You might even make a list of everyone in your life that may need a set!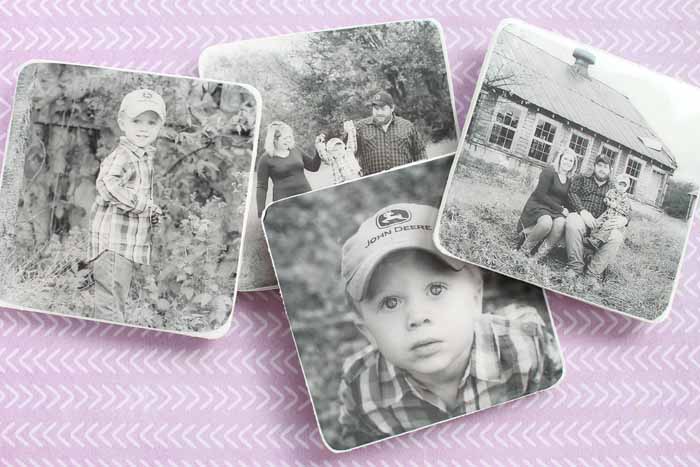 Struggling with resin and need help?
I know that a ton of you are intimidated by resin. Don't be! You just need to know the basics and gain some experience with the medium. I have a course that will help you to master epoxy resin and give you the confidence you need to tackle this project and so much more.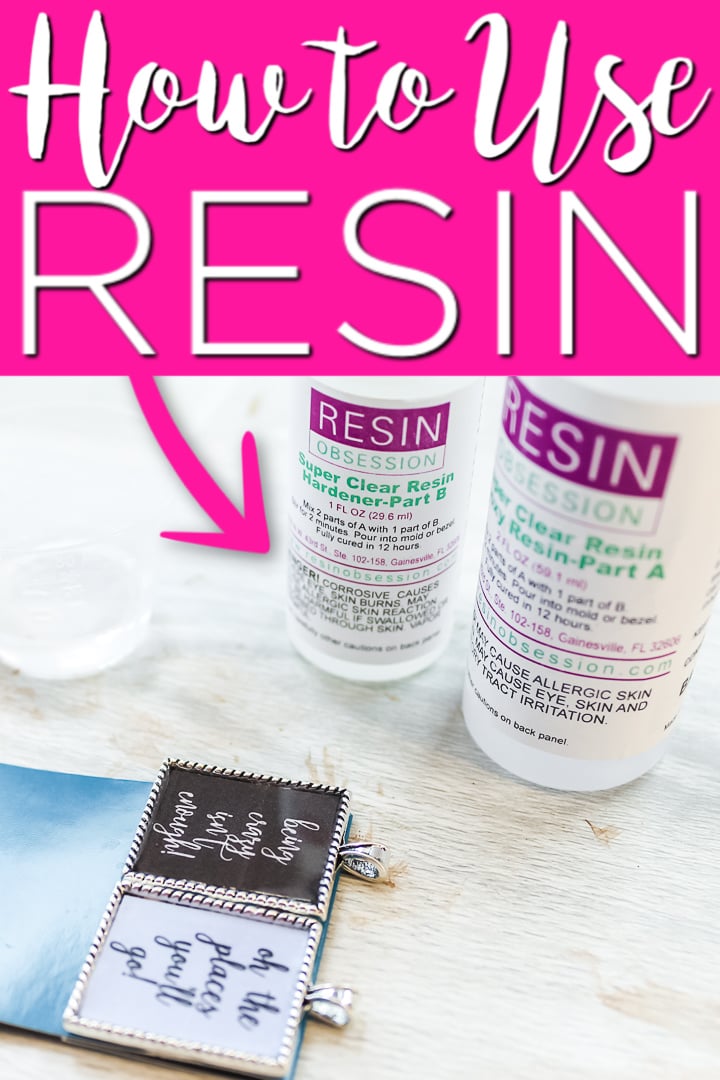 With unique insights drawn from more than a decade of creating and selling resin jewelry worldwide, this course is from an Amazon best-selling author on the topic. This class goes beyond making a few projects. You get thirty video lessons to give you clear directions on how to make resin jewelry you can confidently share and sell. Want to see more?