If you have been around here any time at all, you know that I love mason jars. When I needed a bit of new art in my kitchen, I created this fun mason jar pallet art to go in that spot. Y'all can totally make this as well. Just follow along below with my steps to make some pallet art of your own. You can paint on the mason jar like my version or anything else that fits with your home.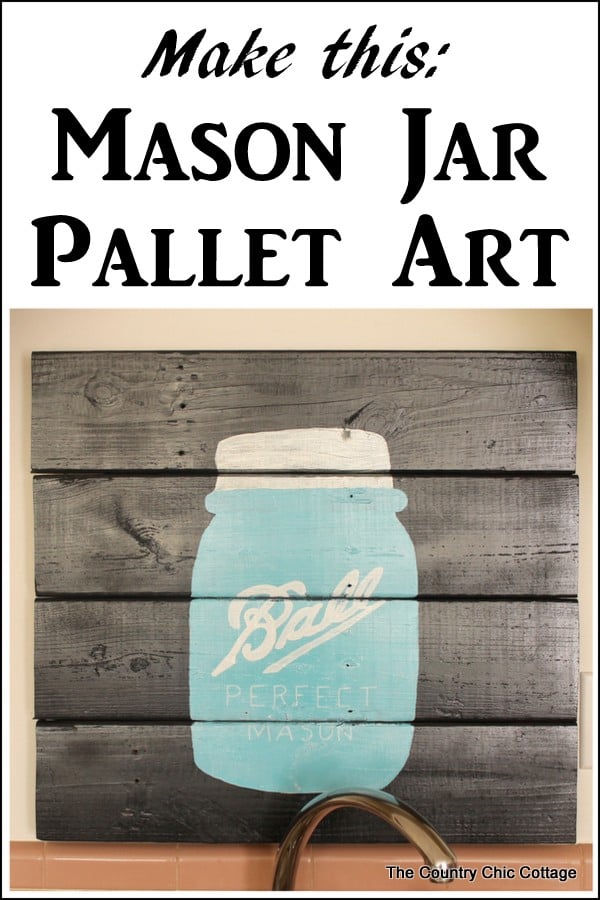 Supplies needed to make your own pallet art:
Portions of the supplies used in this tutorial were given to me free of charge however all projects and opinions are my own.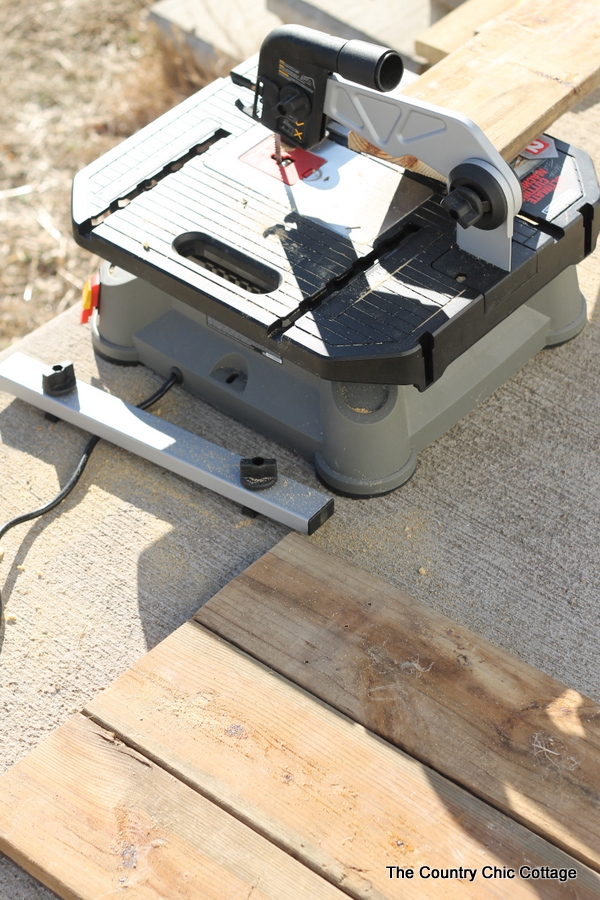 My sign is approximately 22 by 24 inches. I cut four of the used deck boards to 24 inches with my Blade Runner to get the main portion of the sign. A few boards that had been ripped were then cut for the back of the sign as shown below.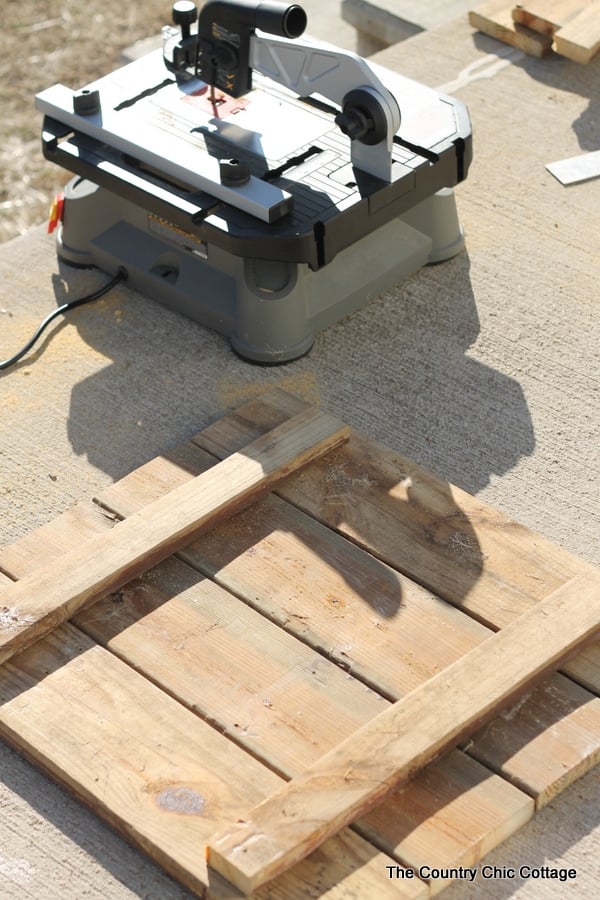 I drilled holes first then used screws to secure everything together from the back of the sign.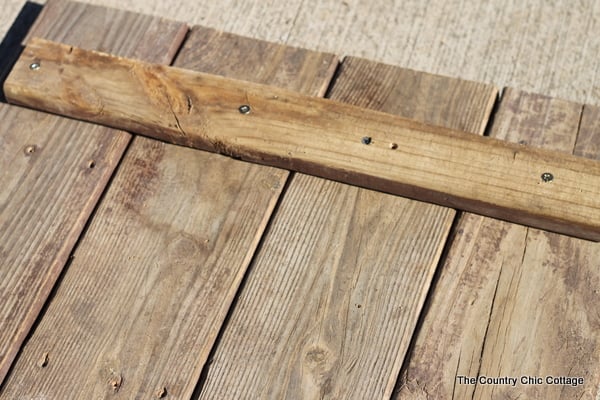 Flip the sign over and it is time to paint the front. I wanted to give the Krylon Chalky Finish a spin since it is absolutely a brand new product. I am in love! Literally within about 10 minutes my sign was completely covered with three light coats of paint. I just set it aside to dry.
Next we are going to start on the design on the front of the sign. Choose any design that you wish. If you choose the mason jar, you will need to either free hand the jar or find something to base it from. I used a chalkboard that is shaped like a mason jar and just drew the one on the sign slightly larger. It actually worked really well. Draw your design first in pencil and then go over it with the Elmer's Painters Marker.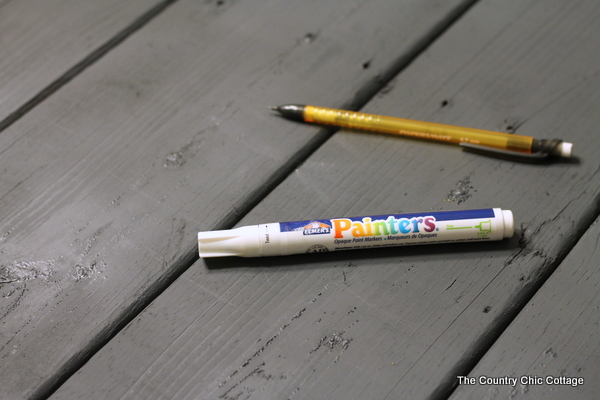 I then went over the "jar" portion with the Americana Chalky Finish in Everlasting. NOTE: I ended up also painting that lip on the jar with the white and aqua y'all. Also note those lines in the lid that I drew with the paint pen. They show through the silver paint we are going to use in a few minutes just slightly and I love the effect!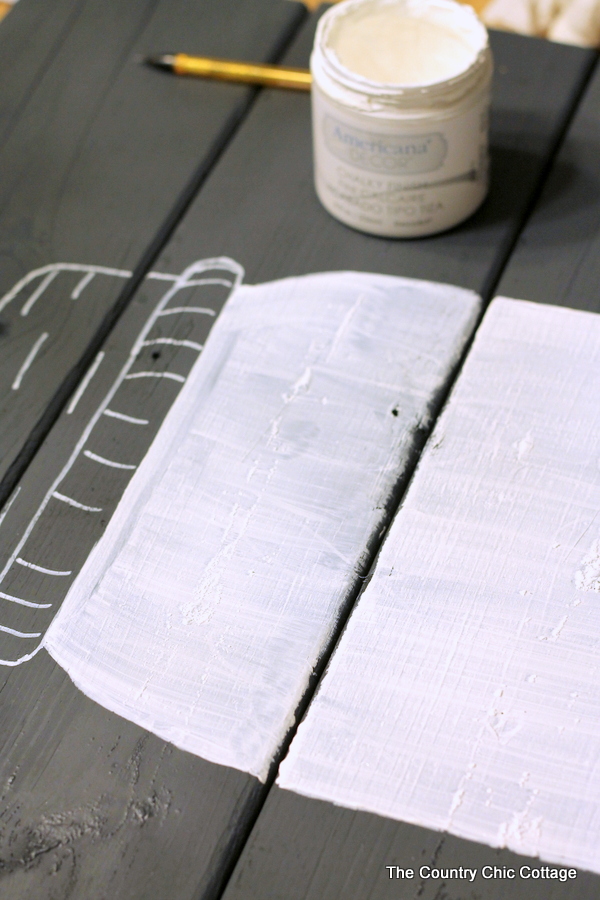 To get the aqua for the jar, I mixed the Americana Chalky Finish paints in Escape and Everlasting. It was about equal parts of each.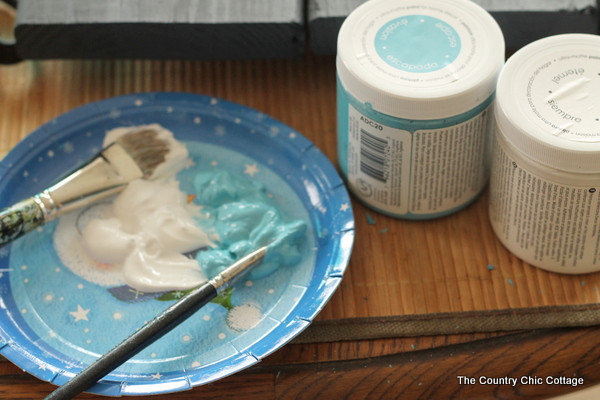 Paint that on the entire jar. I was careful to use all horizontal paint lines on my final coat as you don't want vertical brush strokes on your jar. Also paint the lid with a couple of coats of that Dazzling Metallics paint in Silver Sage. Now for the lettering on your sign. I used a cropped version of an image from The Graphics Fairy and printed it on a regular sized sheet of paper. You can then use the transfer paper under your image and trace the entire thing onto your sign.
If you look closely below you can see the outline that I traced from the image I printed. Now you just have to fill it in. The absolute easiest way to do that is with an Elmer's Painters Marker. It is just like writing with a pen y'all!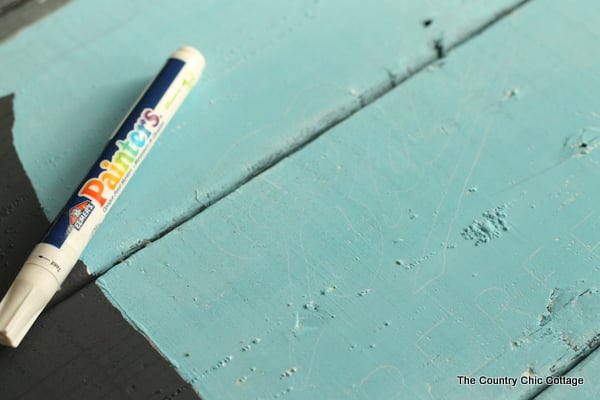 Allow your entire sign to dry completely then give it a few coats of Americana Glossy Sealer to finish it off and make it easy to clean. This is hanging above my sink so that was an absolute requirement for me!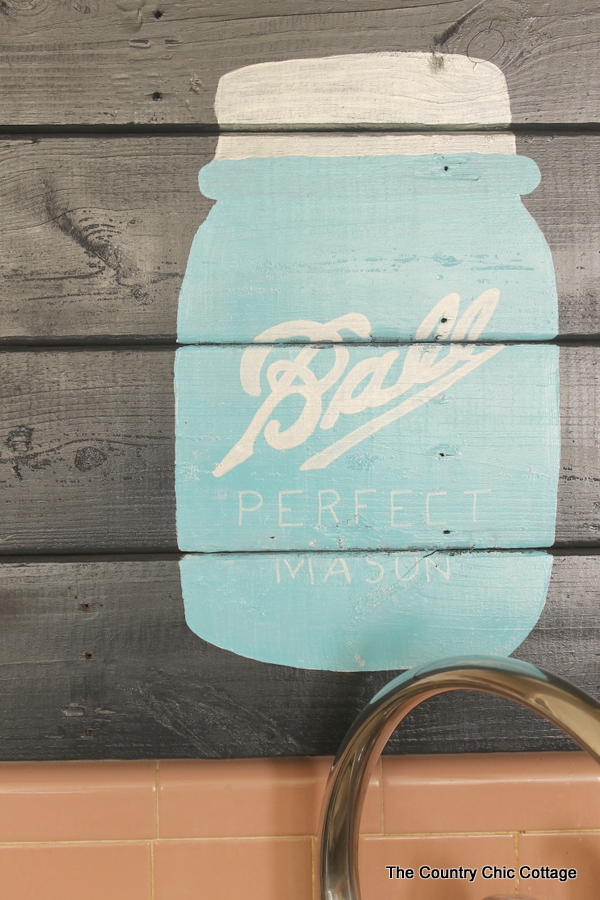 This gives an amazing touch to my slightly rustic farmhouse kitchen. I will be showing you more of this space tomorrow so y'all stay tuned. For now, here is a shot of the sign hanging above the sink.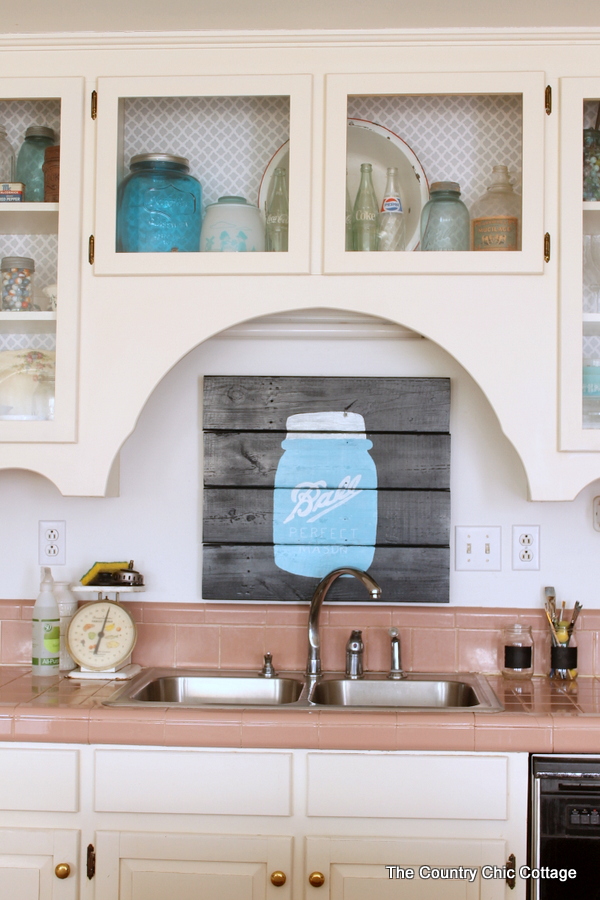 Please excuse me while I ooooh and aaaaah over this sign for a bit. It is one of my favorite projects ever already as it really fits in our home and with my style. I love when I can make something that does that! Y'all grab some old wood and make your own pallet art. You can add a mason jar like mine or anything of your choice with my method above. Y'all enjoy!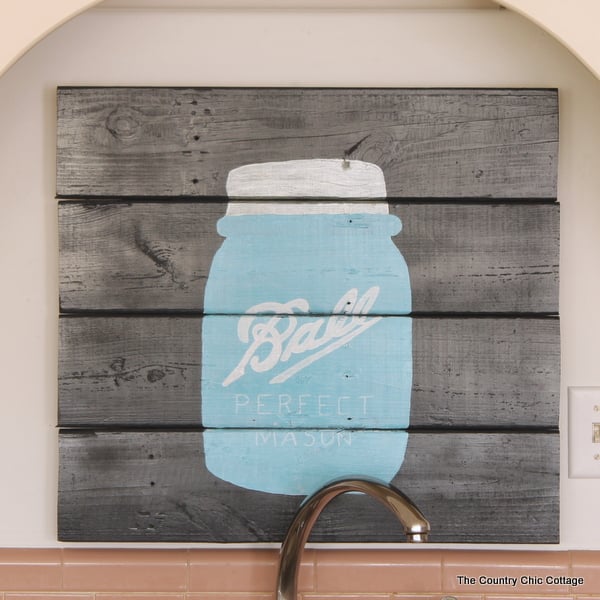 A Year of Jar Crafts
Sign up for our email list to get a FREE book with an entire year of jar crafts! 12 months, 12 crafts, tons of fun!