One of my goals for the new year was organizing my scrapbook supplies. I took a weekend and my rock star organization daughter and got to work. Seriously I am the labor and my teen is the mind behind almost all of these most amazing organizing posts around here. What would we do without her y'all? I know my life would be in chaos. Read on to see what we came up with and use a few of these ideas for organizing scrapbook supplies in your home. This one was originally posted on Crafts Unleashed but I am reposting here in case you missed it.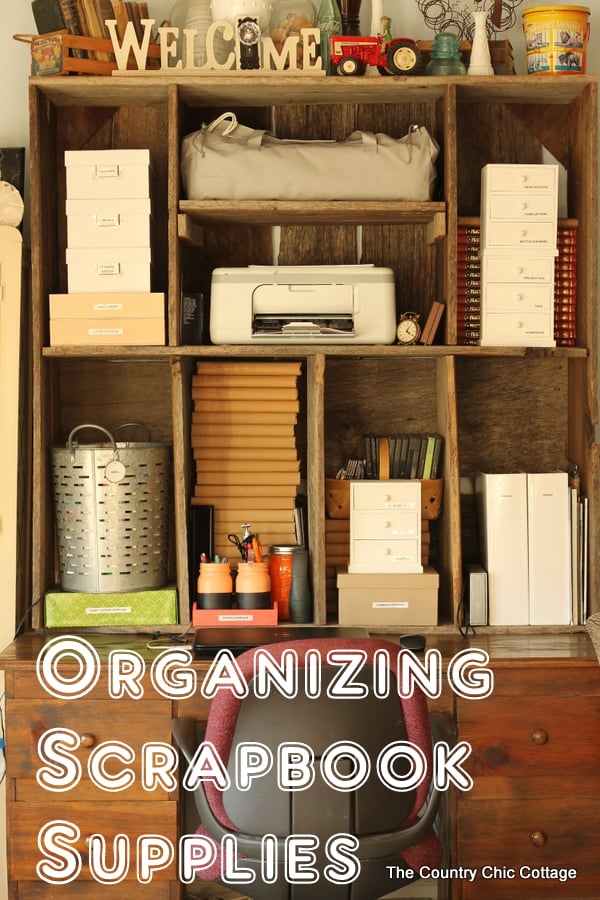 The entire area can be seen in the image below. This is one corner of our family room that we use as an office. It has become scrapbook supply central since this is where our computer stays. However it needed a major overhaul. It took a few days but this area is amazing, organized, and ready for some crafting!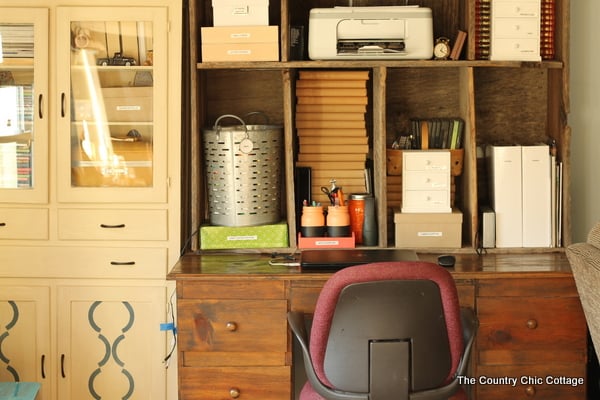 We will start to the left of my desk where I have a hutch cabinet. It has quite a few books in it but I also store my blank cards there in a vintage suitcase. You can look for things around your home that may work for organizing your area or shop for the storage containers that suit your needs. A vintage suitcase is perfect for my home and style!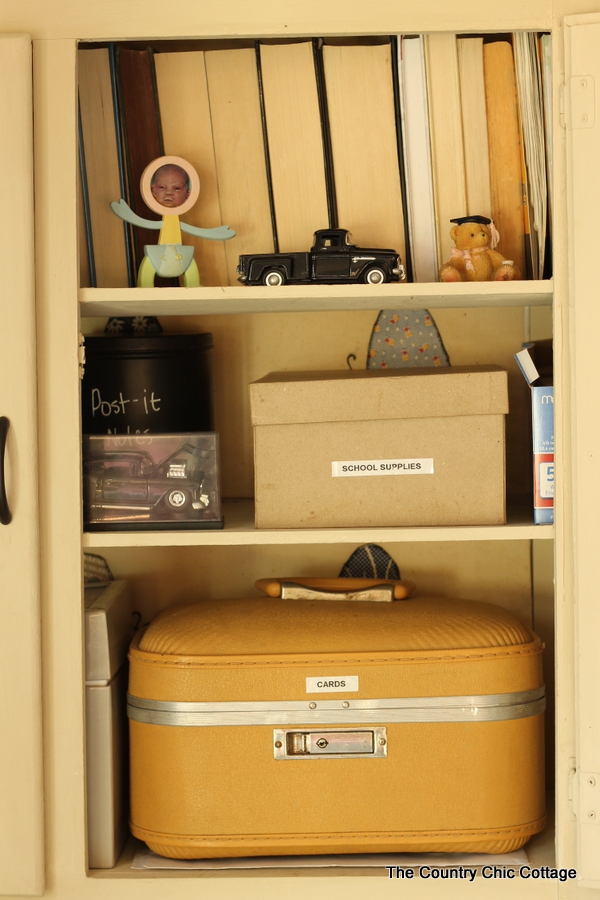 But lets move on to the workhorse of this organization mission….my barnwood desk hutch! My daughter and I worked on separating everything into categories. Then we found appropriate sized organizing bins for each of those categories. We will start with the bottom row and look at the details of this space. You can see already that I am in love with my Dymo Label Maker
! It is the perfect way to label your supplies and more! I can tell you that I have had this for years and we use it all the time to label things around the home or for school projects. It is well worth the small investment.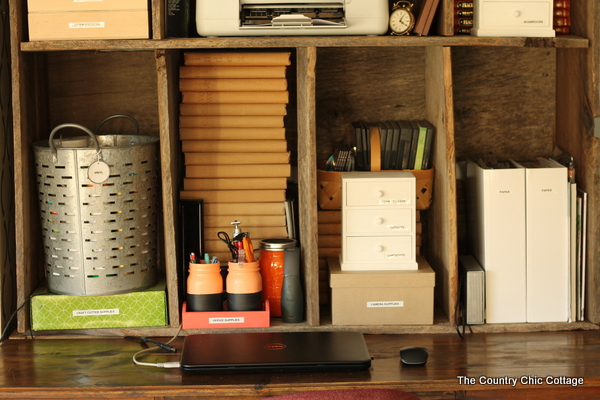 Going from left to right, I store all of my vinyl rolls in a tall metal basket (Better Homes and Gardens Galvanized Round Bin). The box on bottom is from a Silhouette starter kit. Be sure to keep boxes like those as they are so handy and this one is cute as well!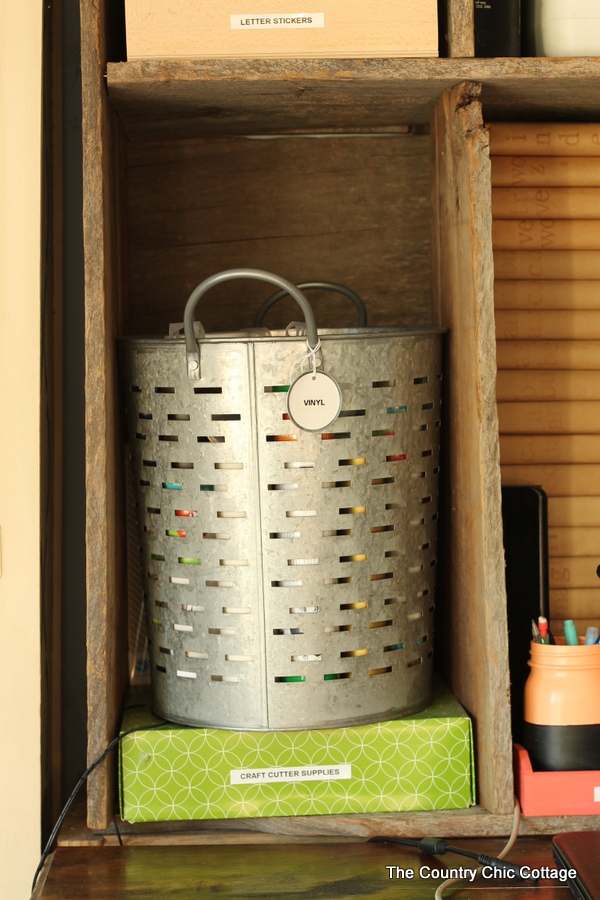 The next cube holds a set of these amazing Wood Cabinets with 3 Drawers
. I used a few coats of Americana Chalky Finish in Everlasting
to dress them up. They are perfect for all of those small items that go along with your scrapbooks. You can also get those paper mache boxes in a variety of sizes to store anything your heart desires!
I keep the paper limited to two of these Vertical Paper Holders in 12 x 12. These are perfect for storing your paper and keeping it looking great.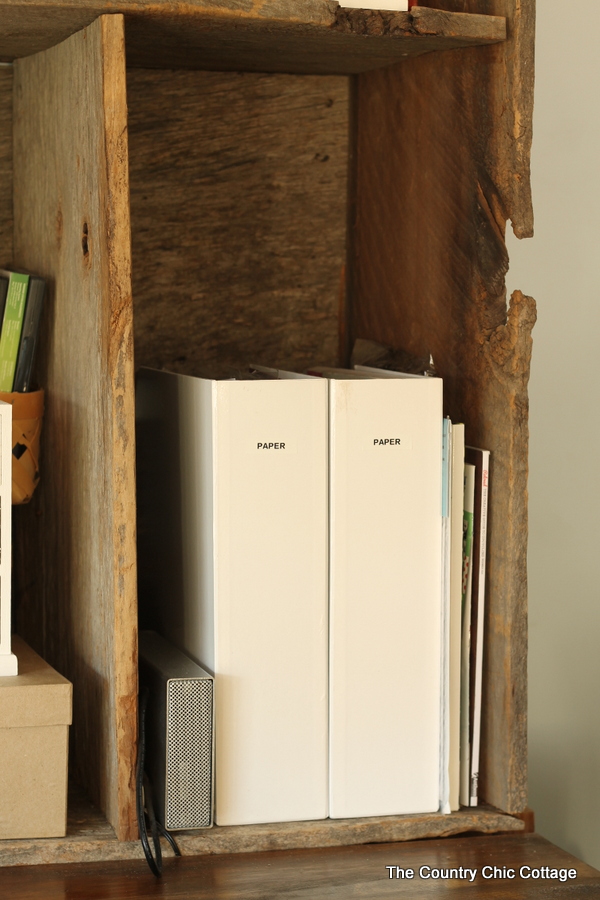 Now for the upper portion of my desk hutch. We have a big more scrapbook supply organization up here along with my Cricut, Silhouette, and printer.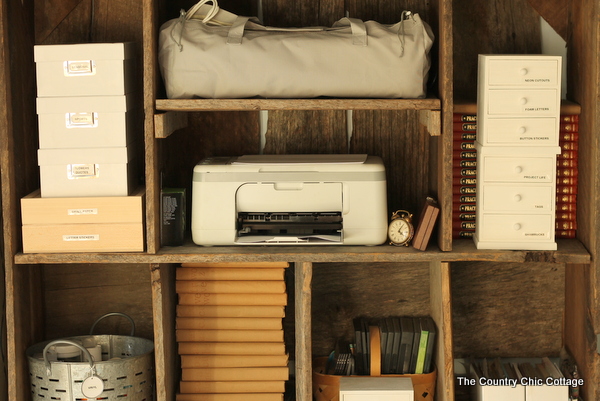 Photo Storage Boxes
are also perfect for organizing anywhere in your home. I usually keep a few of these on hand at all times as I am always finding a new use for them! The large wood boxes on the bottom of the picture below are from around my home. Another one of those things that you don't want to throw away just in case you need them later!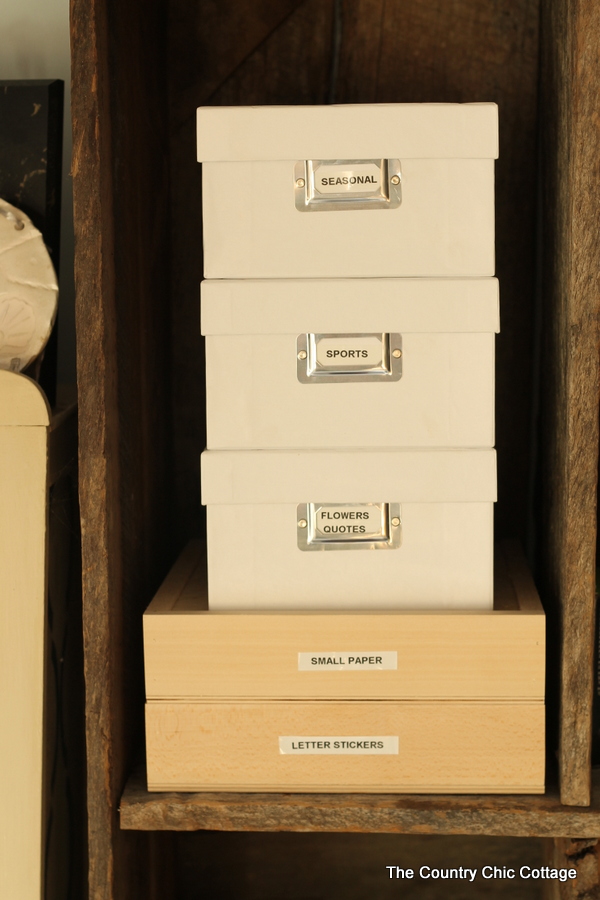 On the right there are more of those small wood drawers. They stack as well which is perfect for those tons of scrapbook supplies that I seem to have accumulated!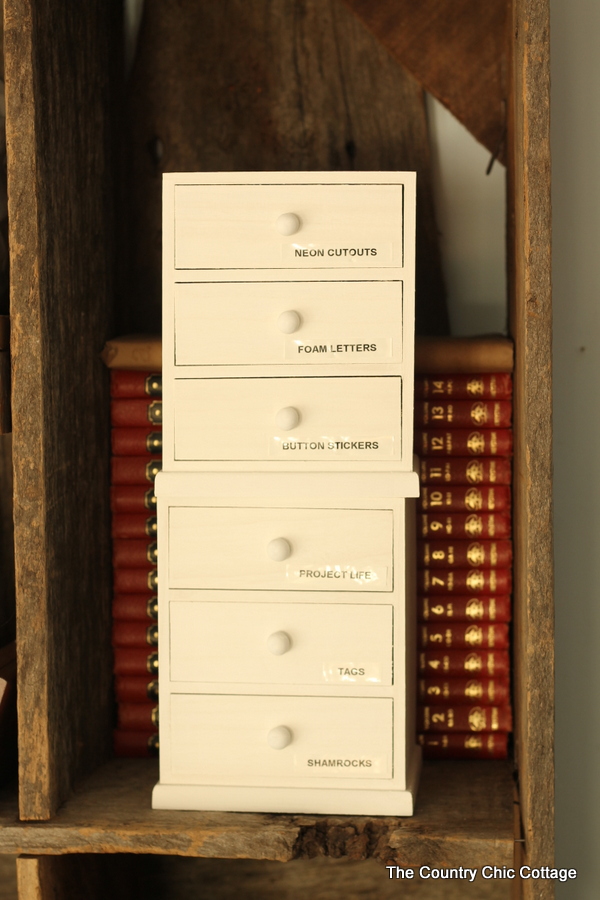 You too can have an amazing craft area by organizing scrapbook supplies. Get busy with the ideas above and think outside of the box as well. Once your supplies are in order, craft time will be relaxing as you will finally be able to find all of your supplies!
Additional Home Organization Help
Do images on Pinterest stress you out because they seem more like a fairy tale than something you can actually achieve?
Don't fall into that pretty and perfect trap. You can get clutter-free and organized without living a fairy tale life.
No one knows this better than my friend Hilary! She has an entire course for sale that is dedicated to real-life organization ideas. I love that her approach works for any family with any budget.
Check out her course and judge for yourself!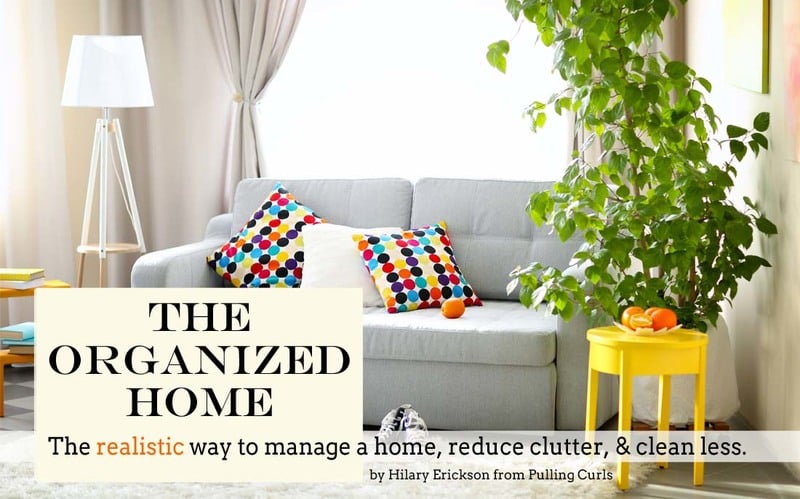 My favorite part of this course is that Hilary strives to make your home easier to clean-up, so that it takes only minutes, instead of hours. Who couldn't use more time and less cleaning?
Plus the system can make your house look fairly put together most times of the day. See for yourself with this course!
Declutter Your Home in 31 Days!
Clear the clutter and organize your home with our daily emails! Every day for a month we will send you a prompt to declutter! Sign up for our email list below to get started.