I have an amazing opportunity come my way!! The folks at Environmental Technologies (ETI) sent me some Envirotex Lite to try out. My first question (and I bet yours) was "what is envirotex lite??" Well let's start with a formal description:
Pour On High Gloss Finish!
Envirotex Lite is a water clear reactive polymer compound. It cures to a thick, glossy coating in about 8 hours at 70°F, and reaches full strength and toughness in about 48 hours. This durable, resilient material requires no polishing to produce a high gloss. One coat is all that is usually required for a deep attractive finish, however, two or more coats maybe applied one over the other by simply wiping the surface with a clean cloth and alcohol prior to re-coating.


Now for the informal "Angie" description (all opinions are mine):


Envirotex Lite is like an EXTRA thick protective poly to add to the top of your furniture pieces! Like 50 coats of a typical product…all at ONCE!! Sum it up in one word…awesomeness!! I am in love with this product! Seriously, I am sold. This is now my "go to" for furniture refinishing. Plus my head is spinning from other uses for this fab product.


The disclaimer:


You MUST READ the instructions carefully. They must be followed exactly. The instructions come with the package or can be viewed online here. I found it was an easy product to use once I got the hang of it. But read then re-read then re-read again the instructions. Follow the steps in order. I had absolutely NO issues with the product, application, instructions, anything. It all worked perfectly! For large projects like this, you are going to need to use a torch for a few minutes. I was intimidated. But guess what?? I used one….all by myself!! Worked like a dream! If I can do this, you can do this!!


Now are you ready for the good stuff?? Check out my nightstand: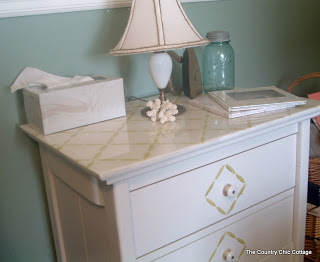 I am in looooove!! But wait you have not seen the before…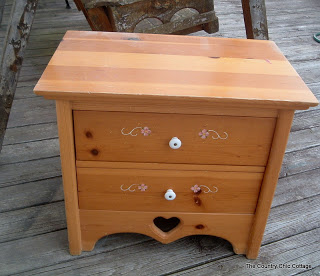 Oh yes…it was…oh so 80s. I bought it a few years ago with full intention of transforming it. It was like $10 at a used furniture store. It is solid wood. Awesome deal. But life got in the way and I never did give her the time she deserved. So when the Envirotex Lite came in I knew what I was going to to! You see the piece had been in a child or teen room near as I could tell. Why you say?? Well the top was in terrible condition. Glitter, nail polish, pits, marks…oh my…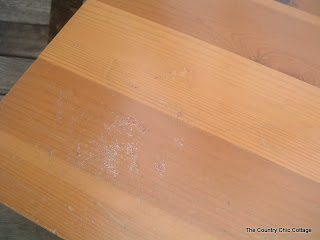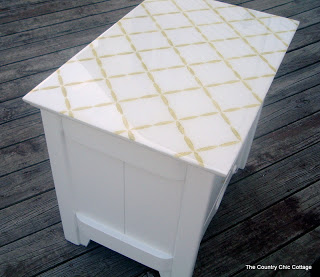 I used the same stencil around the knobs. I actually used the same little ceramic knobs that were on there. I really do like them!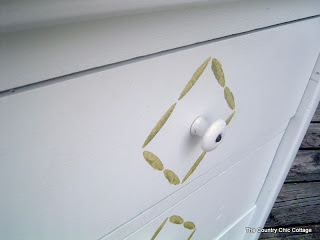 Now I had to find a way to down play the heart. I could not think of a way to get rid of it completely. So I glued some white burlap on the inside. Sort of takes your attention away from that area.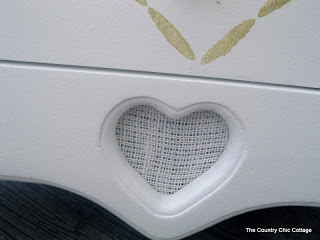 In this pic, you can really see that shiny top! See the reflection in it?? Awesomeness…pure awesomeness…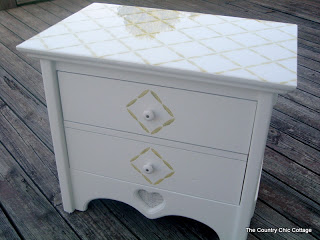 The stencil? I actually drew that up in the Silhouette software and cut it out. I wanted a lattice pattern and this one came from my brain! 🙂 It is just ovals.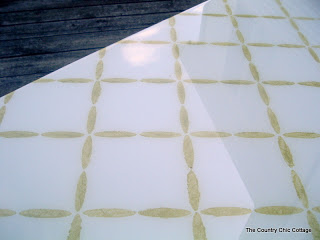 I decorated the nightstand all up for her pics!! Blue ball jar, milk glass, coral…oh yes!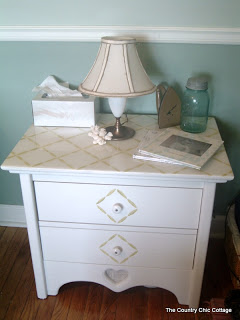 This is about 2 million percent better then where I was before!! I smile every night and morning when I look over at this beauty!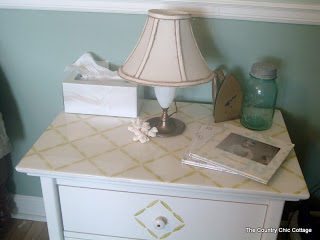 The color on top (the stencil) was Spanish Moss from Glidden. It was actually a free sample. For the white, I started with Kilz primer. Then two coats of a semi-gloss in white. Just plain white. I had all the paint on hand. The stencil I made. The
Envirotex
was given to me. Yes this one was a FREE makeover!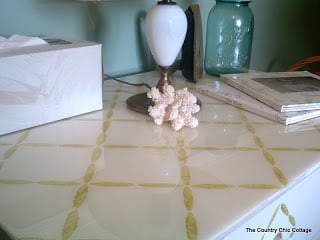 I am so in love with this product, I am considering doing my entire kitchen table. Yes the whole top! I think it would be amazing! This coating is so thick when dry. It is absolutely KID PROOF! They can bang away, spill anything, scratch, gnaw…they are NOT going to damage this stuff!! Pure love!!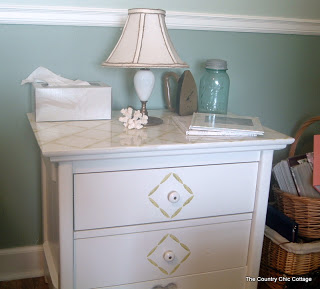 Do you have furniture in your home that is just screaming for this product?? Let me know about it! Last but not least….a little before and after comparison!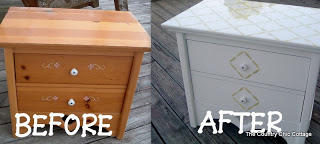 ETI
sent me this product to try out. You won't believe all that you can do with this product. Envirotex Lite was created by
Environmental Technologies Inc. (ETI),
which is the home for many resin and mold making products.
The use of resin in jewelry making, mixed media and paper arts continues to grow in popularity. Today, artists are using ETI's products in many crafty ways and they will be showcasing these works of art on their new blog "
Resin Crafts
".
Check them out on:
Resin Crafts Blog
ETI on Facebook
ETI on Twitter
~Thanks for stopping by!~
~Angie~
Struggling with resin and need help?
I know that a ton of you are intimidated by resin. Don't be! You just need to know the basics and gain some experience with the medium. I have a course that will help you to master epoxy resin and give you the confidence you need to tackle this project and so much more.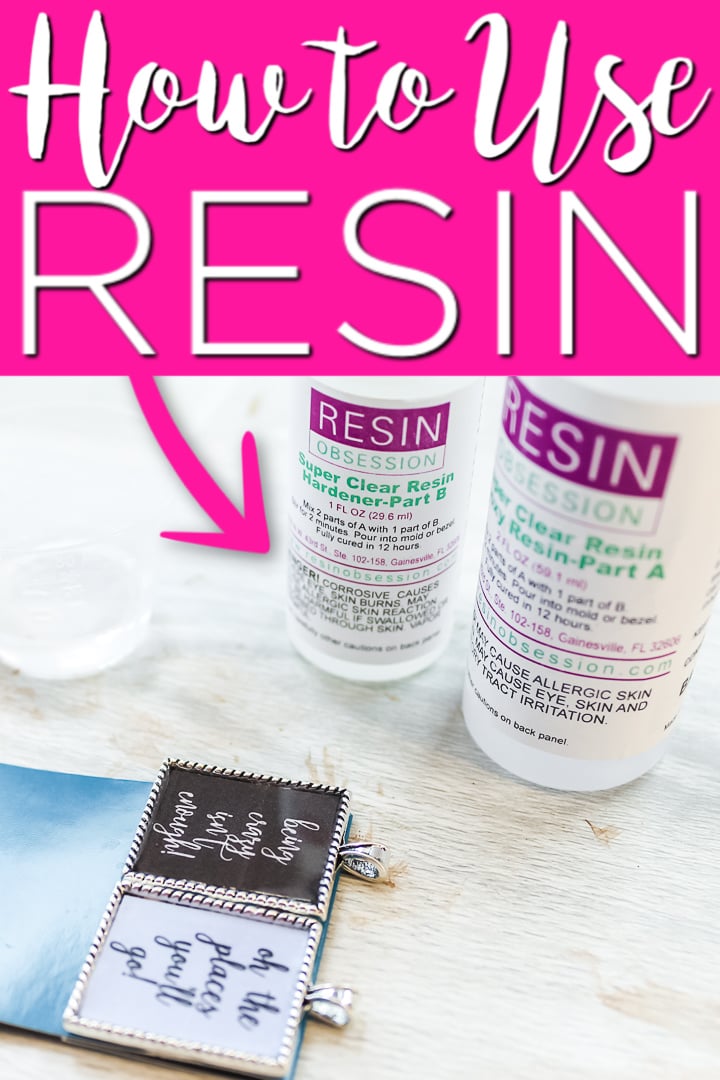 With unique insights drawn from more than a decade of creating and selling resin jewelry worldwide, this course is from an Amazon best-selling author on the topic. This class goes beyond making a few projects. You get thirty video lessons to give you clear directions on how to make resin jewelry you can confidently share and sell. Want to see more?