I came up with a super simple idea this year for a 15 minute Halloween countdown calendar. I made one last year for Halloween and a Christmas advent calendar as well. My kids really enjoyed getting a treat every day leading up to Christmas so I went with that type of countdown calendar for Halloween this year. But who has time to make a complicated set of treats? Yea. Not this girl. So I came up with a super simple 15 minute idea that y'all are going to love.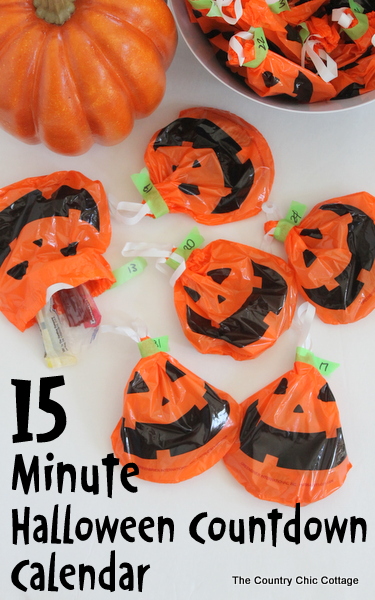 I joined up with Carolina from 30 Minute Crafts for a fun Halloween craft video to SHOW you that this calendar can be made in 15 minutes or less. So hold onto your hats (witch hats that is) and get ready for me to make the quickest Halloween countdown calendar around.
So that proves it can be done right? Just grab some treat bags, washi tape, and a marker. Drop in the appropriate amount of candy into each one (three, four, five??) depending on how many kids (or adults!) will be participating. Then just tape off each bag and number. Make one for each day of October. The excitement will build as that bowl gets empty and the treat bags are disappearing.
Be sure to visit Crafty Hangouts all week long for even more videos of super spooky Halloween crafts. Along with myself and Carolina Moore , we will also have videos from Rhonda Greene , Colleen Jorgensen , Cyn Gagen , and Jennifer Priest . Y'all come on over! Oh and be sure to make my 15 minute Halloween countdown calendar for your kids this year.