Ready to celebrate flag day or looking forward the to fourth of July? Then add this Americana Door Wreath to your home for a touch of patriotic home decor! Your fourth of July will not be complete without a wreath of red, white, and blue! Of course I had to add a little farmhouse flair to the American flag! 🙂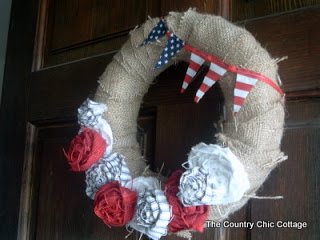 I used a burlap covered wreath form. Then I made a series of shabby roses. Just used strips of fabric — twist and turn til you have a great shabby rose! Add them to your wreath with a touch of hot glue.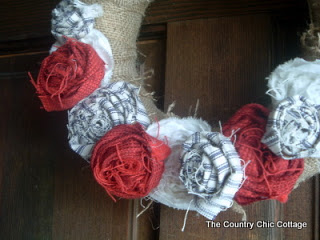 For a mix of textures, I used white cotton, blue and white ticking, and red canvas…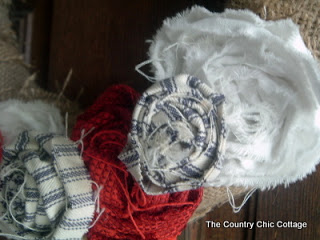 Then for the finishing touch — an americana bunting banner to top it off!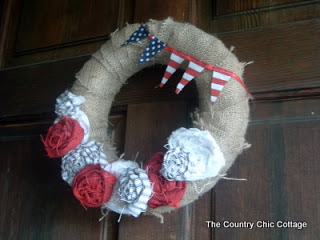 Our goodwill is moving so they are marking everything down. I found a little baby outfit that was flag themed. Cutting that into little triangles gave me the perfect bunting for my wreath! I sewed my triangles onto a red ribbon then used hot glue to secure it to the wreath. You don't have to sew the bunting…glue will work in a pinch!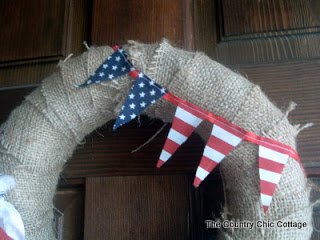 I love the way my wreath turned out! Shabby farmhouse with a touch of patriotism!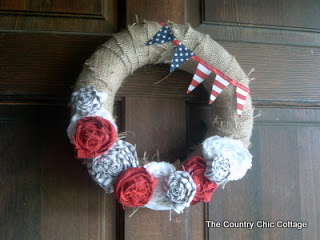 The perfect door decor for the season! A great way to welcome your guests for any summer bash!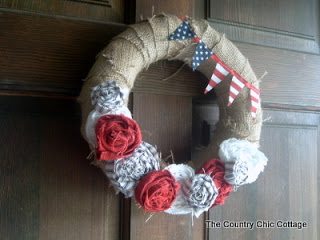 Are you ready for the fourth of July? What red, white, and blue themed decor are you dreaming up?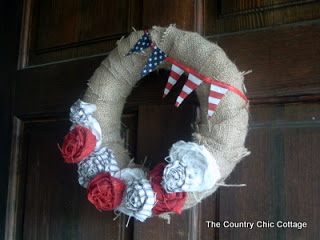 ~Thanks for stopping by!~