This recipe post was sponsored by Avocados From Mexico in partnership with the Mom It Forward Influencer Network. However, all thoughts and opinions are my own.
Avocado spread is the perfect way to spice up your snack foods for a big game party. This versatile spread goes perfectly on my taco sliders below or you can add it to hot dogs, tacos, and more. Your football party will be so tasty! Grab the simple ingredients at your local store and give this recipe a try soon! This post was sponsored by Avocados From Mexico. However, all thoughts and opinions are my own. You will also want to head to the bottom of this post for more recipes as well as to enter the giveaway (worth $1000!)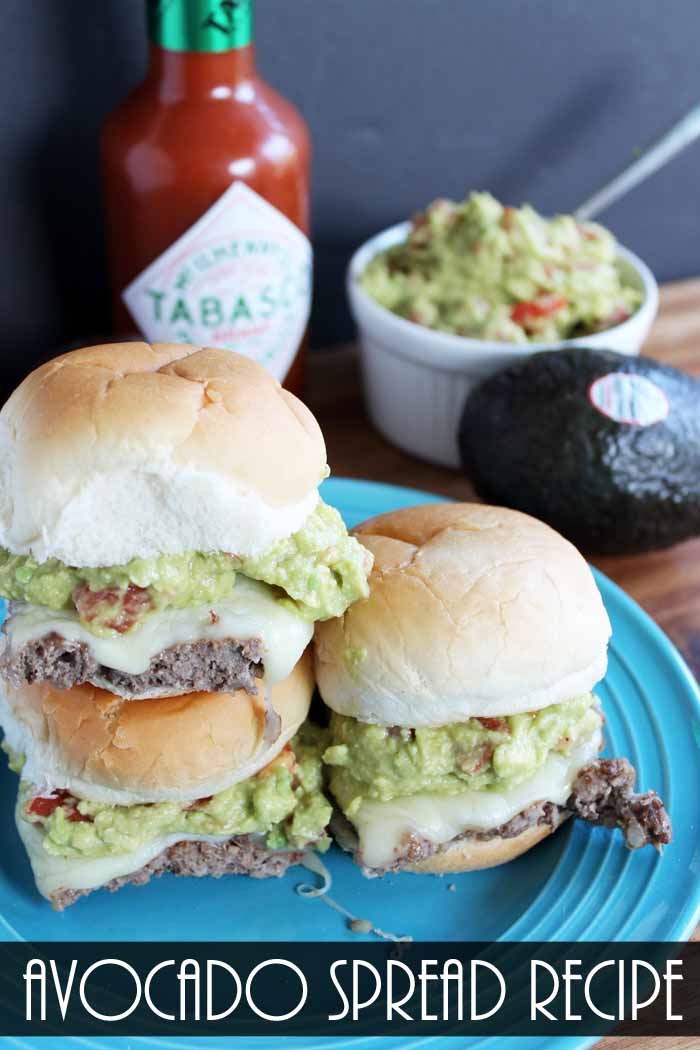 Avocado Spread Recipe
Avocados From Mexico (three that are ripe)
Roma tomatoes (2)
1 lime
1 1/2 tsp

TABASCO® Sauce

Salt and pepper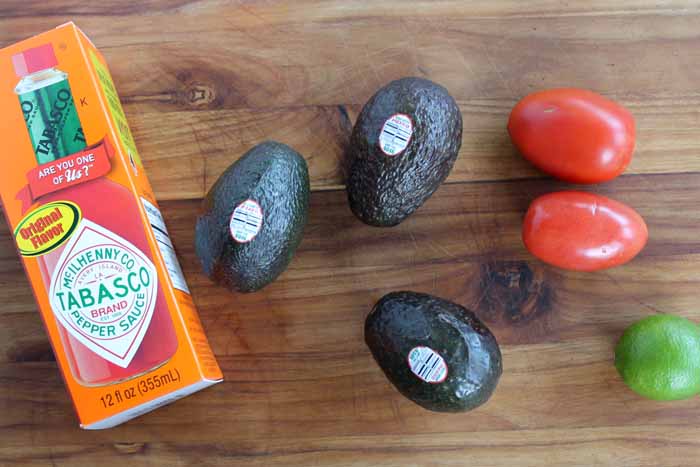 Pick Avocados From Mexico that are ripe. Make sure they are dark in color and slightly soft when you squeeze them. Squeeze the juice of one lime into a bowl. Add the flesh of the three Avocados From Mexico. I have an avocado slicer that I love but you can also use a knife and spoon. Toss the slices in the lime juice then smash with a fork. You can make this spread chunky or smooth depending on how much you smash during this step.
Dice the two Roma tomatoes and add to the Avocados From Mexico already in the bowl.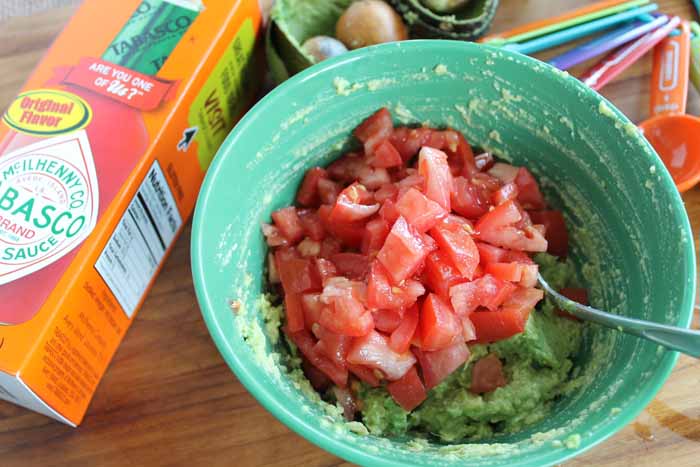 Stir well then add 1 1/2 tsp of TABASCO® Sauce. Every bottle of TABASCO® Sauce is made from hand-picked, ripened red tabasco peppers, vinegar, and salt, giving it a taste like no other. This adds amazing flavor to your spread all in one bottle. Stir well after adding then add salt and pepper to taste.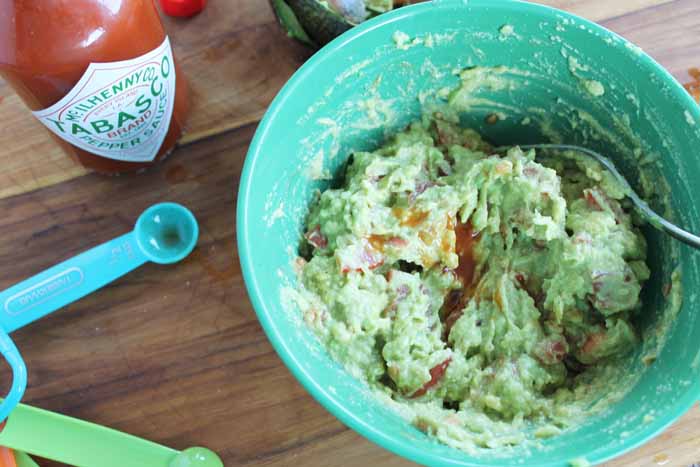 Then just add to a serving bowl and lay out on your big game buffet. This would seriously be a great addition to hot dogs, tacos, or even used as a dip for chips. My favorite way to serve it up however is on my easy taco sliders. Want the recipe for those as well? I have it below and they are delicious!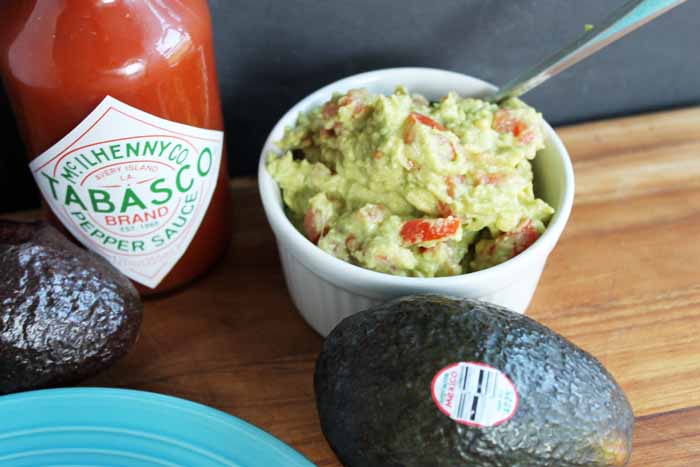 Taco Sliders Recipe
1 1/2 lb ground chuck
2 tbsp dried onion
1 tsp taco seasoning
1 1/2 cup queso cheese
Preheat oven to 400 degrees. Add the dried onion to the bottom of a 9×13 pan. Press the ground chuck on top of the onions until it is flat in the bottom of the pan. Sprinkle with 1 tsp of taco seasoning and then press it well into the meat with your hands. Bake for 20 minutes in a 400 degree oven. Remove when done and drain off any excess fat into a bowl. Sprinkle the top with the queso cheese and return to oven to melt. Remove from oven and then slice into 12 burger patties. Add to slider buns and top with your avocado spread.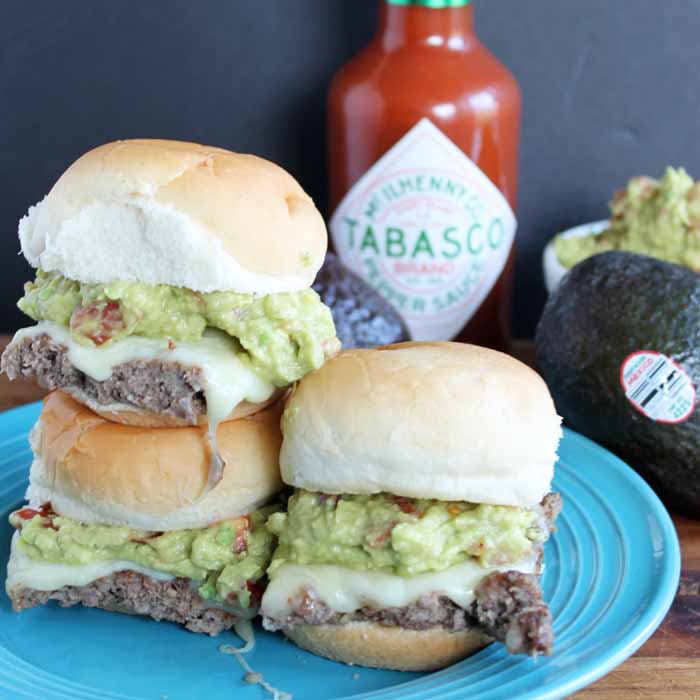 These delicious burgers will be the hit of your party. TABASCO® Sauce will Flavor Your World and liven up almost any recipe or dish. So use some in this recipe and spice up your other game day recipes with the rest of the bottle. In fact, if you love this avocado spread, I have some more recipe ideas for you below.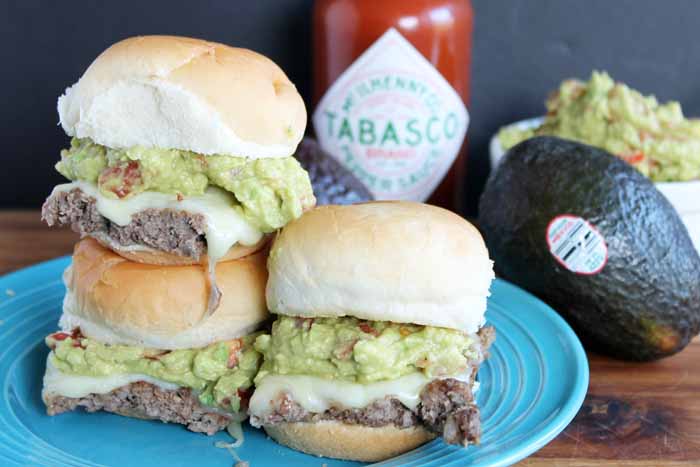 Want more inspiration for big game recipes? Try this Pinterest board or the other recipes below. Add Avocados From Mexico and TABASCO® Sauce to your big game celebration! I know I will make some of these to add to our spread.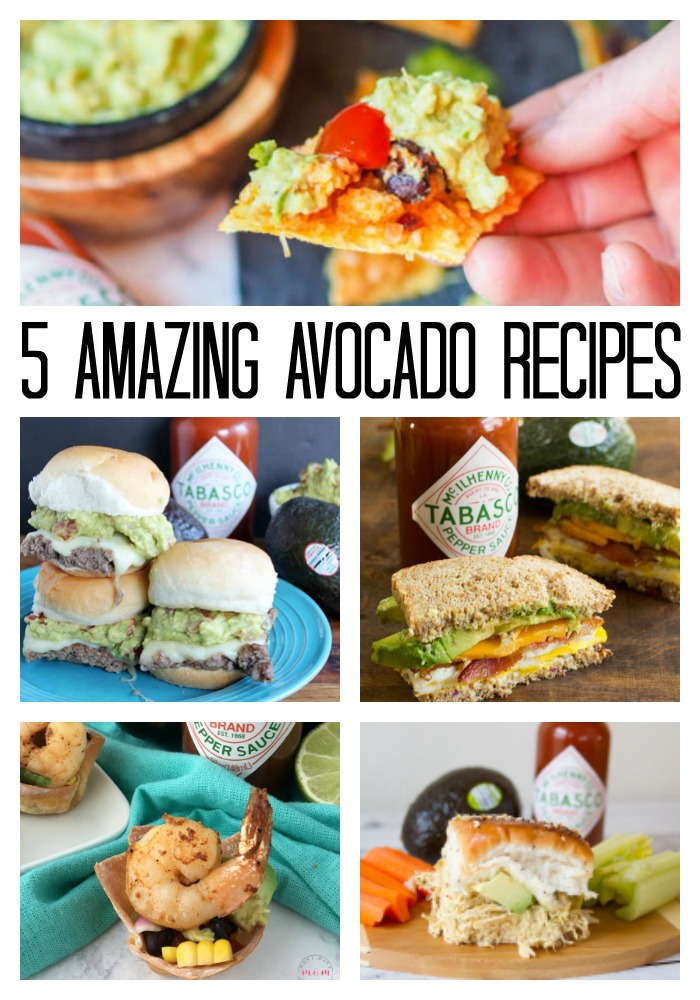 Are you ready to enter that giveaway I mentioned? The prize is worth $1000 and you just need to enter in the form below!
So head out and get your Avocados From Mexico as well as TABASCO® Sauce to make this avocado spread recipe as well as the other recipes above for your big game celebration. Your buffet will be tasty, delicious, and ready for friends and family!