This is a sponsored post written by me on behalf of Tyson Foods, Inc. All opinions are entirely my own.
You can whip up a batch of these bacon wrapped stuffed jalapeños for any party that you are throwing. This spicy and cheesy combo is perfect for those that may be tailgating or homegating this football season. Invite everyone you know over for the big game and whip up an extra large batch of these delicious appetizers. You will not be disappointed!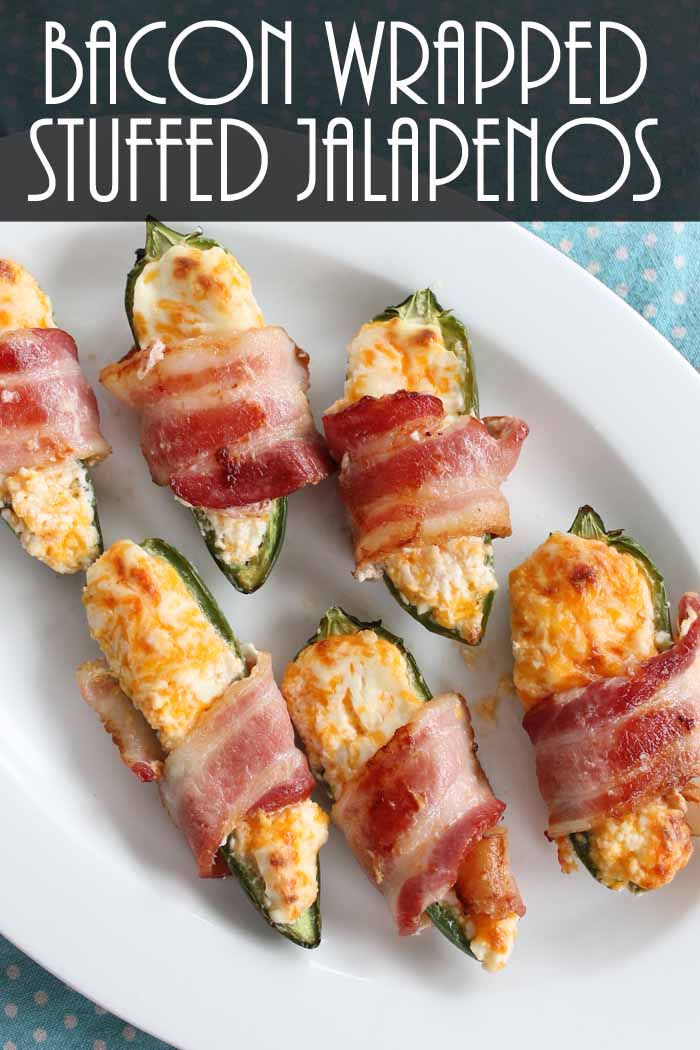 Bacon Wrapped Stuffed Jalapenos Ingredients:
Wright® Brand Hickory Smoked Bacon (available in the refrigerated section of your local Kroger store)
9 – 12 jalapeño peppers (depending on size)
1 cup cream cheese (room temperature)
1 cup shredded sharp cheddar cheese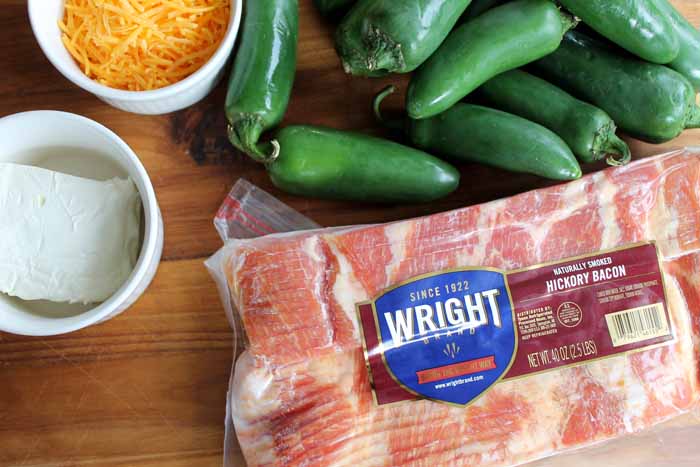 Instructions:
Preheat oven to 400 degrees F. Start by cutting the pepper in half lengthwise and cleaning out all seeds and ribs. Be sure to also wash the peppers well. NOTE: You may want to wear gloves for this step as you do not want to get the seeds on your skin or near your eyes. . I always have to get out my gloves when working with hot peppers and it is so worth it in the end.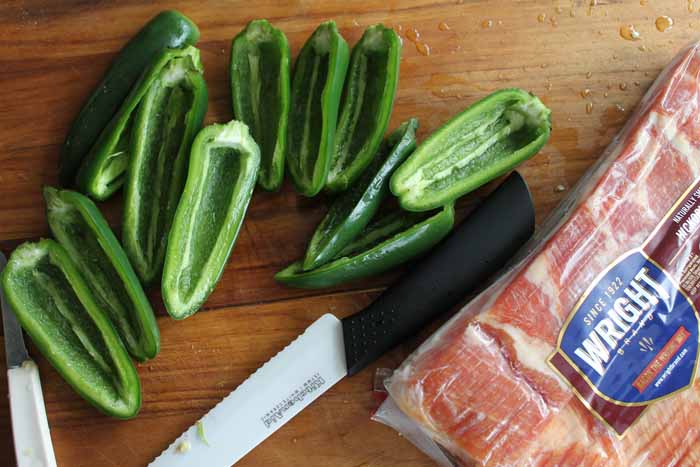 Mix the cream cheese and cheddar cheese in a bowl. NOTE: Softened or room temperature cream cheese works best but you can also soften on defrost in the microwave for a few seconds. Also, you may have to make more of this mixture if your peppers are large like mine were.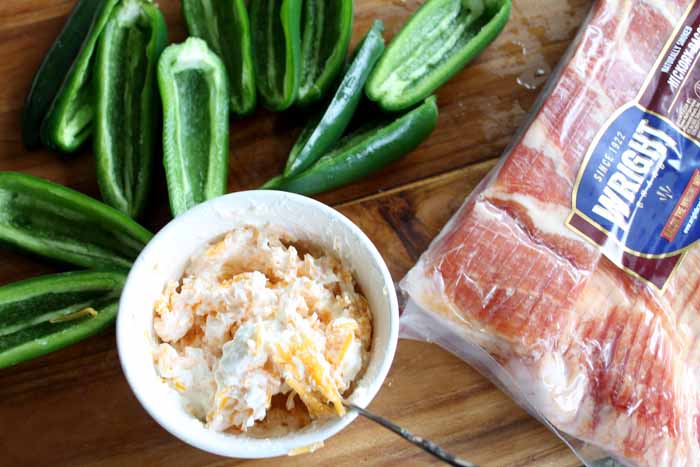 Add the cheese mixture to each jalapeño half. You want to really stuff it in there. Then wrap each one with a half slice of Wright Brand Hickory Smoked Bacon. Lay on a foil lined baking sheet. The lining of the pan with foil will help tremendously with clean up later. Repeat these steps for as many peppers as you would like. If you need more cheese mixture, just add in equal portions of cream cheese and cheddar cheese. OPTIONAL: You can also use toothpicks to help secure your bacon in place as it will shrink when cooking.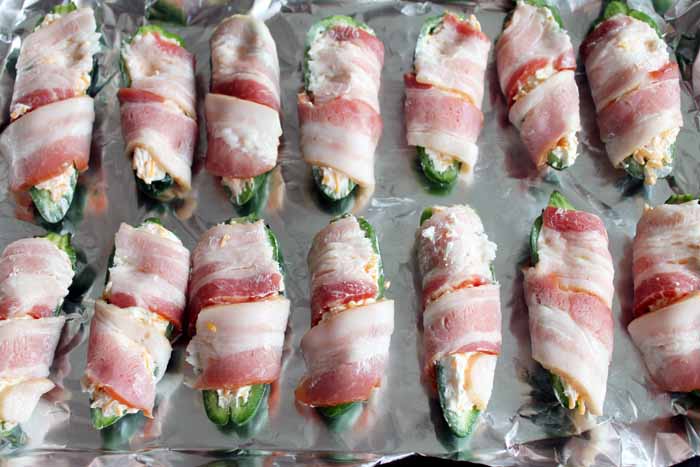 Bake at 400 degrees F for about 20 minutes then turn on the broiler for 3-5 minutes to get that brown look and cook your bacon as desired. Remember that there are varying levels of bacon crispiness and it all depends on your taste. You might even cook a few at varying levels to please all of your party guests.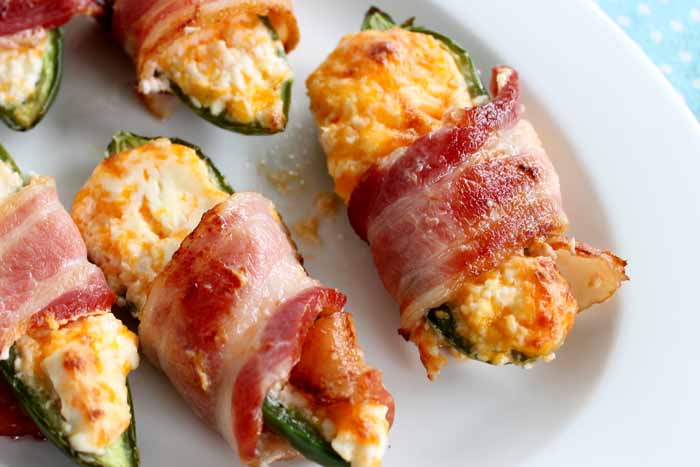 Remove the pan from oven and then carefully transfer your peppers to a serving platter. NOTE: You may have to readjust the bacon as I had for some that fell off of my jalapeños while baking. Allow to cool just a bit before serving, then enjoy! Wright Brand bacon is the key to a great homegating gathering…wouldn't you agree? I mean it adds amazing flavor to just about any dish including these stuffed jalapeños. So pick up some Wright Brand bacon at your local Kroger store and whip up these bacon wrapped stuffed jalapeños. Trust me….you will not regret it!
I would also love it if you would tell me in the comments section what appetizer recipe you love to serve when throwing a football bash! I would love to hear your ideas! If they include bacon, even better! I am, after all, a huge bacon fan. The big game is fast approaching and I am always looking for more options for our party. After all, football and food do go hand in hand. Will you be trying these bacon wrapped stuffed jalapeños at your next homegating event? Be sure to come back here and let me know what you think about this recipe. I think you are going to love it!