This post and photos may contain Amazon or other affiliate links. If you purchase something through any link, I may receive a small commission at no extra charge to you. Any supplies used may be given to me free of charge, however, all projects and opinions are my own.
I made these Ballard knock off oars to go in my nautical themed bathroom some time ago. They are so easy to make I thought I would share the complete step by step instructions with y'all. Follow along below to see how to make all four oars….y'all they are so much easier to make than you think they are!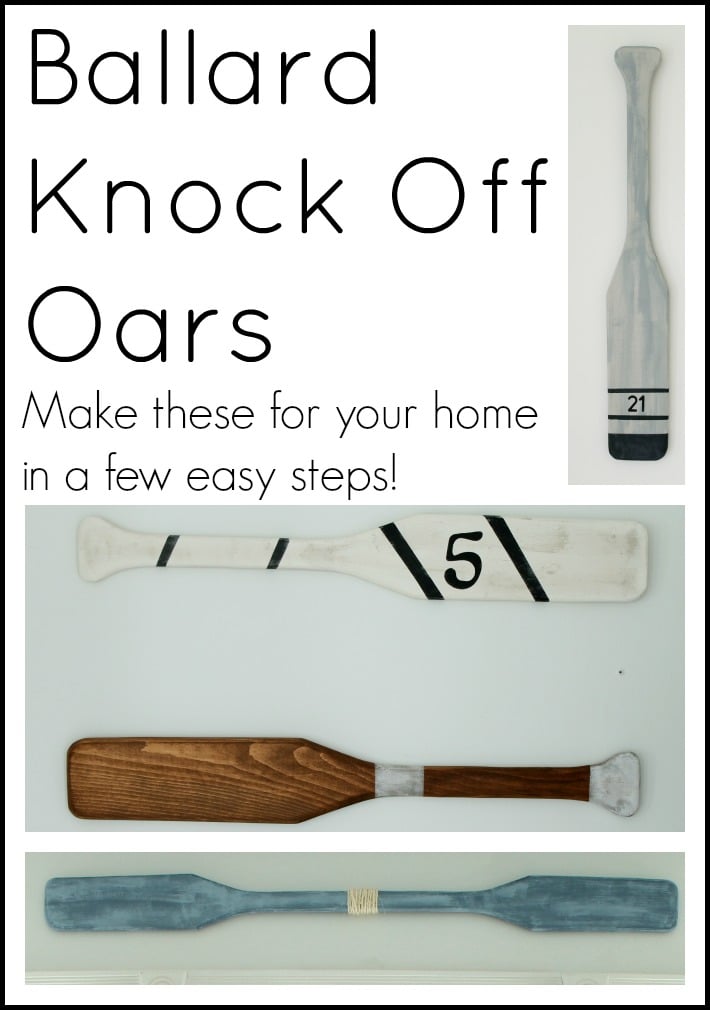 Just for comparison sake below is the image of the original Ballard design that I found online. My version is the picture above. Pretty close right??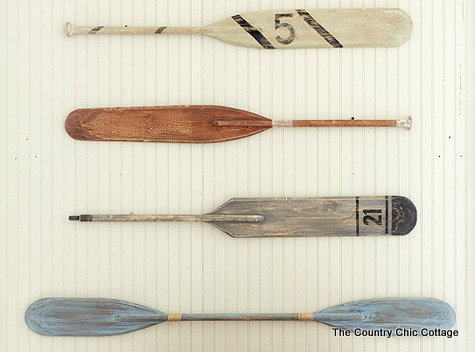 For this project you will need:
Darice Oar
Craft paints (colors listed below)
Painter's tape
Jute twine
Stencils
Saw
Screw (two sided threaded works best)
Wood glue
Sawtooth hangers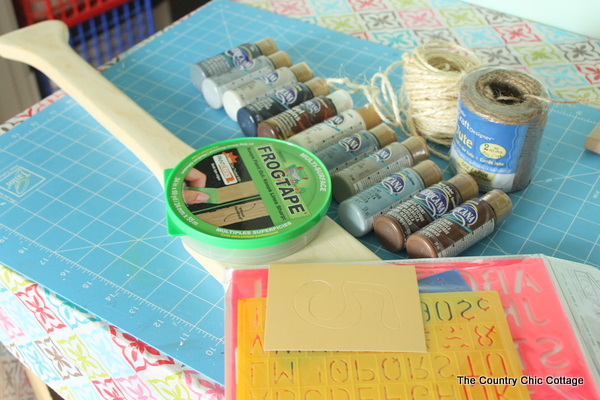 Lets start with the "number 5" oar. Begin by painting the entire oar with a coat of Americana Warm White. After that has completely dried, go over the entire oar with a very dry brush and a light, light coat of Americana Dove Grey. This should leave you with an imperfect surface that is splotchy. That is EXACTLY what you want. You want that old time worn feel on your oars.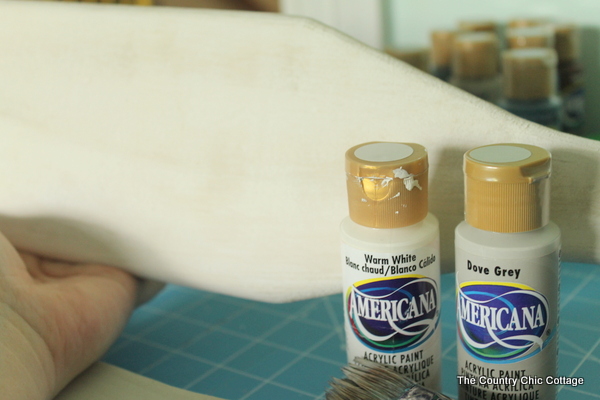 Next use painter's tape to mark off the lines similar to the original. I used a number stencil that matched the scale of the original. Be sure to use the stencil to approximate how much room you need in between your taped off lines. See the splotches of grey in the image below? That comes from that dry brush technique above!
The image below is of the entire oar with the masking in place. I used a combination of Americana Payne's Grey and Americana Ebony Black for the stenciling. Again use a very dry brush and very little paint for this step. You want it to look rustic. I also recommend a stencil brush for this step. Remove the tape and then stencil on your number using the same paint and technique. Allow the entire thing to dry completely before hanging.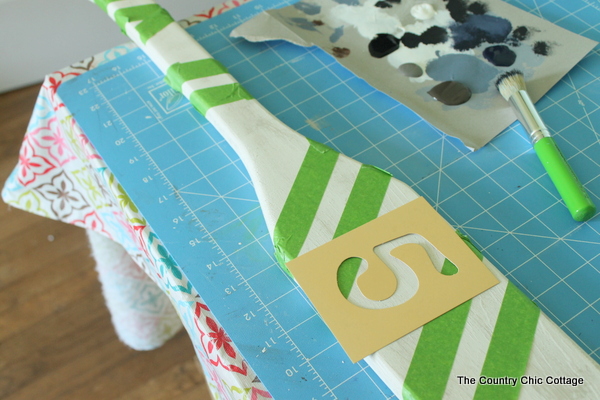 Now for the stained version of the DIY wall decor oar. Stain the entire oar with Americana Walnut Gel Stain and wipe off any excess. Allow this to dry completely before continuing.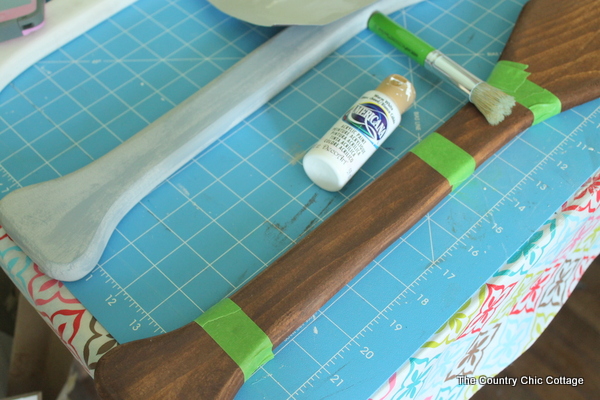 Tape off the oar to mimic the original version then use Americana Warm White to paint in the masked off areas. Again with a very dry brush to get the worn look of the original Ballard versions.
Next up you are going to have to break out your saw. This is for the double oar and don't fret cause it is actually really easy to make! Cut the ends off of two of the wooden oars. Put them together as shown below with a two sided wood screw and some wood glue. Allow to dry.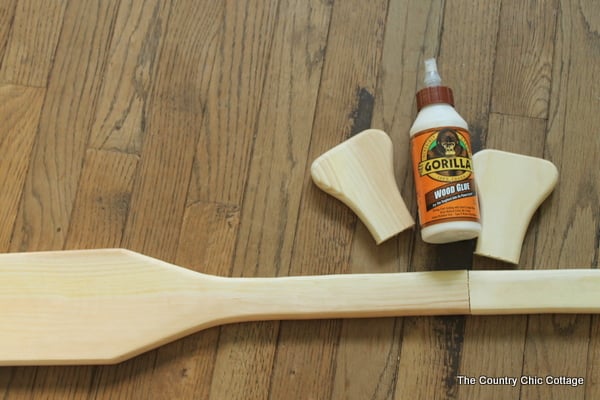 Start by painting the entire oar with a coat of Americana French Grey Blue. Allow to dry completely then go over the entire surface lightly with a dry brush and Americana Winter Blue. After the paint has dried on your oar, use some twine wrapped around the center to cover the joint. Secure with hot glue.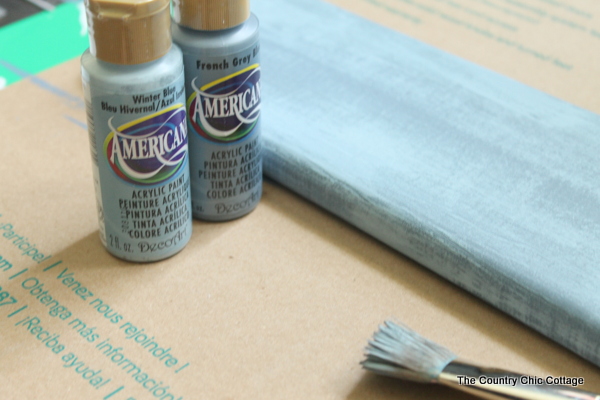 Now for the final oar…the "21" oar. Start with a coat of Americana Dove Grey and allow to dry completely. Then add a light coat with a dry brush on top of that in Americana Slate Grey. By now you are probably noticing a pattern in my method. This dry brush method creates that lovely worn look with little to no effort. It is one of my favorite weapons.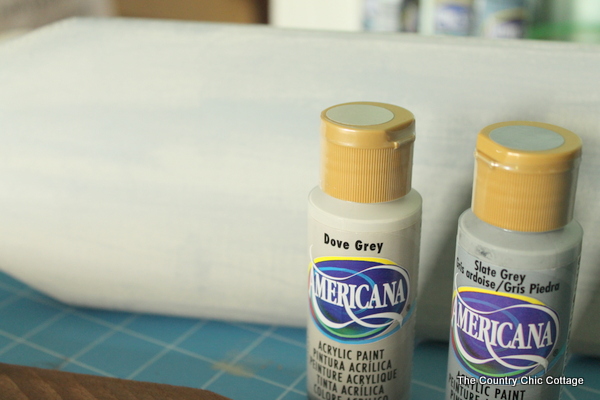 Tape off the lines approximately like the original version. Be sure to leave room for the numbers. I used the stencil as a guide for spacing.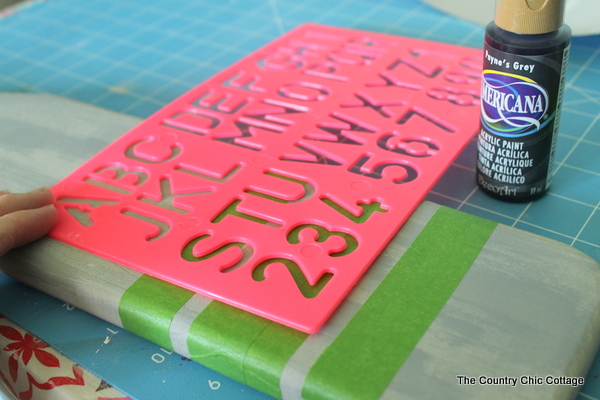 Once again, I used a combination of Americana Payne's Grey and Americana Ebony Black for the stenciling. I just was not happy with one or the other on its own. Again use a very dry stencil brush for this step to get a rustic appearance.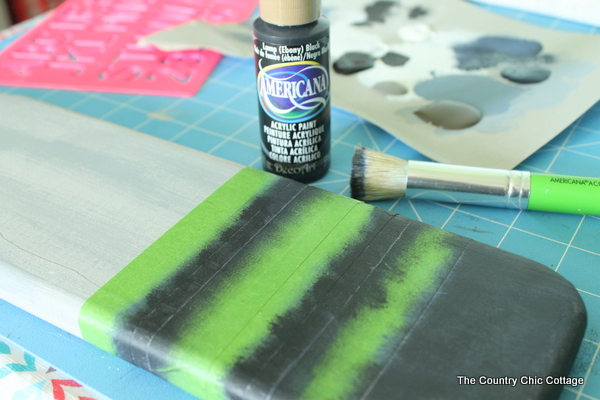 Be sure to mask off any unused letters/numbers on your stencil if you are using a multiple opening stencil like this one.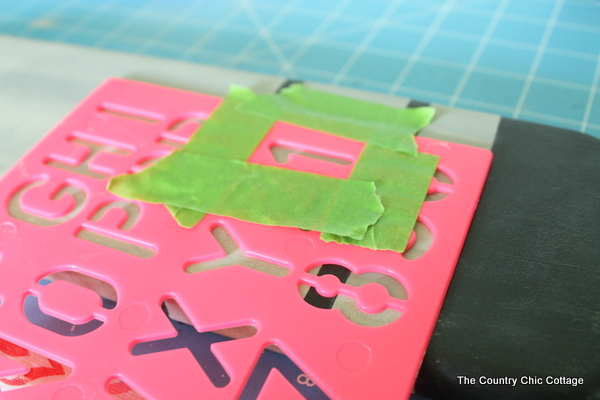 These Ballard knock off oars are probably one of my favorite projects of all time. Y'all be sure to make a few of them for your own home. You will be amazed at just how easy they are!