Making a home decor ball from fabric has never been easier. I was so inspired by my sheet music ball that I just had to do more! Yep a whole week's worth of decorative balls. And what would the week be without the mention of the 30 cent a yard fabric.
One bolt of the fabric has a very wide white selvage edge on it. Shame to let that go to waste, huh? I cut that edge into 1.5″ x 1.5″ squares just like yesterday when I made the sheet music ball. And yep you need a styrofoam ball and your trusty glue gun for this one too.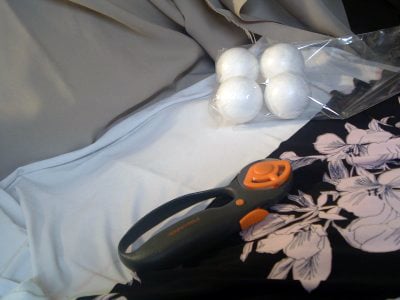 Same as yesterday, wrap those squares around a stuffer tool, pencil, pen, anything. Add a dab of hot glue and stick em on. Press and hold until the fabric is firmly into place.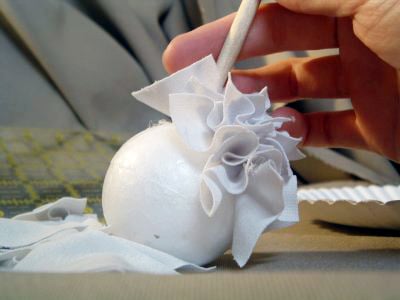 The only thing that makes this one tricky is that the fabric wants to lay down on ya. Just keep pushing it up to add your next piece. That way it comes out all nice and full. Add squares until you are happy with the look of your fabric home decor ball. Then just put it into place in your home decor.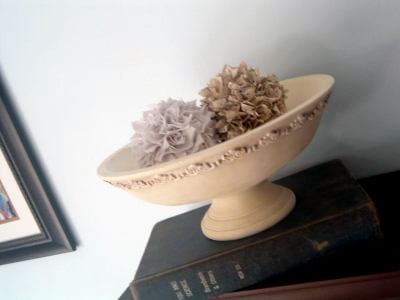 And there you have it ball #2 sitting pretty in that bowl. I must say I think this one is my fave! Stay tuned tomorrow when we "ball" in love with jute and rope. I really have a thing for home decor balls….have you all realized this by now?
Love this post? Be sure to subscribe to THE COUNTRY CHIC COTTAGE so you don't miss a thing!
If you love craft tutorials, don't leave without heading to our craft tutorial gallery!