I love some quick and easy Bisquick biscuit recipes! Anything that can get me in and out of the kitchen in a hurry is alright by me! The baking mix from Bisquick makes it quick and easy to throw in a few extra ingredients and have a unique biscuit creation with every meal. I thought I would give you ten ideas for things you can add to the basic recipe on the side of the box. Give these ideas a try then create your own unique idea with other ingredients.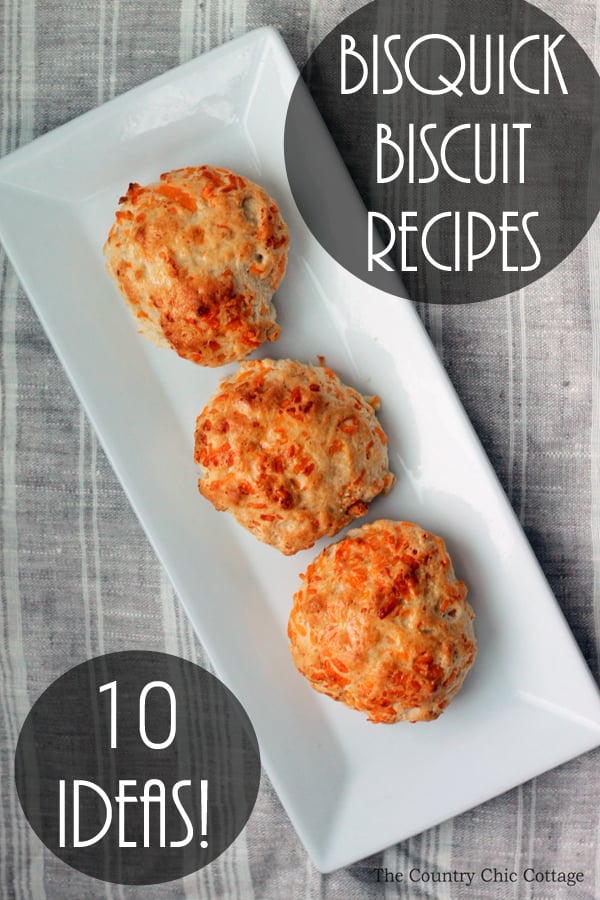 Bisquick Biscuit Recipes
Click here to find the standard recipe for Bisquick biscuits then follow the instructions below to spice them up a bit!
Garlic and Cheese Biscuits – these are the ones in the picture and my favorite recipe! I add 1/2 cup shredded cheddar, 2 tbsp melted butter, and 1 tsp garlic powder to the standard recipe on the box. Then you have a cheesy, garlicly addition to your family meal!
Cheese and Rosemary Biscuits – add 1/2 cup of Italian cheese blend, 1 tsp dried rosemary, and 2 tbsp melted butter to the recipe on the side of the box. These savory biscuits are perfect anytime of the year.
Cheesy Biscuits – add just a 1/2 cup of cheddar cheese and 1 tsp of parsley flakes to your recipe for a simple cheese biscuit that even the pickiest of eaters will love.
Cinnamon-Raisin Biscuits – want a sweet version? Add 1/4 cup sugar, 1/3 cup raisins, and 1 tsp ground cinnamon to the recipe. These are great served up for breakfast!
Cheddar and Green Onion Biscuits – love the taste of green onions? Add 1/2 cup shredded cheddar, 4 medium green onions sliced, and 2 tbsp melted margarine to your recipe.
French Onion Biscuits – reduce the milk in the recipe by one half and add in one 8 ounce container of French onion dip for an amazing biscuit recipe!
Old Bay Biscuits – love Old Bay seasoning? Use the cheesy biscuits recipe above and make a great topping for when they come out of the oven. Mix 1/3 cup melted butter, 1/4 tsp salt, 1/4 tsp Old Bay, 1/4 tsp garlic powder, and 1/4 tsp parsley flakes. Brush on top while the biscuits are still hot.
Cranberry Walnut Biscuits – another sweet option for breakfast or anytime of the day. Mix 1/2 cup chopped dried cranberries, 1/2 cup chopped walnuts, and 2 tbsp sugar into the standard biscuit recipe.
Whipped Cream Biscuits – substitute heavy whipping cream for milk in the stand recipe. You will love the light and fluffy texture that the cream adds.
Sour Cream and Chive Biscuits – remove the milk from the recipe and add 2/3 cup sour cream, 2 tbsp chopped chives, and 2 tbsp melted butter. Your mouth will never know what hit it!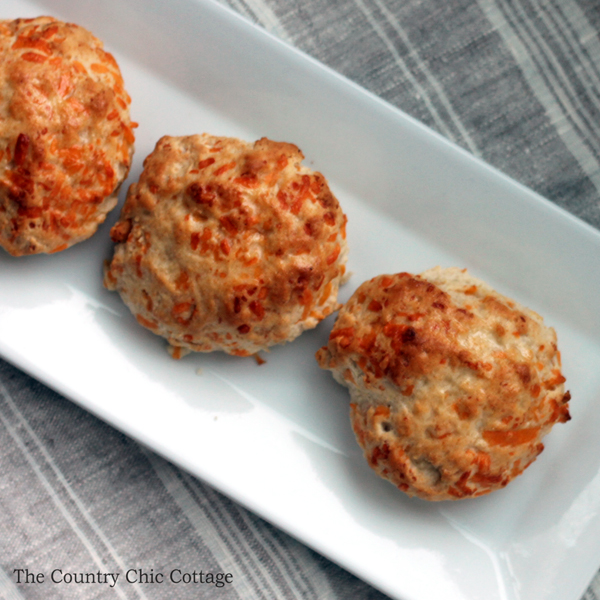 NOTE: Bake all of these just like the package says for the standard biscuit recipe. If they are not done, add a few more minutes. I hope you have enjoyed these Bisquick biscuit recipes. I love playing with the standard Bisquick mix and coming up with tons of more options. They are so easy and perfect for a week night meal. You might also like my country ham and cheddar biscuits that also use baking mix as a main ingredient. This easy homemade biscuit recipe is another one you should definitely try!